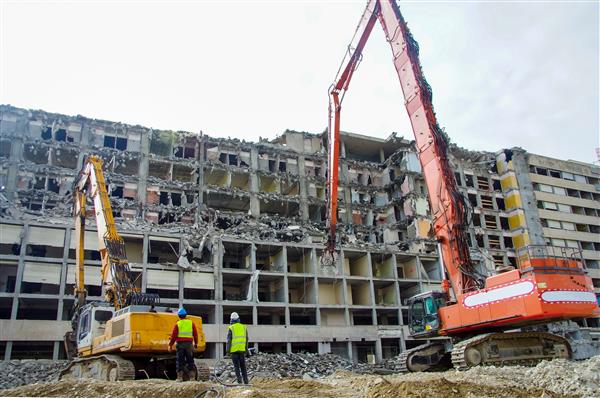 Demolition Contractors in Tacoma, WA: Your Trusted Demolition Company
Omni Demolition has paved the way for many construction services in the city through the exemplary workmanship and warm customer service of our demolition contractors. You are guaranteed to get the best value for your money with our expertise partnered with updated equipment and strict adherence to state safety regulations and policies. We have an enduring assurance to safety. Our demolition experts always provide reliable and efficient services in a proactive manner. We are always on schedule. For all your projects, we ensure that we provide you with environmentally friendly services.
What are the differences Between Demolition and Deconstruction in Tacoma, WA
Demolition is the tearing down of buildings or structures partly or completely. Demolition can either be selective or explosive. Explosive demolition uses mostly dynamite to bring down big buildings. Selective demolition involves bringing down a part of a building or tearing a section of a wall by a demolition expert. Deconstruction in Tacoma, WA involves taking a structure apart. We have the know-how in identifying the value of extracted materials and their potential for reuse. Our demolition expert tests and removes hazardous material before knocking down the building.
Economical Services for Your Demolition Project in Tacoma, WA
Our demolition experts and demolition contractors in Tacoma, WA offer superior services in demolition for all your projects. Compared to other demolition contractors who are highly profit-driven, we are committed to giving back to the community through outstanding workmanship and transparent transactions. We also take time to really understand your needs and deliver according to your desires with no excuses. Our demolition contractor will handle your needs on a one-on-one level and ensure that your project is given the undivided attention it deserves.
Our Range of Demolition Services in Tacoma, WA
Industrial Demolition services: We have taken down massive structures such as warehouses, industrial buildings, bridges, power plants, and mills. Our special equipment and expertise allow for the safe demolition of vast properties.
Commercial Demolition services: We isolate the targeted building before performing the actual demolition so as not to cause any damage to its neighboring structures. Our demo company, has handled tearing down malls, airplane hangars, markets, and even bridges.
Concrete Demolition and Recycling Services: Once we have demolished your concrete structure, our demolition experts will crush and re-use the salvaged concrete as a base course for gravel.
Scrap Metal Demolition Services: Allow our demo company to remove useless steel erections onsite and salvage reusable metal for recycling instead of hiring a separate contractor, which means more expenses for you.
What Sets Us Apart from Others Tacoma, WA
Our team of demolition experts and demolition contractors will work tirelessly and dedicatedly to ensure that your project is completed on time. Our demolition experts and demolition contractors have an established performance record of completing demolition jobs in the right way, on budget and on time. As an established demolition company in all of Tacoma, WA, we see to it that our services, equipment and workmanship are always above customer satisfaction. Our demo company is well equipped in handling any job, however simple or complex.
Types of Demolition and Deconstruction in Tacoma, WA
Explosive Demolition: We have a team of demolition experts in Tacoma, WA who thoroughly oversee the process of using explosives to crumble a structure, including the strict adherence to safety regulations and environmental protocols.
Non-Explosive Demolition: Our local demolition contractors are flexible and in situations where explosive demolition may be unsafe, we may use a wrecking ball which is attached to a crane at a manageable height to bring down a building.
Selective Demolition: This is a type of demolition whereby building materials, part of the structure or building are separated and then sorted for the purpose of reusing or recycling. Our demo contractors have mastered the art of selective demolition that other building demolition companies do not have.
Cutting Edge Equipment Utilized for Demolition in Tacoma, WA
Hydraulic breakers – Powerful excavators necessary in every demo company, hydraulic breakers or crushers are used to excavate structures quickly. These are commonly used to grind up concrete or rocks.
Wrecking balls – Used mainly for non-explosive demos, these heavy impacting balls are helpful in progressively weakening a building until all that's left are frameworks that are then easier to tear down.
Hydraulic shears and rock breakers – Designed to cut through the toughest materials with very minimal effort, these tools are attached to excavators to do the job. They can slice through rocks, concrete, metal, wood and steel.
Bulldozers – They are used to push demolition debris. They are also used to tear down smaller structures, clear the property of rubble or pile the debris. Dumpers – Not every demolition business have their own dumpers but we use them for taking waste products and debris off the site.
Cranes – Demolition contractors utilize a crane to ease the burden of moving heavy materials or equipment back and forth on a construction site. Our demo company also uses cranes to suspend wrecking balls for non-explosive demos.
Crawler Loaders – They are very effective in removing materials from the demolition site. They are used to move or clear an area of demolition rubble. Crawler loaders can also be used to push down smaller-sized structures.
Call us Today for Demolition Services in Tacoma, Washington
We are ranked as the leading demolition company in Tacoma, Washington. We take any demolition challenge head on. Consult with a reliable demolition company and save yourself from all the worries. Our Tacoma deconstruction and demolition company has highly skilled personnel with years of experience in the demolition business. Get in touch with us today at
(855) 885-3366
and we will be more than glad to help.
Zip Code Areas We Service in Tacoma
98422, 98403, 98404, 98405, 98408, 98409, 98402, 98406, 98407, 98465, 98418, 98416, 98444, 98421, 98401, 98411, 98412, 98413, 98415, 98417, 98419, 98448, 98471, 98481, 98490