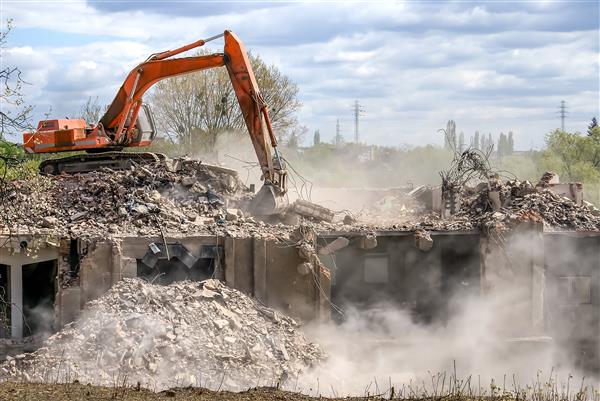 Cost-effective Solutions to Your Concrete Removal Needs in Eau Claire, WI
Concrete removal is an essential part of any construction project in Eau Claire, WI. No need to risk it with small-time providers of concrete slab removal when you can sign with Omni Demolition for an affordable price. We are the most knowledgeable when it comes to cost-effective concrete hauling and recycling. We guarantee professional workmanship and absolutely no guesswork when you sign with us. After all the work is done and the dust settles, you'll find that our services are done with excellence and are very affordable.
Special Equipment Used for Concrete Removal in Eau Claire, WI
When looking for a contractor to hire, do not get drawn in by bargain prices. Instead, double check the company's performance and the condition of their equipment. Here at Omni Demolition, in order for a concrete slab removal job to be successfully completed, using the right equipment is very crucial. A few examples of the equipment we use include chipping hammers, demolition hammers and hydraulic concrete crushers. We are equipped with all the appropriate expertise, machinery and tools to execute your demolition projects such as removing concrete driveway, concrete slab demolition, or concrete wall demolition. Compared to other companies, we conduct regular maintenance jobs on the equipment that we use. After the demolition, the waste has to be dealt with, so we also have special machinery for concrete hauling.
Why You May Need Concrete Demolition Services in Eau Claire, WI
We have handled all kinds of cement deconstruction in Eau Claire, WI and we can safely say, our team is experienced in anything and everything under the sun. It not only allows you to erect new buildings but it also gets rid of aging, dilapidated and unsafe structures. No matter the size of your demolition and concrete hauling project, we are well able to handle it for you. Concrete demolition is necessary when your structure becomes old and dilapidated; when your structure has widespread cracking; when moisture penetrates into the ground, freezes and then pushes up the concrete; or when you plan to improve or put up a new structure. Since concrete is a sturdy material, you will need to hire the services of experts to have your project executed safely and with precision.
Permit requirements for a Concrete Removal in Eau Claire, WI
A concrete removal or concrete hauling project in Eau Claire, WI, requires that you obtain a number of permits and approvals from the local council. While other concrete removal companies may factor processing the permits and approvals as additional costs to you, at Omni Demolition, we take care of that for you. Start by applying for a permit from the local authority. The council can decline your application for a demolition project if you have not obtained a planning permit. All you have to do is let us know what you need done and relax—we are here to do all the legwork for you.
How Much You Should Spend on a Eau Claire, WI Concrete Demolition
The cost of a concrete demolition project depends on the size and location of the project. You need to factor in the cost of permits and hauling as well. Our contracts fall midrange but our customer service and workmanship rockets sky high. We vow to conduct clean and honest business because we give more value to a lifetime relationship with our clients. Whether you need estimates for small jobs such as a patio demolition or patio removal, or you need a proposal for breaking up concrete at an industrial property, we will provide you with a detailed breakdown of expenses. There are special circumstances that can affect the cost of your demo project. We guarantee to provide a competitive and reasonable price. Manpower, permits and type of equipment used also determine the cost of the project.
Typical Duration of a Eau Claire, WI Concrete Demolition Service
Concrete is usually reinforced with tough steel making it virtually indestructible. A concrete demolition project needs the services of professionals to have it done right and safely. Our team of experts, however, is the most knowledgeable in the industry when it comes to concrete slab removal, or concrete hauling so we can guarantee the quickest operations without compromising quality and safety. There are unforeseen factors that we take into consideration before settling on a completion date for your project such as extremities in weather conditions. Count on us to ensure that your project is executed perfectly. Your safety and satisfaction are both assured at our company as we strive to deliver polished services. The length of the project will mainly be affected by the size and current condition of the structure that needs to be demolished.
Is It Possible to Recycle concrete in Eau Claire, WI?
It is not only an environmentally friendly process of utilizing concrete rubble but it is also a cost cutting measure for your concrete demolition and removal project. Managing reusable resources is an effective way of minimizing the growing amount of wastes that households, commercial establishments and industrial buildings produce. Our concrete demolition contractors can also use the recycled concrete for landscaping. It reduces the need for transportation and disposal fees at the landfill. Concrete recycling also reduces waste in landfills.
Why Come to Us for All Your Concrete Demolition Needs in Eau Claire, Wisconsin
Our team is only a call away when our clients need urgent concrete demolition services. Our expert contractors at Omni Demolition have unparalleled skills and experience in the concrete slab removal business. We understand that each project is unique and therefore, we come up with special solutions for all your concrete demolition projects. We have been in this business for many years. We guarantee to come and fix your concrete-related problems fast. Using their knowledge and specialized skills, our experts know how to get your projects done right. Concrete demolition in Omni Demolition is the best way to safely tear down buildings or structures made from concrete.
Zip Code Areas We Service in Eau Claire
54703, 54701, 54702