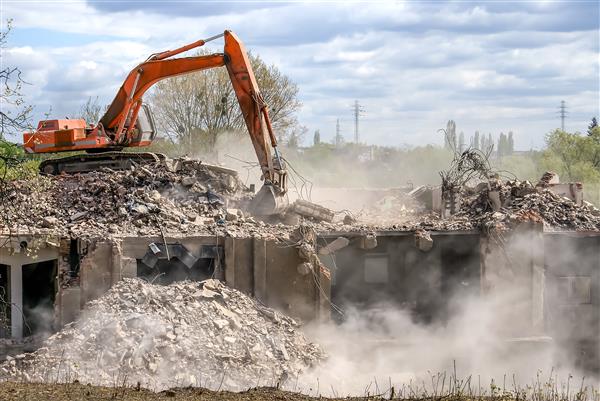 Your Company of Choice for Your Concrete Removal Projects in Kenosha, WI
Concrete removal is a complicated procedure that requires tact and the services of professionals in Kenosha, WI. Indeed, time ages all things. Our concrete slab removal and concrete hauling professionals will take the lead during your demolition project, going above and beyond to deliver exceptional and satisfactory services. Whether you wish to remodel a small section of your house or rebuild the entire structure, you can count on us to provide a good service. Simply contact us about your project—we are ready to help.
Cutting Edge Equipment Made for Concrete Removal in Kenosha, WI
At Omni Demolition, we use quite a number of heavy machinery and equipment for concrete demolition. At Omni Demolition, the type of equipment needed for concrete slab removal in Kenosha, WI depends on the techniques used to tear down a building or structure. Demolition hammers are efficient and quick when it comes to demolition work such as removing concrete driveway, concrete slab demolition or concrete wall demolition. Our team periodically conducts machine inspection and maintenance to guarantee that everything we need for the job is in tip-top condition. After the demolition, the waste has to be dealt with, so we also have special machinery for concrete hauling. Despite the power it possesses, it creates little noise and dust making it perfect for demolition work in inhabited areas.
Addressing Your Concrete Demolition Needs in Kenosha, WI
Concrete demolition in Kenosha, WI is necessary when you need to bring down an old structure in order to erect a new one. Whether the project requires breaking asphalt or concrete in residential, commercial or industrial spaces, we have the equipment and service crew ready to do the job. At Omni Demolition, we will see to it that you receive superior quality concrete hauling and demolition service in Kenosha, WI. When buildings become old, their concrete slabs become unstable posing a threat to anyone living in or around such establishments. If you see any signs of structural damage on the walls, ceilings and other sections of your house, you must consider booking a demolition service as soon as possible to prevent accidents.
Permit requirements for a Concrete Removal in Kenosha, WI
Here at Omni Demolition we want you to save money when hiring us to do a concrete removal or concrete hauling project, so we will take care of filing the permit for you. There are several concrete removal companies in the city, so make sure you select one that will help you all throughout the process. The governing bodies also ensure that environmental and safety regulations are complied with. Other contractors hire a third-party permit service provider to file the necessary permit but this could only mean additional expenses for you. Your local council may require that you get planning permits, demolition permits and a concrete demolition consent.
Concrete Demolition Expenses in Kenosha, WI
The first step is to determine how much the job will cost you. In addition to permit application fees in Kenosha, WI, there is no accurate range of expenses that we can give outright as every project requirement is unique. Final costs depend on factors such as disposal fees(some companies charge this separately). Ask your potential Kenosha, WI patio demolition companies how much they charge before you make your final decision. Feel free to contact us to learn how much we charge for a patio removal or other similar services. Unreinforced concrete on the other hand is easier to remove. We can help you regardless of the type of project you wish to work on. Our quote covers the entire concrete demolition process.
Typical Duration of a Kenosha, WI Concrete Demolition Service
Every concrete demolition project is unique even if identical procedures may be done and the same equipment will be used which is why no specific time frame can be given without the details of the area involved. Concrete slab removal and concrete hauling is a delicate procedure. Depending on our agreement and forecast, work can be completed within a day, a week or even a month. We have handled countless demo jobs in Kenosha, WI and our loyal clients can testify to our diligence in completing our projects on time. With that in mind, it might take days, weeks or even months to have your project completed depending on its nature, type and all the other aforementioned factors.
What To Do With Crushed or Used Concrete in Kenosha, WI?
It comes right after a concrete demolition and removal project. Recycling has economical and environmental benefits. The process of recycling done by our concrete demolition contractors includes salvaging rubble from demolition, crushing it, pre-sizing and sorting. It is also an environmentally friendly approach of dealing with the waste. Concrete lasts long, and you can use it in various ways.
Why Come to Us for All Your Concrete Demolition Needs in Kenosha, Wisconsin
Our concrete demolition services in Kenosha, WI include concrete slab removal and any other concrete removal service you may need. At Omni Demolition, we handle all types of concrete demolition project-from scanning work to wall cutting, and from sawing to core drilling, there is no concrete slab removal project that is out of bounds for us. We will work diligently and efficiently on your projects no matter the size. If you are still in doubt whether Omni Demolition is the contractor to sign with, you can browse our website for customer testimonials and proof of our unquestionable workmanship. With our experts, you won't worry about accidents, hidden costs, and other concerns. Don't risk your safety; work with demolition professionals in Kenosha, WI.
Zip Code Areas We Service in Kenosha
53144, 53140, 53142, 53143, 53141, 53171