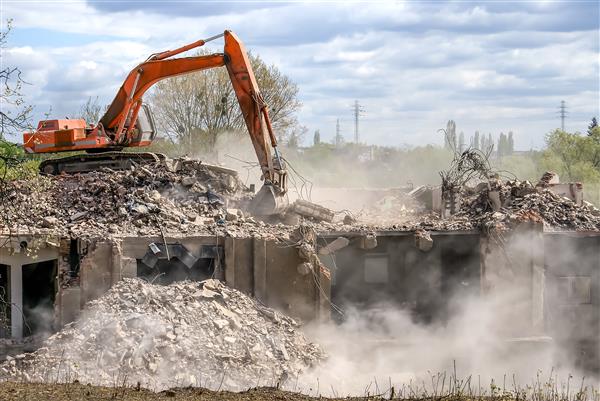 Your Company of Choice for All Your Concrete Removal Needs in Madison, WI
There are a number of reasons why you might need to hire our concrete removal services in Madison, WI. Rest assured we will only assign well-trained contractors to your concrete slab removal, house demolition, and concrete hauling projects. Our high ratings clearly speak for our loyal clients and how much value they get from hiring us as their contractor. Simply contact us about your project—we are ready to help.
Specialized Equipment Used for Concrete Removal in Madison, WI
At Omni Demolition, we use the best and most effective equipment for concrete removal projects, from pallet jacks and bobcats to jackhammers and hoists. Concrete slab removal in Madison, WI requires the use of special equipment to get the job done perfectly, efficiently and safely. Mechanical concrete demolition is used on bigger sized structures such as a concrete silo. Types of equipment used for getting this kind of job done are bulldozers, excavators, loaders and cranes. We also use jackhammers, pallet jacks, bobcats and hoists for demolition work such as removing concrete driveway, concrete slab demolition and concrete wall demolition. Pavement breakers are used when you need to partially repair a section of a pavement; it is able to demolish a few inches of the concrete pavement without breaking it up completely. After the demolition, the waste has to be dealt with, so we also have special machinery for concrete hauling.
When to Consider Booking a Madison, WI Concrete Demolition Service
There are several reasons why a house needs to be demolished. The structure degrades as the years go by. Signing with us means you get professional demo as well as concrete hauling that is beyond the required standards. We have experts in Madison, WI who are well-equipped to help you knock down any part of your house. Regardless of the size, we will see to it that we finish the project on time. Safety is a primary concern for any concrete demolition job.
Permit requirements for a Concrete Removal in Madison, WI
You can't proceed with your concrete removal or concrete hauling project without securing a permit in Madison, WI. There are several concrete removal companies in the city, so make sure you select one that will help you all throughout the process. You will definitely need a permit depending on the nature of your project. Usually, you have to obtain a form of approval from the appropriate regulatory body before you can lawfully proceed with the demolition. We will make sure that you have all the permits you need to ensure an uninterrupted execution of your demolition project. You may be required to get in touch with the gas, electric and water company for clearances or reports.
How Much Do I Need to Pay for Concrete Demolition Services in Madison, WI?
The national average concrete removal cost is between $1500 to $2000. The rate is provided by your local government, and it would be best to check beforehand. For a budget of $400, you will be able to complete the removal of unreinforced concrete from a patio that is two hundred square foot in size with zero disposable fees. Ask your potential Madison, WI patio demolition companies how much they charge before you make your final decision. Feel free to contact us to learn how much we charge for a patio removal or other similar services. Different places charge differently for disposal of demolition waste. Rebar removal raises the cost of labor and eventually the overall demolition cost. Another cost to factor in is demolition permits. Depending on where you are situated and size of the project, permits and associated costs can cost you around $200 or as high as $10,000 in some cases.
How Long is a Concrete Demolition Service in Madison, WI?
Every concrete demolition project is unique even if identical procedures may be done and the same equipment will be used which is why no specific time frame can be given without the details of the area involved. With that in mind, your concrete slab removal and concrete hauling projects in Madison, WI might take a couple of days, weeks or even months to complete. At our company, we are able to finish a demolition or hauling job within as little as a few days, depending on the size of the property. In instances that an unforeseen situation arises, the client is notified to ensure that they are not kept in the dark and to establish the right expectations. Your safety and satisfaction are both assured at our company as we strive to deliver polished services.
What To Do With Crushed or Used Concrete in Madison, WI?
Do you ever wonder where all the waste from a concrete demolition and removal project go? Concrete recycling is an environmentally friendly process and prevents unnecessary waste transportation and disposal costs. Feel free to ask our concrete demolition contractors about recycled concrete. You can get paid by companies who reuse concrete in major constructions such as road paving and you also help minimize damage to the environment through responsible recycling – it's a win-win situation! Recycled concrete is cheaper and more environmental-friendly, so we highly recommend using it.
Your Company of Choice for All Your Concrete Demolition Needs in Madison, Wisconsin
Our concrete demolition services in Madison, WI consist of concrete slab removal and concrete removal service. There are many reasons why Omni Demolition should be your number one pick for all your concrete slab removal projects. We are self-driven in completing all our tasks with accuracy. If you are still in doubt whether Omni Demolition is the contractor to sign with, you can browse our website for customer testimonials and proof of our unquestionable workmanship. Contact us today for a concrete removal service!
Zip Code Areas We Service in Madison
53706, 53704, 53705, 53703, 53714, 53726, 53792, 53719, 53718, 53715, 53717, 53716, 53711, 53713, 53701, 53707, 53708, 53725, 53744, 53774, 53777, 53778, 53779, 53782, 53783, 53784, 53785, 53786, 53788, 53789, 53790, 53791, 53793, 53794