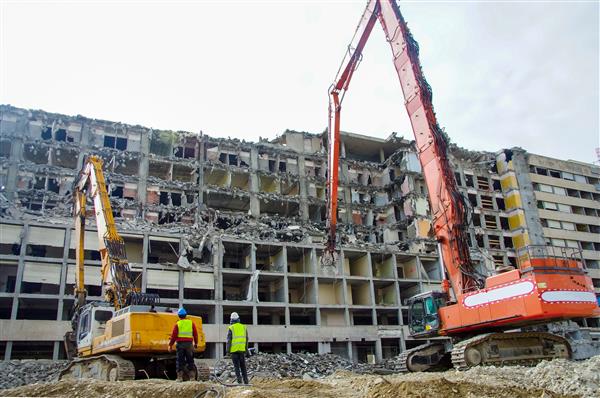 Demolition Contractors Green Bay, WI: Your Go-To Demolition Company
The strength of Omni Demolition lies not only in its state of the art equipment and the expertise of its demolition contractors but the commitment that we have in providing unsurpassable services. Just like any other major construction or remodeling plan, having a property demolished requires the skills of professionals, along with the use of appropriate equipment. We have an enduring assurance to safety. The commitment and competence of our demolition experts guarantee that you will be working with the most suitable partners. The primary projects we undertake are demolition and deconstruction.
How is Demolition Different from Deconstruction in Green Bay, WI?
Demolition is a faster process in comparison to deconstruction. Some projects require complete levelling while others simply need specific parts removed to be replaced. For every client call, we have a demolition expert equipped to do the job. A deconstruction may be implemented on its own or as a pre-demolition procedure. The materials can be reused in rebuilding or reconstruction.
Complete Accountability from Highly Skilled Specialists for Your Demolition Project in Green Bay, WI
Our demolition experts and demolition contractors in Green Bay, WI are highly skilled in meeting all your demands. Compared to other demolition contractors who are highly profit-driven, we are committed to giving back to the community through outstanding workmanship and transparent transactions. Most sales agents will promise everything just to close a deal but are no longer accountable when their team fails to deliver. Our demolition contractor will handle your needs on a one-on-one level and ensure that your project is given the undivided attention it deserves.
Take Advantage of Our Demolition Services in Green Bay, WI
Industrial Demolition services: Our countless contracts include leveling massive structures such as worn-down factories, mills, and chemical warehouses.
Commercial Demolition services: If you are looking for a reliable demo company, our reputation and years in the business is your assurance. Our past contracts include leveling bridges, dilapidated malls, airplane hangars, and even grocery stores.
Concrete Demolition and Recycling Services: Concrete recycling results in saving costs in that it decreases the cost of transportation and disposal. Our demolition experts will break, remove and then crush concrete after demolition. The concrete can be used as an aggregate in new concrete.
Scrap Metal Demolition Services: Allow our demo company to remove useless steel erections onsite and salvage reusable metal for recycling instead of hiring a separate contractor, which means more expenses for you.
What Distinguishes Us from Other Demolition Companies in Green Bay, WI
We take pride in having some of the most seasoned demolition experts among numerous demolition contractors in Green Bay, WI. Our team uses sophisticated equipment and observes high standards in every operation. Our demolition company is experienced in implementing both small and large projects. Our demo company appreciates all our clients and we demonstrate this by endeavoring to give you nothing but the very best.
Methods Conducted by Experts on Demolition and Deconstruction in Green Bay, WI
Explosive Demolition: Done by licensed demolition experts in Green Bay, WI, this method may sound dangerous and it could be when proper procedures are not followed. After explosives are strategically laid out, a switch is all it takes to completely take down a building.
Non-Explosive Demolition: Certain buildings are not recommended for use of explosives, to which local demolition contractors opt for wrecking balls. Made of steel, a wrecking ball is suspended and swung into the building repeatedly causing it to topple or crumble down.
Selective Demolition: In cases of remodeling or renovation, demo contractors may be required to pull apart specific areas of the structure. We exceed other building demolition companies when it comes to precision in conducting selective demo such as disassembling interiors, floor coverings, ceilings and walls.
Demolition Equipment in Green Bay, WI
Hydraulic breakers – Commonly known as hydraulic hammers, these are often used by our demo company to grind up slabs and concrete structures.
Wrecking balls – Heavy and solid balls made of steel, wrecking balls are safely suspended on a crane and used to weaken a building until it gives.
Hydraulic Shears and Rock Breakers – They are able to demolish steel structures. Hydraulic shears are also used for recycling or secondary breaking. Rock Breakers are robust pounding hammers that are usually fitted to excavators. They are used to demolish rocks, as the name suggests or concrete.
Bulldozers – A favorite among contractors, a bulldozer can be an intimidating piece of equipment on wheels although it is fairly easy to maneuver. It can be used to transport copious amounts of waste, as well as to wreck walls.
Dumpers – Dumpers are also known as tipper trucks. They are used for transporting rubble or waste from the demolition site. If you are in the demolition business, safety is paramount and some of the safety hazards are demolition wastes. A dumper is a very important in removing the large amount of debris from the site.
Cranes – In demolition, demolition contractors need a crane. Cranes can be used to lift a small-sized excavator. A wrecking ball can also be attached to a crane for demolition making it an essential piece of machinery in a demo company.
Crawler Loaders – Mostly used for excavating, this equipment is also utilized for its lifting and loading capabilities.
Contact Us for Any Demolition Services in Green Bay, Wisconsin
Your number one demolition company in Green Bay, Wisconsin is always at your service. There's a reason why we continue to be highly recommended by building contractors and the rest of our clientele. Our demolition company's spotless track record in handling minor to major demolitions is your guarantee of our high quality service, expertise and commitment to each and every project. Get in touch with the leading Green Bay deconstruction and demolition company. Give us a call today at
(855) 885-3366
and we will get back to you as soon as we can.
Zip Code Areas We Service in Green Bay
54311, 54302, 54304, 54303, 54301, 54305, 54306, 54308, 54324, 54344