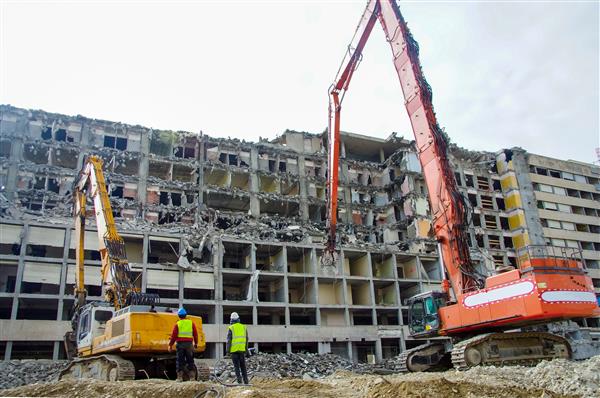 Expert Demolition Contractors Milwaukee, WI: Your Partner Demolition Company
Omni Demolition has paved the way for many construction services in the city through the exemplary workmanship and warm customer service of our demolition contractors. We are an established service provider when it comes to experience, skills and workmanship. We do not sugar-coat our services and we often deliver more than promised. Our demolition experts employ the safest and most efficient ways of wrecking and demolishing old homes, dilapidated buildings and any other structure you may want demolished. Whether it may be a residential, commercial or industrial structure that needs to be taken care of, our crew has got it covered.
Dependable Demolition and Deconstruction in Milwaukee, WI
Demolition is the tearing down of buildings or structures partly or completely. Demolition is the actual tearing down of a structure to be done by a demolition expert. Deconstruction differs from demolition in that, it involves tearing apart a building or a home in a manner that salvages materials. On the other hand, whole-house deconstruction entails tearing down an entire structure and salvaging any reusable or recyclable materials.
You can Trust Us with Your Demolition Project in Milwaukee, WI
Our demolition experts will only recommend the most appropriate services you require and provide upfront quotations, without any unexplained or unexpected charges. Compared to other demolition contractors who are highly profit-driven, we are committed to giving back to the community through outstanding workmanship and transparent transactions. Most sales agents will promise everything just to close a deal but are no longer accountable when their team fails to deliver. Our demolition contractor will handle your needs on a one-on-one level and ensure that your project is given the undivided attention it deserves.
Take Advantage of Our Demolition Services in Milwaukee, WI
Industrial Demolition services: We have an impeccable history in handling industrial buildings such as warehouses, chemical plants, mills and more. No matter how gigantic the structure is, our team of experts can surely manage.
Commercial Demolition services: You can call our demo company if you need someone to knock down commercial structures such as commercial centres, groceries, airplane hangars and the like.
Concrete demolition and recycling services: We are the only demolition experts who carefully set aside re-usable materials from your site for possible future use such as slabs to be crushed later on into gravel.
Scrap Metal Demolition Services: Allow our demo company to take down your metal structure. Our experts will downsize and process scrap metal for the purpose of recycling or reusing.
A class Above the Rest in Milwaukee, WI
We take pride in deploying demolition experts and demolition contractors who are not simply knowledgeable on the job but also skilled and experienced all across the state. Our demolition experts and demolition contractors are dedicated to meeting all your needs. Our demolition company in Milwaukee, WI makes use of a unique approach that minimizes waste and maximizes recyclable materials. Our demo company is well equipped in handling any job, however simple or complex.
The Types of Methods Used in Demolition and Deconstruction in Milwaukee, WI
Explosive Demolition: We have a team of demolition experts in Milwaukee, WI who thoroughly oversee the process of using explosives to crumble a structure, including the strict adherence to safety regulations and environmental protocols.
Non-Explosive Demolition: Our local demolition contractors will use a wrecking ball to demolish a building in situations that do not allow the use of explosives.
Selective Demolition: This method is used when buildings are being remodeled or rebuilt and the client wishes to retain some parts of the structure. Not all contractors can perform this demolition as it involves meticulous planning and careful effort. Our demo contractors are veterans in conducting selective demolition especially in handling specialized equipment required for the job. You can trust our team of experts in providing calculated and top of the line performance, which other inexperienced building demolition companies cannot guarantee.
Well-maintained Equipment Utilized for Demolition in Milwaukee, WI
Hydraulic breakers – Massive earthmovers used at our demo company to drill and break concrete areas in no time.
Wrecking balls – Heavy and solid balls made of steel, wrecking balls are safely suspended on a crane and used to weaken a building until it gives.
Hydraulic Shears/ Rock breakers – They are fitted to an excavator and have the ability to cut through concrete, metal, rocks and wood.
Bulldozers – They are used to remove huge rubble and dirt piles. They are also used to push down smaller-sized structures and buildings.
Dumpers – If you are in the demolition business, you will definitely need a dumper/ tipper truck for transporting demolition waste.
Cranes – Demolition companies use cranes to move materials from different levels of a structure. A demo company will also use this machinery together with a steel ball. For a wrecking ball to work, it has to be attached to the crane.
Crawler Loaders – Also called caterpillars, crawlers have flexible ground mechanism allowing them to be useful even on uneven terrain. They are primarily used for excavating.
Contact Us for Any Demolition Services in Milwaukee, Wisconsin
If you are looking for a reliable demolition company in Milwaukee, Wisconsin, there is no need to look any further. We take any demolition challenge head on. Our demolition company is the Milwaukee demolition and deconstruction company you have been looking for. Get in touch with the leading Milwaukee deconstruction and demolition company. Give us a call at
(855) 885-3366
and we guarantee a refreshing customer experience that you can only get from us.
Zip Code Areas We Service in Milwaukee
53203, 53202, 53207, 53206, 53205, 53204, 53209, 53208, 53233, 53211, 53218, 53219, 53214, 53215, 53216, 53210, 53212, 53213, 53295, 53225, 53224, 53227, 53226, 53221, 53220, 53223, 53222, 53228, 53201, 53234, 53237, 53259, 53263, 53274, 53278, 53288, 53290, 53293