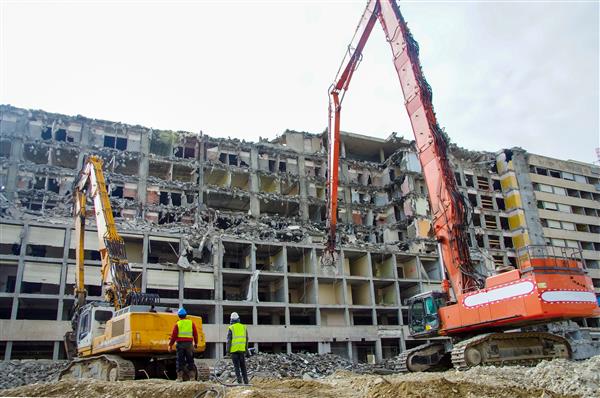 The Best Option For Demolition Contractors Oshkosh, WI: Our First-Class Demolition Company
When looking to hire demolition contractors in Oshkosh, WI, Omni Demolition is your best choice. Just like any other major construction or remodeling plan, having a property demolished requires the skills of professionals, along with the use of appropriate equipment. Our team of demolition experts provide outstanding demolition services whether complete or selective. The primary projects we undertake are demolition and deconstruction.
Do You Need Demolition or Deconstruction in Oshkosh, WI?
Demolition is the process of tearing down or pulling down buildings and structures by a demolition expert. Demolition can either be selective or explosive. Explosive demolition uses mostly dynamite to bring down big buildings. Selective demolition involves bringing down a part of a building or tearing a section of a wall by a demolition expert. Some of the items salvaged in deconstruction are: roofing materials, windows, plumbing fixtures, doors, cabinets, flooring among others. There are two types of deconstruction: selective and whole-house. Demolition is the actual tearing down of a structure to be done by a demolition expert.
Why Hire Us for Your Demolition Project in Oshkosh, WI
We know that before you consider hiring us, you will want to understand how the job gets done by our demolition experts. As professional demolition contractors, we religiously adhere to state policies and regulations. We pride ourselves in being reliable and efficient service providers who will cater to all your unique needs. But this is not just a one-time initiative, it is ingrained in the workmanship of each and every demolition contractor in our company.
Professional Demolition Services in Oshkosh, WI
Industrial Demolition services: Complexity and size do not intimidate us. We have successfully torn down enormous structures such as manufacturing plants, factories, warehouses and even utility installations.
Commercial Demolition services: We are the demo company to call when it comes to commercial spaces that require strategic planning, especially narrow and often crowded areas. Our capability in wrecking restaurants, grocery stores, and office buildings shows our mastery in handling business districts.
Concrete Demolition and Recycling Services: This type of demolition is environmentally friendly and saves on cost. Rubble from concrete demolition is reused by our demolition experts to make gravel or as one of the materials for making new concrete.
Scrap Metal Demolition Services: Our demo company maximizes the value of scrap metal as part of our scrap metal demolition service. This significantly minimizes the cost of the project.
What Sets Us Apart from Others Oshkosh, WI
We take pride in having some of the most seasoned demolition experts among numerous demolition contractors in Oshkosh, WI. We are a class above the rest. What sets us apart is our unshaken resolve to achieve 100% in customer satisfaction. Using cutting edge technology added to our team's expertise, our demolition company is guaranteed to deliver more than promised. Our demo company delivers effective and safe results on your time and budget.
Methods Conducted by Experts on Demolition and Deconstruction in Oshkosh, WI
Explosive Demolition: Our demolition experts carefully consider all factors before flipping the switch that will initialize explosives to go off and promptly annihilate the target building in Oshkosh, WI.
Non-Explosive Demolition: Instead of explosives, local demolition contractors may also use a wrecking ball to tear down a building. This method also requires safety precaution as swinging wrecking balls are harder to control than it seems.
Selective Demolition: This is a type of demolition whereby building materials, part of the structure or building are separated and then sorted for the purpose of reusing or recycling. Our demo contractors have mastered the art of selective demolition that other building demolition companies do not have.
We Facilitate High-End Equipment for Demolition in Oshkosh, WI
Hydraulic Breakers – Our demo company will use this heavy hammer to demolish rocks or concrete structures. Hydraulic breakers are also an important part of recycling operations.
Wrecking balls – Used mainly for non-explosive demos, these heavy impacting balls are helpful in progressively weakening a building until all that's left are frameworks that are then easier to tear down.
Hydraulic shears and rock breakers – Designed to cut through the toughest materials with very minimal effort, these tools are attached to excavators to do the job. They can slice through rocks, concrete, metal, wood and steel.
Bulldozers – It has a ripper and is used to move large quantities of rubble. It is also used to bring walls down.
Dumpers – A dumper or a tipper truck is essential in the demolition business. This vehicle is specially designed to carry debris such as gravel, or demolition waste in bulk away from the property. It makes cleaning up the property after demolition easier and faster.
Cranes – Demolition companies use cranes to move materials from different levels of a structure. A demo company will also use this machinery together with a steel ball. For a wrecking ball to work, it has to be attached to the crane.
Crawler Loaders – They are effective in bringing down structures. They can also be used to clean up a demolition site. Crawler loaders can help move debris. Its tracks enable the unit to move easily and freely on the property.
For All Your Demolition Service Needs in Oshkosh, Wisconsin, Contact Us Today
Your number one demolition company in Oshkosh, Wisconsin is always at your service. You can rest easy knowing that we have a solution for all your demolition projects. Our demolition company never offers excuses; we simply provide professional and timely services guaranteed to accommodate your budget. We deliver your Oshkosh demolition needs in a timely manner without compromising on the quality of our work. Call us today at
(855) 885-3366
and get your job done quickly, flawlessly and affordably.
Zip Code Areas We Service in Oshkosh
54985, 54904, 54901, 54902, 54903, 54906