Los Angeles is changing at a rapid pace. The downtown horizon is sprinkled with cranes, the tallest structure on the West Coast simply opened in Downtown Los Angeles, and the housing crunch is evidence that L.A. California remains an ever-changing magnet for the innovative class.
It is crucial, however, that we record and protect our history for these micro-generations of new arrivals. Architecture is a key communicator of a city's personality, and L.A., regardless of its reputation of being a wasteland of shopping malls, has design in spades. We got in touch with the Los Angeles Conservancy and to preservationists Kim Cooper and Richard Schave of Esotouric historic tours before creating this list of 5 historic structures that are in danger of being demolished in the Los Angeles area.
5. The Barry Building, 11975 San Vicente Blvd., Brentwood.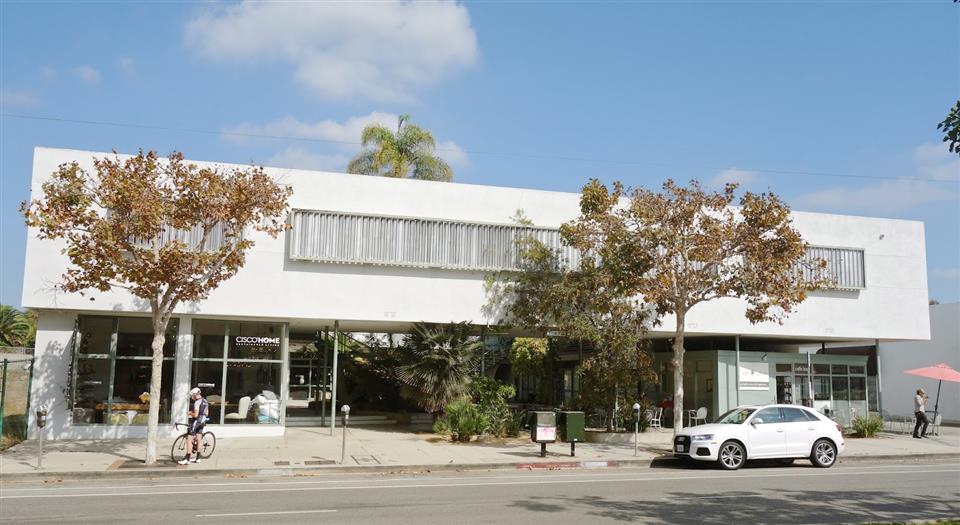 This 1951 midcentury modern landmark was the place to go for book fans until the tenant Dutton's Brentwood Books which occupied the landmark for many years closed in 2008. A proposed luxury condo development, Green Hollow Square, was to be three times as large as the Barry Building, which would have been razed under those blueprints. Commercial tenants were evicted last year — the property owner said the structure wasn't safe in the event of an earthquake — and it's been vacant and boarded up since. Developers withdrew their plans and the project is no longer under active consideration. But that doesn't mean they can't reconsider the project in the future. The investor behind the project was none other than billionaire Charlie Munger, Warren Buffett's right-hand man. The local City Council member, Mike Bonin, is on the record as being opposed to demolition.
4. The Tamale, 6421 Whittier Blvd., East Los Angeles.

Built in 1928 and once a restaurant serving, you guessed it, tamales, along with hamburgers, chili, and other dishes, the Tamale specialized primarily in Hispanic food, It is now a beauty salon. Originally it stood alone on the street, as the decades passed by, other buildings have been built around it, leading to its twisted tamale ends being extremely close to the newer encroaching buildings. It was temporarily for sale in 2013 for prices starting at $459,000 and ending at $399,900 before being taken off the market.
Schave says the Tamale is on the market for the second time in less than five years. If you have $465,000, it's yours. Its business tenants were evicted and the building "is a mess," he says. The 1920s structure is a classic example of the kind of "programmatic architecture" that made L.A. famous for its foodstuff structures, including Tail O' the Pup (a hot dog) and the Donut Hole. Its founders sold "tamale pies" and hamburgers. A few years ago Cooper and Schave wrote this about the building:
"Unfortunately there is no structure in place for protecting or preserving the Tamale. Located in unincorporated Los Angeles County, it is not subject to the city's historic preservation guidelines. State and mational monument status is dependent on the whim of the property owner. And so she sits, caked in plaster, under the blazing Eastside sun, waiting for something to happen."
3. Lytton Savings, 8150 Sunset Blvd., Hollywood.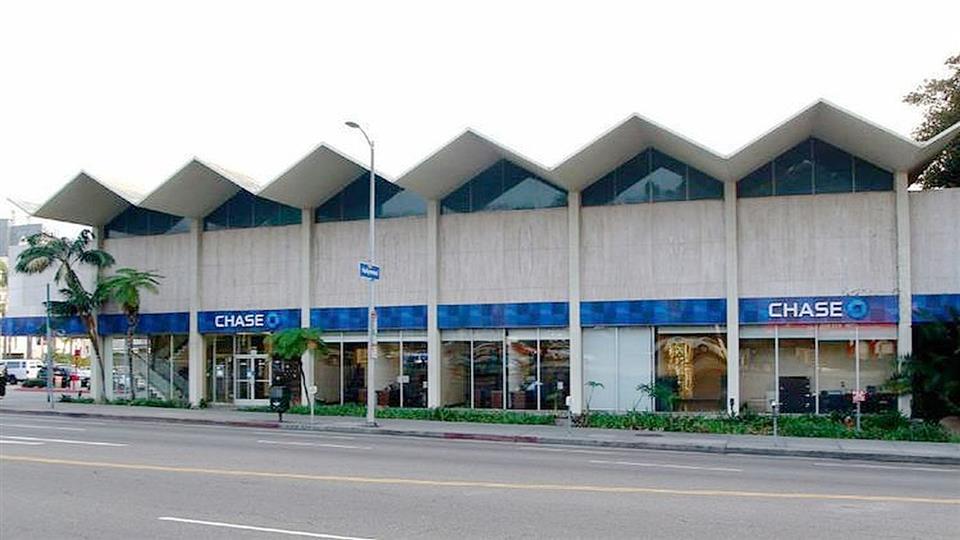 This is one of the top priorities of the L.A. Conservancy, which won a court battle in spring that essentially halted a plan that would have demolished the 1960 midcentury modern building in favor of a Frank Gehry–designed mixed-use project. The structure, with its distinctive roof, is a city Historic-Cultural Monument at the gateway to the Sunset Strip. The Conservancy wants developers to amend their plan so that Lytton Savings, now a Chase Bank branch, can be saved and integrated. "We've worked with many architects and developers to successfully integrate historic places into new development, and now that can happen here," Adrian Scott Fine, the Conservancy's director of advocacy, said in a statement. "We've worked with many architects and developers to successfully integrate historic places into new development, and now that can happen here… Blending old and new is the wave of the future in Los Angeles."
2. Parker Center, 150 N. Los Angeles St., Downtown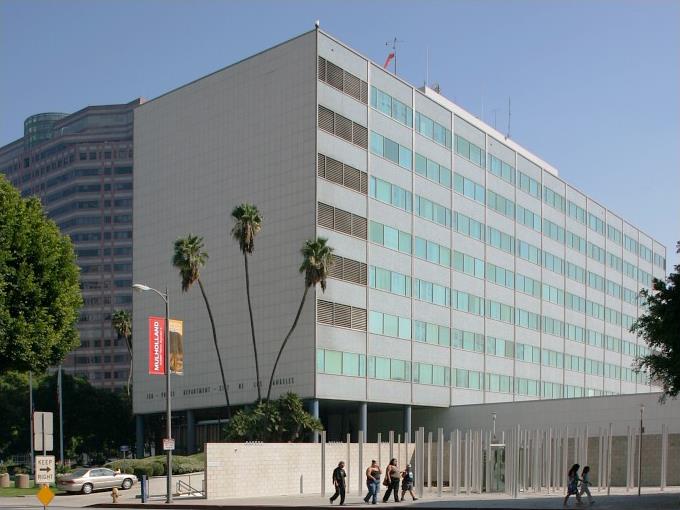 The old Los Angeles Police Department headquarters downtown is an International Style icon seen in countless cop shows and crime movies. Designed by Welton Becket & Associates and J.E. Stanton, it opened in 1955 and, in 1969, was named for controversial police Chief William H. Parker, who brought military protocols to the department. In 2009 the LAPD opened a new headquarters across the street, and the fate of Parker Center was up in the air. In March the L.A. City Council approved a Civic Center Master Plan that would raze the building in favor of a 15-year plan that seeks to create 1.2 million square feet of city office space, more than 1 million square feet of much-needed housing and more than 300,000 square feet of retail. While it appears Parker Center's demise is a done deal, it's not gone yet. It's a favorite of preservationist Cooper.
1. Dog & Cat Hospital building, 9080 Santa Monica Blvd., West Hollywood.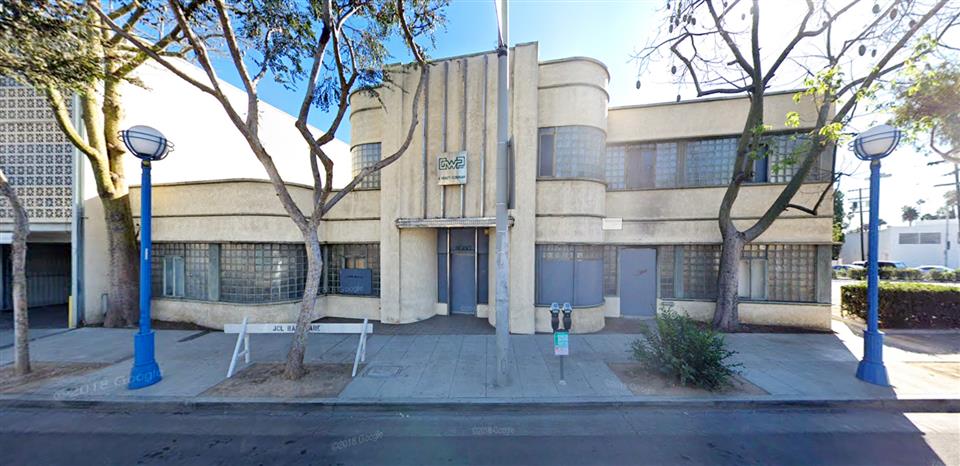 The building's streamline moderne update designed by the firm of Wurdeman & Becket was completed in 1938.
"Dr. [Eugene C.] Jones Dog & Cat Hospital was the first small-animal hospital in L.A. County and was known as the 'veterinarian to the stars' because of his movie-star clientele," according to the nonprofit group Docomomo U.S., which is dedicated to the preservation of modern architecture. It's "threatened with demolition in order to make way for a large-scale, mixed-use development."
Schave says that of all the buildings on this list, the "Dog & Cat Hospital is the one that faces the greatest danger. It's not protected by anything and they can bulldoze it tomorrow." The city of West Hollywood granted demolition permission, but Kate Eggert, co-founder of the West Hollywood Heritage Project, says the call to bring in the demolition team is being appealed in court by preservationists.
Article and image sources: