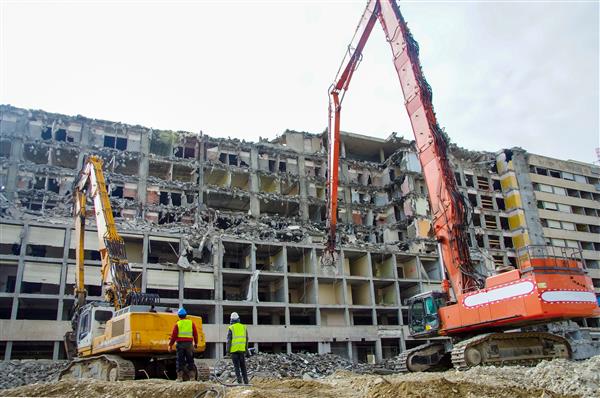 Recognizing an Outstanding Demolition Company from Inexperienced Demolition Contractors Los Angeles, CA
When looking to hire demolition contractors in Los Angeles, CA, Omni Demolition is your best choice. You are guaranteed to get the best value for your money with our expertise partnered with updated equipment and strict adherence to state safety regulations and policies. Our demolition contractor is on standby at all times ready to cater to your needs. If you need a structure or building taken down, our demolition experts will use the fastest and most economical method of demolition. Whether it may be a residential, commercial or industrial structure that needs to be taken care of, our crew has got it covered.
The Main Variances of Demolition and Deconstruction in Los Angeles, CA
Demolition is the process of tearing down or pulling down buildings and structures by a demolition expert. A demolition expert may order a careful deconstruction prior to a demolition to carefully remove chemically hazardous materials as a safety precaution. Deconstruction, on the other hand, is the disassembling of a building while preserving its re-usable parts. On the other hand, whole-house deconstruction entails tearing down an entire structure and salvaging any reusable or recyclable materials.
You can Trust Us with Your Demolition Project in Los Angeles, CA
Our demolition experts guarantee to provide you with professional demolition services. Our demolition contractors have years of experience in the business providing exceptional and enviable customer service across Los Angeles, CA. We pride ourselves in being reliable and efficient service providers who will cater to all your unique needs. You will not find another demolition contractor in all of Los Angeles, CA who will help you save and spend wisely. Whether small or large, we strive to always provide you with the highest possible standards of service in completing your projects within your budget and timeframe without complications. Whether small or large, we strive to always provide you with the highest possible standards of service in completing your projects within your budget and timeframe without complications.
Our Range of Demolition Services in Los Angeles, CA
Industrial Demolition Services: We can handle any challenging industrial demolition project you may have. With our world-class equipment and staff, we are able to demolish plants, mills, manufacturing buildings and so on.
Commercial Demolition Services: Despite commercial buildings being located in compact spaces, our demo company is able to bring down your building or structure in a safe way with minimal damage to the surrounding area. Using modernized equipment, our team of professionals have pulled down warehouses, grocery stores, shops, airplane hangars among others.
Concrete demolition and recycling services: Our demolition experts are experienced in salvaging not only metal scraps but concrete structures and slabs as well.
Scrap Metal Demolition Services: You do not have to worry about disposing of scrap metal once your metal structure is demolished, our demo company will help you sort out the scrap metal which can be recycled and reused for building.
We Stay Ahead Other Demolition Companies in Los Angeles, CA
We take pride in having some of the most seasoned demolition experts among numerous demolition contractors in Los Angeles, CA. Our demolition experts are highly experienced in all types demolition services be they in a remote or challenging environment. We are a demolition company that takes our work seriously and consistently conduct regularly equipment maintenance, which ensures efficient and quick clearing operations. You will never find a more reliable demolition company in Los Angeles, CA than us.
Methods Conducted by Experts on Demolition and Deconstruction in Los Angeles, CA
Explosive Demolition: This method should be done only by experienced demolition experts in Los Angeles, CA as it involves safety parameters that should be strictly observed. It involves turning a switch to initiate an explosion, which will then collapse the building into a mound of rubble.
Non-Explosive Demolition: Our local demolition contractors use a wrecking ball attached to a crane to knock down buildings. It is a cheaper and faster method unlike explosive demolition.
Selective Demolition: This process entails tearing down a part of the structure. Efficiency is maximized by recycling reusable material thus reducing waste and lessening the impact on the environment. As the leading demo contractors, we have set standards that other building demolition companies have a hard time measuring up to.
The process requires demo contractors to work around normal operating hours on small working spaces and under strict timetables. Our company, unlike other building demolition companies, understands the significance of all these considerations. We ensure that we provide an environment that is safe for everyone involved with as minimal disruption as possible.
Cutting Edge Equipment Utilized for Demolition in Los Angeles, CA
Hydraulic breakers – Commonly known as hydraulic hammers, these are often used by our demo company to grind up slabs and concrete structures.
Wrecking Balls – A wrecking ball is a heavy steel ball that is usually suspended from a crane. It is swung to the targeted structure or building in order to take it down.
Hydraulic Shears/ Rock breakers – They are fitted to an excavator and have the ability to cut through concrete, metal, rocks and wood.
Bulldozers – Serving multiple purposes, bulldozers can be used to haul items and waste as well as help knock down weak structures or level mounds of soil.
Dumpers – Copious amount of time is spent clearing demolition sites and this is where dumpers come in very handy. An experienced demolition business deploys dumpers to haul debris and waste away from the site.
Cranes – Demolition contractors will need to use a crane in long-reach or high-reach demolition projects. A wrecking ball is suspended on a crane, from where it is swung to demolish a structure partly or wholly. A crane is a very important piece of equipment in any demo company.
Crawler Loaders – Particularly useful in tight spaces, crawler loaders are versatile vehicles that function as a flexible loading and hauling machine. It can also be used for digging the ground.
For all Your Demolition Services in Los Angeles, California, Call on Us
If you are looking for a reliable demolition company in Los Angeles, California, there is no need to look any further. We will meet all your demands and give the same meticulous attention to your projects no matter the size. Find out why we have remained the #1 demolition company for years as you experience top of the line customer service. Our work integrity and reasonable packages are only some of the reasons why we are a well renowned Los Angeles deconstruction and demolition company. Get in touch with us today at
(855) 885-3366
and we will be more than glad to help.
Zip Code Areas We Service in Los Angeles
90291, 90293, 90292, 90029, 91316, 91311, 90035, 90008, 90004, 90005, 90006, 90007, 90001, 90002, 90003, 90710, 90089, 91306, 91307, 91344, 91345, 91340, 91342, 91343, 90034, 90037, 90036, 90031, 90033, 90039, 90038, 90247, 90248, 91411, 91436, 91371, 91608, 91605, 91604, 91607, 91606, 91601, 91602, 90402, 90068, 90062, 90063, 90061, 90066, 90067, 90064, 90065, 91326, 91324, 91325, 90013, 90012, 90011, 90017, 90016, 90015, 90014, 90028, 90090, 90095, 90094, 91042, 91040, 90069, 91352, 91356, 91402, 90041, 90042, 90043, 90044, 90045, 90046, 90047, 90048, 90049, 90019, 90018, 90010, 91423, 90210, 91303, 91304, 90079, 90071, 90077, 90059, 91331, 91330, 91335, 90026, 90027, 90024, 90025, 90023, 90020, 90021, 90272, 90732, 90731, 90230, 91406, 91405, 91403, 91401, 91367, 91364, 90032, 90057, 90058, 90744, 90501, 90502, 90009, 90030, 90050, 90051, 90053, 90054, 90055, 90070, 90072, 90074, 90075, 90076, 90078, 90080, 90081, 90082, 90083, 90084, 90086, 90087, 90088, 90093, 90099, 90189, 90213, 90294, 90296, 90733, 90734, 90748, 91041, 91043, 91305, 91308, 91309, 91313, 91327, 91328, 91329, 91333, 91334, 91337, 91346, 91353, 91357, 91365, 91392, 91393, 91394, 91395, 91396, 91404, 91407, 91408, 91409, 91410, 91412, 91413, 91416, 91426, 91470, 91482, 91495, 91496, 91499, 91603, 91609, 91610, 91611, 91612, 91614, 91615, 91616, 91617, 91618