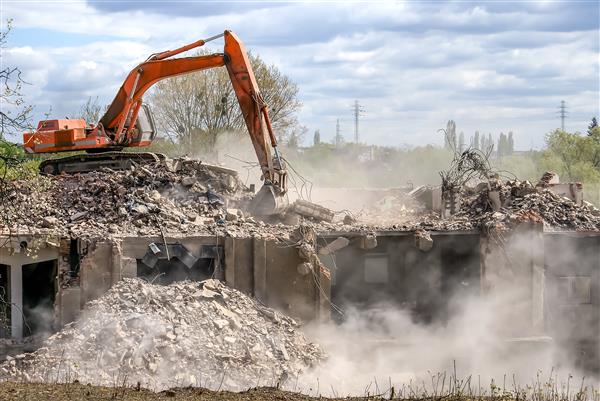 Your Premium Concrete Removal Company in Tucson, AZ
Concrete removal is a complicated procedure that requires tact and the services of professionals in Tucson, AZ. Indeed, time ages all things. Our concrete slab removal and concrete hauling professionals will take the lead during your demolition project, going above and beyond to deliver exceptional and satisfactory services. Our undeniable success in the business is proof that the team here at Omni Demolition is highly capable and dependable. We have spent years perfecting our services.
Important Equipment Used for Concrete Removal in Tucson, AZ
When looking for a contractor to hire, do not get drawn in by bargain prices. Instead, double check the company's performance and the condition of their equipment. One of our major investments include acquiring heavy-duty equipment capable of doing the most challenging concrete slab removal projects in Tucson, AZ. Here at here Omni Demolition, our bobcats, hoists, pallet jacks and all the other tools we use in the trade are all well-maintained to ensure continuous operations. Some of the services we offer include removing concrete driveway, concrete slab demolition, and concrete wall demolition. Compared to other companies, we conduct regular maintenance jobs on the equipment that we use. After the demolition, the waste has to be dealt with, so we also have special machinery for concrete hauling.
Conditions that Require a Concrete Demolition in Tucson, AZ
The only thing permanent in this world is change. It not only allows you to erect new buildings but it also gets rid of aging, dilapidated and unsafe structures. Rest assured, we will deliver an excellent job well done, regardless of the scale of the project. Furthermore, we promise to charge reasonable rates for the concrete hauling or crushing task you may need after the demolition work is done. For plumbing, steam fitting and electrical works, concrete demolition is in most cases the only option that allows pipe penetrations. Apart from wall or ceiling cracks, you will need the help of a professional if you have problems with leaky water pipes or defective house wirings, most especially if they are buried underneath the concrete.
Getting Concrete Removal Permits in Tucson, AZ – We Got That Covered
Before undertaking a concrete removal or a concrete hauling project in Tucson, AZ, you need to understand and adhere to the policies and requirements of the city council. Some of the concrete structures requiring permits include seawalls and sidewalks, among others. Unlike other concrete removal companies, Omni Demolition will take care of all the permit preparations for you. Often, the permits are necessary to allow governing bodies to check on how the demolition process is being conducted. You will definitely need a permit depending on the nature of your project. Usually, you have to obtain a form of approval from the appropriate regulatory body before you can lawfully proceed with the demolition. Permit requirements also vary depending on the geographical location of your demolition project. Therefore, it is important to familiarize yourself with the legal requirements of where you live. All you have to do is let us know what you need done and relax—we are here to do all the legwork for you.
How Much Do You Have to Pay for a Concrete Demolition in Tucson, AZ
For starters, there are demolition permits which can cost you a lot depending on the location of the project. This estimate is for the removal of unreinforced concrete of a two-car driveway with zero disposal fees. Reinforced concrete has metal rods and steel mesh. This means that it will require the use of heavy machinery for demolition. As a result, the cost of removal will be higher. Unreinforced concrete on the other hand is easier to remove. Whether you have a patio demolition or a patio removal project, you can be sure that we are well equipped to handle any demolition project you may have. Unreinforced concrete on the other hand is easier to remove. Permits can cost you a few dollars to thousands of dollars depending on your location and project needs.
Typical Timeline for a Concrete Demolition Operation in Tucson, AZ
Time taken to complete a concrete demolition project usually depends on a number of things. We use a complete inventory of tools and equipment for jobs such as a concrete slab removal, concrete demolition and concrete hauling. We will only give you and agree on realistic time frames when all things have been factored in such as the size of the project. The bigger the demolition structure, the more time it will take to complete the job. Advanced machinery is able to work at a faster speed thus, completing your job faster. However, using advanced equipment can be costly.
You Get More Value by Recycling Concrete in Tucson, AZ
It comes right after a concrete demolition and removal project. You can crush them up and use them as a base layer for your asphalt pavement. By recycling used up concrete, you can minimize waste and save money on your side projects. Our concrete demolition contractors highly encourage recycling in accordance with our adherence to providing eco-friendly solutions. We can help you recover some funds by forwarding not just concrete but also metal scraps to their respective recycling centers. Recycled concrete has been gaining popularity among the community of demolition and construction experts in the city.
Call for a Quick Concrete Demolition Service Today
Our company, Omni Demolition has established a huge number of loyal patrons who prefer our concrete demolition services over other services providers in Tucson, AZ. There are many reasons why Omni Demolition should be your number one pick for all your concrete slab removal projects. Our history of completed projects speaks for us when it comes to expertise, safety requirement compliance, and outstanding workmanship. We act fast and charge fair rates for whatever service we deliver. With our help, you won't have to risk your family's safety. Get in touch with us for the best concrete removal service.
Zip Code Areas We Service in Tucson
85705, 85707, 85706, 85756, 85723, 85726, 85724, 85701, 85708, 85748, 85745, 85747, 85716, 85714, 85715, 85712, 85713, 85710, 85711, 85719, 85730, 85702, 85703, 85709, 85717, 85720, 85721, 85722, 85725, 85731, 85732, 85738, 85751, 85754, 85775