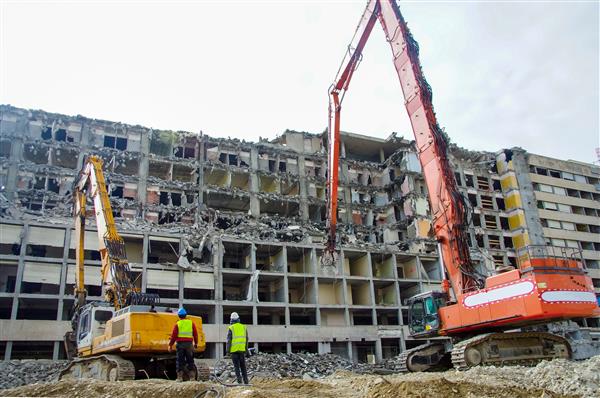 Professional Demolition Contractors Tucson, AZ – What You Need to Know when Hiring a Demolition Company
Omni Demolition has paved the way for many construction services in the city through the exemplary workmanship and warm customer service of our demolition contractors. Our goal is to establish strong customer ties through honest business and outstanding workmanship. At any given time, our demolition contractor will be at your service to help you with your demolition, excavation and wrecking projects in Tucson, AZ. You can trust that our demolition experts are all well-versed when it comes to everything that has to do with eco-friendly demolition, as well as health and safety guidelines. We are an environmentally friendly company.
The Objectives of Demolition and Deconstruction in Tucson, AZ
Demolition is the process of knocking down, levelling, razing, tearing down or pulling down a building or a structure. Our demolition expert tests and removes hazardous material before knocking down the building. A deconstruction entails careful removal of a structure's segments or hazards such as electrical wires, gas pipes and hydro lines prior to a complete knocking down of the building. In instances where a building will be remodelled or reconstructed, a deconstruction is more appropriate. As opposed to a full demolition which entails completely crushing a certain structure, deconstruction is the strategic taking apart of a building and putting away its reusable components.
Why Hire Us for Your Demolition Project in Tucson, AZ
Our demolition experts and demolition contractors in Tucson, AZ are highly skilled in meeting all your demands. Our demolition contractor is at your service to fulfill all your needs. Hiring inexperienced contractors results in lousy jobs and may even cause delays on your targeted completion date. Trust only the most preferred demolition contractor in all of Tucson, AZ.
What Demolition Services Can You Expect to Find in Tucson, AZ?
Industrial Demolition Services: We can handle any challenging industrial demolition project you may have. With our world-class equipment and staff, we are able to demolish plants, mills, manufacturing buildings and so on.
Commercial Demolition services: Being a world-class demo company, you can rest easy knowing that your property is in safe and capable hands. We have the capability to bring down commercial structures such as warehouses, airplane hangars, shopping malls, garages, office buildings and sports facilities among others.
Concrete demolition and Recycling Services: Our demolition experts are able to recycle your concrete slabs and structures by crushing them and turning them into reusable gravel.
Scrap Metal Demolition Services: Our demo company will also clear out your property of any undesirable steel erections and salvage any existing metal scraps for recycling.
Key Advantages Against Other Demolition Companies in Tucson, AZ
Our team of demolition experts and demolition contractors will work tirelessly and dedicatedly to ensure that your project is completed on time. We provide our clients with value for their money. Our demolition company in Tucson, AZ makes use of a unique approach that minimizes waste and maximizes recyclable materials. As a trusted demo company, we have established a life-long relationship with our loyal patrons who can attest to our efficiency and commitment to getting the job done.
Types of Demolition and Deconstruction in Tucson, AZ
Explosive Demolition: Our demolition experts in Tucson, AZ bring down structures or buildings by removing the main structural elements such as the walls and pillars with the help of explosives. This reduces the building's structural stability, causing it to collapse under its own weight. This method is faster, environmentally friendly and safer when compared to other methods.
Explosive Demolition: This method should be done only by experienced demolition experts in Tucson, AZ as it involves safety parameters that should be strictly observed. It involves turning a switch to initiate an explosion, which will then collapse the building into a mound of rubble.
Selective Demolition: Our demo contractors use this method when their goal is to recover or salvage demolition materials. Building demolition companies reuse or recycle the salvaged materials thus reducing waste.
We Utilize Well-maintained Equipment for Demolition in Tucson, AZ
Hydraulic breakers – Also known as hydraulic hammers, our demo company uses this to demolish rocks or concrete structures.
Wrecking balls – A wrecking ball is used together with a crane. This heavy steel ball is suspended from a crane and is used to bring down an entire structure or part of it. Although not widely used, this method is as fast as it is cost effective.
Hydraulic shears and rock breakers – Used by specialists to cut through various materials such as concrete, metal, wood, and steel.
Bulldozers – These powerful machines are used to bring down smaller sized buildings or structures. They are also used to transfer debris and rubble to trucks.
Dumpers – Copious amount of time is spent clearing demolition sites and this is where dumpers come in very handy. An experienced demolition business deploys dumpers to haul debris and waste away from the site.
Cranes – Our demolition contractors utilize cranes not only for suspending wrecking balls but in heavy lifting and moving materials within the site. Our demo company uses different types of cranes depending on the task to be fulfilled.
Crawler Loaders – Particularly useful in tight spaces, crawler loaders are versatile vehicles that function as a flexible loading and hauling machine. It can also be used for digging the ground.
We are the Number to Call for Premium Demolition Services in Tucson, Arizona
Our demolition company in Tucson, Arizona is the best one in town. We will meet all your demands and give the same meticulous attention to your projects no matter the size. Signing with our demolition company guarantees a stress-free project, from the accurate estimation, the actual operations, onsite clearance as well as processing required permits. Our Tucson deconstruction and demolition company has highly skilled personnel with years of experience in the demolition business. Feel free to get in touch with us today at
(855) 885-3366
!
Zip Code Areas We Service in Tucson
85705, 85707, 85706, 85756, 85723, 85726, 85724, 85701, 85708, 85748, 85745, 85747, 85716, 85714, 85715, 85712, 85713, 85710, 85711, 85719, 85730, 85702, 85703, 85709, 85717, 85720, 85721, 85722, 85725, 85731, 85732, 85738, 85751, 85754, 85775