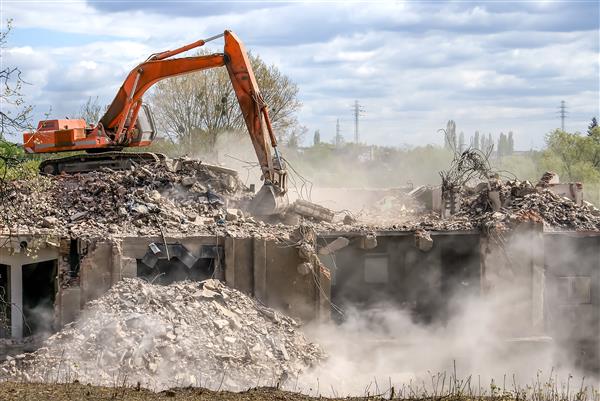 Reliable Provider of Concrete Removal Service in Los Angeles, CA
When bigshot companies in Los Angeles, CA make you feel intimidated as you seek advice on demolition procedures, concrete removal and other related services, our clients enjoy professional and friendly consultation for free. Here at Omni Demolition, our concrete slab removal services are completed all the while making you feel like a VIP. We have well-trained experts who can help you with tasks such as concrete hauling, partial house demolition and site cleanup. Our high ratings clearly speak for our loyal clients and how much value they get from hiring us as their contractor. After all the work is done and the dust settles, you'll find that our services are done with excellence and are very affordable.
Tools and Equipment We Use to Perform Our Concrete Removal Service in Los Angeles, CA
From plowing to chipping to drilling and demolishing concrete, we are your go-to company. We can perform services like concrete slab removal that you may need for your Los Angeles, CA project as soon as possible. We highly recommend consulting with experts when you plan for your demolition project. Our professional experts in Los Angeles, CA are able to tackle any task such as removing concrete driveway, concrete slab demolition and concrete wall demolition with the help of our line-up of premium equipment and machinery such as diamond wire saws, demolition hammers, pavement breaks and hydraulic splitters. It pays to work with professionals, most especially when you don't know what to do. When everything about your structure screams it is time for demolition, safety should be your priority.
Addressing Your Concrete Demolition Needs in Los Angeles, CA
Concrete is designed to last a very long time if it is installed properly. However, like every other type of material, its structure will also degrade over time. Some of the main reasons include the overall condition of the structure and presence of faulty wirings or leaky water pipes underneath the cement. We have all the equipment needed to perform quality concrete hauling or demolition. Safety is a huge part of our operations and we follow all precautions to ensure zero incidents from beginning to end. All of the technicians follow safety procedures to ensure the project flows smoothly without any delays.
What Reports or Paperwork Do I Need for a Los Angeles, CA Concrete Removal Project?
The state and local authorities in Los Angeles, CA require necessary permits whether you will be conducting a concrete removal or concrete hauling project. There are several concrete removal companies in the city, so make sure you select one that will help you all throughout the process. The city imposes a strict policy in permit application. Permit requirements also vary depending on the geographical location of your demolition project. Therefore, it is important to familiarize yourself with the legal requirements of where you live. If you work with our experts at Omni Demolition, you can be sure that you'll have a great experience.
Concrete Demolition Expenses in Los Angeles, CA
The first step is to determine how much the job will cost you. For highly urbanized locations, such as Chicago, you can expect to pay more. For a budget of $400, you will be able to complete the removal of unreinforced concrete from a patio that is two hundred square foot in size with zero disposable fees. Ask your potential Los Angeles, CA patio demolition companies how much they charge before you make your final decision. Feel free to contact us to learn how much we charge for a patio removal or other similar services. Another factor that contributes to the overall cost is whether or not the concrete debris will be recycled. Another cost to factor in is demolition permits. Depending on where you are situated and size of the project, permits and associated costs can cost you around $200 or as high as $10,000 in some cases. The demolition project itself will usually cost you an estimated $1000 to $15,000+, depending on the size and situation.
Expected Duration of a Concrete Demolition in Los Angeles, CA
Concrete is usually reinforced with tough steel making it virtually indestructible. A concrete demolition project needs the services of professionals to have it done right and safely. We understand the importance of honoring our commitments and we deliver our concrete slab removal and concrete hauling services in Los Angeles, CA with no excuses. Our experts ensure that operations are done continuously and without incident. We explain the steps involved, paperwork required, plus cost estimate to help our clients ensure everything runs smoothly. Rest assured we will take good care of your demolition needs in Los Angeles, CA and provide a clearly defined timeline for the entire project.
Concrete Recycling in Los Angeles, CA?
With rising pressure on local landfills, the diversion of rubble from a concrete demolition and removal project is becoming increasingly important. Concrete recycling is an integral part of concrete demolition. Our concrete demolition contractors can also use the recycled concrete for landscaping. The crushed materials are often referred to as dry aggregates, and they can last a long time if applied the right way. Additionally, crushed concrete is also cheaper and greener compared to the regular type. Recycled concrete has been gaining popularity among the community of demolition and construction experts in the city.
Make the Wise Decision by Calling Us for Concrete Demolition in Los Angeles, California
We offer various concrete demolition services. Whether you require a simple concrete slab removal or a major interstate pavement, our team of experts is the most knowledgeable for the job. Our concrete removal service is compliant with all safety policies and requirements of the state. We are a budget friendly company and we will get the job done right the first time. Our fulfillment is in achieving excellence. Call us today at
(855) 885-3366
for a free consultation and ask one of our agents for a free estimate.
Zip Code Areas We Service in Los Angeles
90291, 90293, 90292, 90029, 91316, 91311, 90035, 90008, 90004, 90005, 90006, 90007, 90001, 90002, 90003, 90710, 90089, 91306, 91307, 91344, 91345, 91340, 91342, 91343, 90034, 90037, 90036, 90031, 90033, 90039, 90038, 90247, 90248, 91411, 91436, 91371, 91608, 91605, 91604, 91607, 91606, 91601, 91602, 90402, 90068, 90062, 90063, 90061, 90066, 90067, 90064, 90065, 91326, 91324, 91325, 90013, 90012, 90011, 90017, 90016, 90015, 90014, 90028, 90090, 90095, 90094, 91042, 91040, 90069, 91352, 91356, 91402, 90041, 90042, 90043, 90044, 90045, 90046, 90047, 90048, 90049, 90019, 90018, 90010, 91423, 90210, 91303, 91304, 90079, 90071, 90077, 90059, 91331, 91330, 91335, 90026, 90027, 90024, 90025, 90023, 90020, 90021, 90272, 90732, 90731, 90230, 91406, 91405, 91403, 91401, 91367, 91364, 90032, 90057, 90058, 90744, 90501, 90502, 90009, 90030, 90050, 90051, 90053, 90054, 90055, 90070, 90072, 90074, 90075, 90076, 90078, 90080, 90081, 90082, 90083, 90084, 90086, 90087, 90088, 90093, 90099, 90189, 90213, 90294, 90296, 90733, 90734, 90748, 91041, 91043, 91305, 91308, 91309, 91313, 91327, 91328, 91329, 91333, 91334, 91337, 91346, 91353, 91357, 91365, 91392, 91393, 91394, 91395, 91396, 91404, 91407, 91408, 91409, 91410, 91412, 91413, 91416, 91426, 91470, 91482, 91495, 91496, 91499, 91603, 91609, 91610, 91611, 91612, 91614, 91615, 91616, 91617, 91618