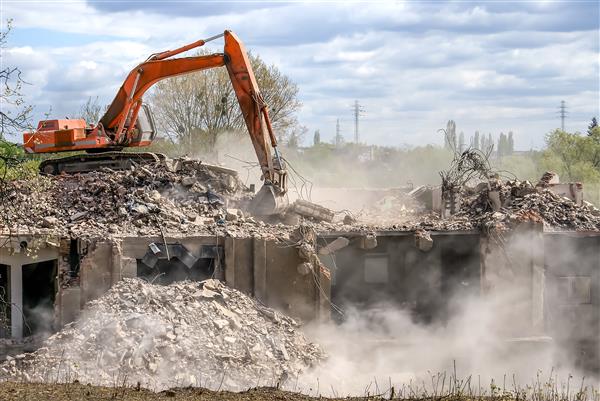 Your Company of Choice for Your Concrete Removal Projects in Aurora, CO
Concrete removal in Aurora, CO is definitely not a job for the faint at heart and that is why many recommend hiring only seasoned expert contractors like those at Omni Demolition to handle your projects. Our highly trained experts undergo rigorous and continuous training to ensure that any concrete slab removal or concrete hauling job is executed safely and correctly. Whether you wish to remodel a small section of your house or rebuild the entire structure, you can count on us to provide a good service. Simply contact us about your project—we are ready to help.
Cutting Edge Equipment Made for Concrete Removal in Aurora, CO
Most fly-by-night companies do not invest in good equipment or worse, they utilize faulty machinery which can cause delays and substandard outcomes. Other equipment used in concrete slab removal in Aurora, CO are jack hammers, hoists, pallet jacks and bobcats. It takes professionals with years of experience to safely remove concrete. Hydraulic slitters are very efficient in breaking thick and dense concrete. Our professional experts in Aurora, CO are able to tackle any task such as removing concrete driveway, concrete slab demolition and concrete wall demolition with the help of our line-up of premium equipment and machinery such as diamond wire saws, demolition hammers, pavement breaks and hydraulic splitters. We offer a wide range of services, which include concrete slab demolition. After we cut and crush the concrete, we can also provide concrete hauling services to get rid of or recycle the waste materials. Hydraulic concrete shears are used in secondary demolition where they help to separate concrete from steel reinforcements and further reduce the size of the rubble.
Conditions that Require a Concrete Demolition in Aurora, CO
Concrete, when constantly exposed to changing weather and temperature, can weaken and crack. Whether the project requires breaking asphalt or concrete in residential, commercial or industrial spaces, we have the equipment and service crew ready to do the job. We continually educate our professionals on safe concrete demolition and concrete hauling services. Concrete structures are built to withstand great pressure. Having them torn down can be quite a challenge as opposed to erecting them.
Do You Require Permits for Concrete Removal Services in Aurora, CO?
When it comes to conducting a concrete removal or concrete hauling project, existing policies and permit requirements may vary from state to state. While other concrete removal companies may include additional fees for processing the required permits, we at Omni Demolition have got you covered. Avoid getting penalized by the local authority. Other contractors hire a third-party permit service provider to file the necessary permit but this could only mean additional expenses for you. Your main goal should be to minimize the risks of delaying the project by preparing the necessary documents beforehand.
Spending Wisely on Concrete Demolition Costs in Aurora, CO
Some contractors in Aurora, CO will give you rock bottom packages which could mean poor quality services while some will be too expensive with no guarantee that they will deliver as promised. The rate is provided by your local government, and it would be best to check beforehand. We vow to conduct clean and honest business because we give more value to a lifetime relationship with our clients. Patio demolition and patio removal are some of the demolition projects we specialize in. We provide detailed and accurate estimates that are easy to understand. On average, demolishing unreinforced concrete in a two-car driveway will cost you somewhere between $1,500 and $2,500. Bigger projects average between $4,000 and $14,000. Demolition permits on the other hand vary greatly and will cost you an average of $200, but can cost up to $10,000 depending on where you are located. Our quote covers the entire concrete demolition process.
How Long Do Concrete Demolition Projects Take Place in Aurora, CO?
It doesn't take long to complete a concrete demolition project as long as a careful and detailed plan is made by the demolition team beforehand. To eliminate demolition delays, we plan all our concrete slab removal and concrete hauling in Aurora, CO effectively with hands-on management principles. This is a key aspect in our line of work. We understand the importance of service delivery to our clients in a timely manner. After we check the overall condition of your property in Aurora, CO, we can start discussing the available options. Rest assured we will take good care of your demolition needs in Aurora, CO and provide a clearly defined timeline for the entire project.
Is it Possible to Recycle Concrete in Aurora, CO?
After the completion of a concrete demolition and removal project, you tend to end up with lots of concrete aggregate. Concrete recycling is a more viable option of taking care of demolition waste. Our concrete demolition contractors can also use the recycled concrete for landscaping. The crushed materials are often referred to as dry aggregates, and they can last a long time if applied the right way. Additionally, crushed concrete is also cheaper and greener compared to the regular type. Once concrete waste is salvaged, the uncontaminated concrete free of paper, wood and other materials is crushed.
Contact Our Aurora, Colorado Concrete Demolition Experts
Our commitment is in offering personalized and satisfactory concrete demolition services in Aurora, CO to all our clients-from concrete slab removal to any other concrete removal service you may be in need of. At Omni Demolition, we handle all types of concrete demolition project-from scanning work to wall cutting, and from sawing to core drilling, there is no concrete slab removal project that is out of bounds for us. We will work diligently and efficiently on your projects no matter the size. We have been in this business for many years. We guarantee to come and fix your concrete-related problems fast. Our professional contractors know the proper way to handle equipment. Concrete demolition in Omni Demolition is the best way to safely tear down buildings or structures made from concrete.
Zip Code Areas We Service in Aurora
80247, 80045, 80137, 80018, 80019, 80016, 80017, 80014, 80015, 80012, 80013, 80010, 80011, 80040, 80041, 80042, 80044, 80046, 80047