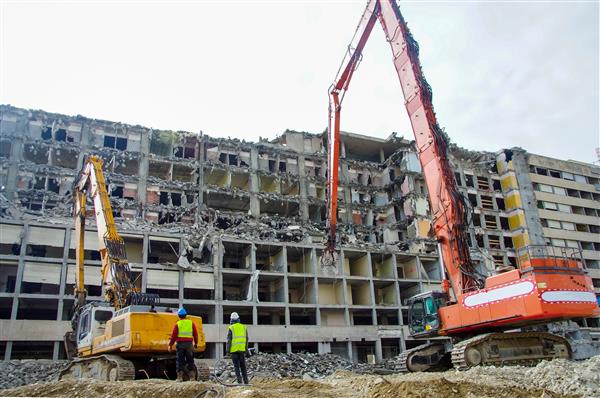 The Best Demolition Contractors and Demolition Company Aurora, CO You Can Depend On
When looking to hire demolition contractors in Aurora, CO, Omni Demolition is your best choice. We set the standards in world-class demolition services. If you need to hire a professional demolition contractor in Aurora, CO without spending a ridiculous amount of money, you have come to the right place. Our team of demolition experts provide outstanding demolition services whether complete or selective. This minimizes the chances of accidents or injuries at the demolition site.
What are the differences Between Demolition and Deconstruction in Aurora, CO
Demolition is taking down or dismantling a building or structure with a strong and overwhelming force whose end result is rubble or waste. Some projects require complete levelling while others simply need specific parts removed to be replaced. For every client call, we have a demolition expert equipped to do the job. Deconstruction is when a demolition expert takes a structure apart carefully, one piece at a time. The materials can be reused in rebuilding or reconstruction.
You can Trust Us with Your Demolition Project in Aurora, CO
Our demolition experts and demolition contractors in Aurora, CO offer superior services in demolition for all your projects. Our demolition contractor is at your service to fulfill all your needs. Most sales agents will promise everything just to close a deal but are no longer accountable when their team fails to deliver. Trust only the most preferred demolition contractor in all of Aurora, CO.
Our Range of Demolition Services in Aurora, CO
Industrial Demolition Services: We can handle any challenging industrial demolition project you may have. With our world-class equipment and staff, we are able to demolish plants, mills, manufacturing buildings and so on.
Commercial Demolition services: We isolate the targeted building before performing the actual demolition so as not to cause any damage to its neighboring structures. Our demo company, has handled tearing down malls, airplane hangars, markets, and even bridges.
Concrete demolition and recycling services: Let our demolition experts know if you wish to maximize the use of the structure's concrete materials and we will break them down into reusable gravel.
Scrap Metal Demolition Services: Our demo company will save you time and money by demolishing your metal structure, putting a recovery plan in place and selling the salvaged scrap metal for you.
We are the Leading Demolition Company in Aurora, CO
Despite being highly preferred over other demolition contractors, we keep our feet grounded. We take pride in employing some of the finest calibre of demolition experts throughout the city. We are a top-rated demolition company in Aurora, CO. When it comes to bringing down old, dilapidated or unwanted property, we have vast experience as a demo company and we will ensure that our services do not cause any unintended damage or pollution
The Types of Methods Used in Demolition and Deconstruction in Aurora, CO
Explosive Demolition: We have a team of demolition experts in Aurora, CO who thoroughly oversee the process of using explosives to crumble a structure, including the strict adherence to safety regulations and environmental protocols.
Non-Explosive Demolition: In instances where the height of the building makes it unsafe to use explosives, a wrecking ball is used by local demolition contractors to weaken the structure before tearing it down.
Selective Demolition: Our demo contractors are the most sought-after for their record in successfully extracting or tearing down selected parts of a structure. We are one of the few building demolition companies who can conduct a customized approach depending on the client requirement.
Important Equipment Used for Demolition in Aurora, CO
Hydraulic Breakers – Our demo company uses a hydraulic breaker to demolish rocks and concrete structures. Its powerful hammer causes destruction on the targeted object in a matter of seconds.
Wrecking balls – Attached to a crane, these heavy balls made of steel are used to weaken structures. They are swayed right into the building causing it to break and collapse.
Hydraulic Shears/ Rock breakers – They are fitted to an excavator and have the ability to cut through concrete, metal, rocks and wood.
Bulldozers – This powerful machinery has a number of uses in construction. A bulldozer can be used to knock down an old or derelict structure. It can also be used to push away debris and clean up the area.
Dumpers – A dumper is a very useful piece of machinery in every demolition business. It is used to carry away demolition waste from demolition sites.
Cranes – Our demolition contractors utilize cranes not only for suspending wrecking balls but in heavy lifting and moving materials within the site. Our demo company uses different types of cranes depending on the task to be fulfilled.
Crawler Loaders – Mostly used for excavating, this equipment is also utilized for its lifting and loading capabilities.
Call us Today for Demolition Services in Aurora, Colorado
Our demolition company is a leading demolition company in Aurora, Colorado with proven resources, knowledge, professionalism and experience to successfully manage any demolition project you may have. For years now, we have helped all our clients demolish and deconstruct their buildings and structures successfully. Ensure a spotless pre-construction site when you sign with us. Our demolition company's spotless track record in handling minor to major demolitions is your guarantee of our high quality service, expertise and commitment to each and every project. We deliver your Aurora demolition needs in a timely manner without compromising on the quality of our work. Contact us at
(855) 885-3366
.
Zip Code Areas We Service in Aurora
80247, 80045, 80137, 80018, 80019, 80016, 80017, 80014, 80015, 80012, 80013, 80010, 80011, 80040, 80041, 80042, 80044, 80046, 80047