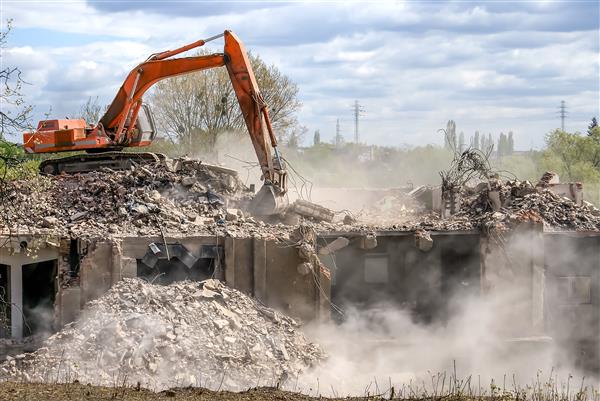 Your Company of Choice for Your Concrete Removal Projects in Denver, CO
We are experts in providing concrete removal in Denver, CO. For your concrete slab removal and concrete hauling services, you can rest easy knowing that we have got you covered. Our reliable craftsmen do not believe in making excuses. We achieve 100% success in all our projects by examining the task at hand from all conceivable angles and then deciding on the course of action that is best suited for your project.
Equipment Used for Concrete Removal in Denver, CO
Our contractors at Omni Demolition can perform a wide range of services because they are well-equipped. Within a reasonable timeframe, we can cut, crush and remove any size of concrete structure. Some of the equipment we have includes bobcats, trackers, pallet jacks and track loaders. One of our major investments include acquiring heavy-duty equipment capable of doing the most challenging concrete slab removal projects in Denver, CO. Service providers who have faulty equipment will surely cause delays in your project or worse, add their own repair expenses on top of your original bill. Our tools and equipment can be used on various projects of various sizes. As such, our services such as concrete slab demolition and concrete wall demolition are perfect for any type of situation. Through controlled and precise actions, chipping hammers are used to chip away specific areas. After we cut and crush the concrete, we can also provide concrete hauling services to get rid of or recycle the waste materials.
When Do You Need Concrete Demolition Services in Denver, CO?
There could be various reasons for a complete or partial concrete demolition, but no matter what the cause is, rest assured that we will carefully assess the situation so we can give you the right solution. Structures and buildings crafted from concrete are made to withstand enormous pressures. Hence, removing them can be quite challenging. Rest assured, we will deliver an excellent job well done, regardless of the scale of the project. Furthermore, we promise to charge reasonable rates for the concrete hauling or crushing task you may need after the demolition work is done. If you see frost heave or concrete that is pushed upward, cobweb-like cracks on cement, sunken slabs and even fragmented foundations, it is best to call us for a concrete demo and plan on rebuilding your property. If you see any signs of structural damage on the walls, ceilings and other sections of your house, you must consider booking a demolition service as soon as possible to prevent accidents.
Concrete Removal Permits and Other Construction Requirements in Denver, CO
It is essential that before you start your concrete hauling project, you have already secured a concrete removal permit in Denver, CO. Other concrete removal companies may charge you extra to process the necessary permits. The city imposes a strict policy in permit application. We will make sure that you have all the permits you need to ensure an uninterrupted execution of your demolition project. Height and size of your demolition project are factors considered in determining whether or not you will need to get a permit for the job.
Concrete Demolition Expenses in Denver, CO
The first step is to determine how much the job will cost you. Unfortunately sketchy sales agents ruin it for the rest of the industry and tend to make clients suspicious when dealing with contractors. Other companies reach a higher price range of $15,000+. Patio demolition and patio removal are some of the demolition projects we specialize in. Our ever-helpful staff will be happy to give you a competitive estimate for your project. We can assure you that we have the best priced packages in the area.
Typical Timeline for a Concrete Demolition Operation in Denver, CO
Firstly, we begin with a site visit. Then we discuss all the aspects of the concrete demolition project with you. Next, we develop the best possible way to tackle the task at hand. We plot reasonable timetables for the complete operation in Denver, CO, from preparation, to actual concrete slab removal, up to concrete hauling and site clearing. This is a key aspect in our line of work. We understand the importance of service delivery to our clients in a timely manner. It entails dividing slabs into sub-sections as well as grids, then removing them piece by piece. We do not give our clients overly ambitious timelines.
Concrete Recycling in Denver, CO?
A crucial aspect we consider in a concrete demolition and removal project is where to put the debris. Deconstructed concrete is not the type of waste that will disintegrate and decay at a fast pace when left on its own which is why we encourage recycling, instead of disposing of them in dump sites. Some companies even buy concrete wastes so they can process it to be reused in constructing roads, sidewalks and even airport runways. Our concrete demolition contractors can use recycled concrete as a cheaper alternative of aggregate as opposed to newly mined aggregate. It is also an environmentally friendly approach of dealing with the waste. This not only lessens the environmental impact but it also minimizes the overall cost on your concrete demolition project.
Why Come to Us for All Your Concrete Demolition Needs in Denver, Colorado
By choosing our experts, you can be completely sure that you will receive smooth and exceptional concrete demolition services as compared to hiring other companies. At Omni Demolition, your Concrete slab removal project needs the exceptional expertise and experience that we bring to the table in Denver, CO. We will work diligently and efficiently on your projects no matter the size. At Omni Demolition you are guaranteed not only commitment and proven expertise from our team of veteran specialists but also 100% site safety and transparency when it comes to billing and procedures being done on your property. With our experts, you won't worry about accidents, hidden costs, and other concerns. Contact us today!
Zip Code Areas We Service in Denver
80264, 80218, 80230, 80231, 80236, 80237, 80235, 80238, 80239, 80123, 80249, 80247, 80246, 80290, 80293, 80294, 80219, 80210, 80211, 80212, 80216, 80221, 80220, 80223, 80222, 80224, 80227, 80209, 80207, 80206, 80205, 80204, 80202, 80014, 80203, 80201, 80208, 80217, 80225, 80243, 80244, 80248, 80250, 80251, 80252, 80256, 80257, 80259, 80261, 80262, 80263, 80265, 80266, 80271, 80273, 80274, 80281, 80291, 80299