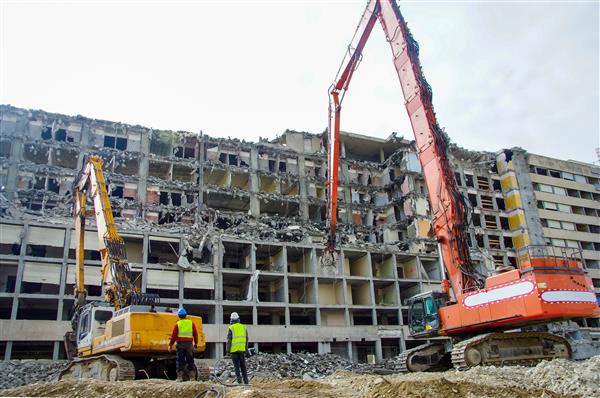 Demolition Contractors Denver, CO: Your Trusted Demolition Company
Omni Demolition is recognized as the leading provider of demolition contractors in Denver, CO. Our goal is to establish strong customer ties through honest business and outstanding workmanship. No need to break the bank to avail of first rate service and exceptional outcome. We have a team of seasoned demolition experts ready to act on any project. We are always on schedule. For all your projects, we ensure that we provide you with environmentally friendly services.
The Main Variances of Demolition and Deconstruction in Denver, CO
Demolition is taking down or dismantling a building or structure with a strong and overwhelming force whose end result is rubble or waste. A demolition expert may order a deconstruction if parts of the original structure need to be retained or hazardous materials and reusable items need to be extracted before an actual demolition. Deconstruction on the other hand is a type of demolition used in Denver, CO. There are two types of deconstruction: selective and whole-house. As opposed to a full demolition which entails completely crushing a certain structure, deconstruction is the strategic taking apart of a building and putting away its reusable components.
Why Sign Us for Your Demolition Project in Denver, CO
Our demolition experts as well as our demolition contractors in Denver, CO have highly specialized equipment and all the resources needed to complete any project you may have for us, however big or small it may be. As professional demolition contractors, we religiously adhere to state policies and regulations. We are knowledgeable in protocols and we prioritize safety at all times. You will not find another demolition contractor in all of Denver, CO who will help you save and spend wisely. From cost estimation up to the site clean-up, you can rest assured that we have everything covered. From cost estimation up to the site clean-up, you can rest assured that we have everything covered.
We Offer Demolition Services in Denver, CO Fit for Your Needs
Industrial Demolition services: We have the expertise, equipment and manpower to take down, mills, plants, manufacturing buildings among others without compromising the integrity of neighbouring structures.
Commercial Demolition Services: This type of demolition requires tact in working around obstacles. Our demo company is highly skilled in demolishing commercial structures such as hotels, retail spaces, office buildings, warehouses, bridges and airplane hangars among others.
Concrete Demolition and Recycling Services: This type of demolition is environmentally friendly and saves on cost. Rubble from concrete demolition is reused by our demolition experts to make gravel or as one of the materials for making new concrete.
Scrap Metal Demolition Services: Instead of hiring another contractor, we will help you save money as our demo company will take care of handling misplaced steel erections and sorting metal scraps for salvaging.
What Distinguishes Us from Other Demolition Companies in Denver, CO
We take pride in having some of the most seasoned demolition experts among numerous demolition contractors in Denver, CO. Our resources are as varied as they are effective: dependable and advanced equipment as well as expert personnel. Our demolition company is committed in service delivery. Our demo company delivers effective and safe results on your time and budget.
The Types of Methods Used in Demolition and Deconstruction in Denver, CO
Explosive Demolition: This method should be done only by experienced demolition experts in Denver, CO as it involves safety parameters that should be strictly observed. It involves turning a switch to initiate an explosion, which will then collapse the building into a mound of rubble.
Non-Explosive Demolition: In instances where the height of the building makes it unsafe to use explosives, a wrecking ball is used by local demolition contractors to weaken the structure before tearing it down.
Selective Demolition: This type of demolition is done when you want to remodel or renovate a building. It can either be exterior or interior by nature. Exterior demolition involves tearing down a part of the building with a purpose of increasing it in size or making it smaller. Interior demolition focuses mostly on taking apart spaces for remodeling or renovation.
Important Equipment Used for Demolition in Denver, CO
Hydraulic breakers – Commonly known as hydraulic hammers, these are often used by our demo company to grind up slabs and concrete structures.
Wrecking Balls – A wrecking ball is made from steel. It is suspended from a steel chain attached to a crane and is used to demolish large buildings. It is swung several times towards the intended structure until the structure crumbles. The working of a wrecking ball relies on the skills of an experienced operator.
Hydraulic shears and rock breakers – Designed to cut through the toughest materials with very minimal effort, these tools are attached to excavators to do the job. They can slice through rocks, concrete, metal, wood and steel.
Bulldozers – Commonly seen in construction sites, bulldozers are not only good for flattening surfaces but also for moving and transporting waste materials. It can also be maneuvered to knock down weak walls and structures.
Dumpers – Dumpers are also known as tipper trucks. They are used for transporting rubble or waste from the demolition site. If you are in the demolition business, safety is paramount and some of the safety hazards are demolition wastes. A dumper is a very important in removing the large amount of debris from the site.
Cranes – Demolition contractors use cranes to transfer materials within the site especially from lower to upper floors and vice versa. Aside from being used as a pulley, our demo company also uses cranes for wrecking balls.
Crawler Loaders – They are effective in bringing down structures. They can also be used to clean up a demolition site. Crawler loaders can help move debris. Its tracks enable the unit to move easily and freely on the property.
Call Us for Outstanding Demolition Services in Denver, Colorado
We are your dependable and trusted demolition company in Denver, Colorado. When you have a demolition project, do not hesitate to contact us. We are your one-stop-shop demolition company and we offer free consultation plus an accurate estimation of the costs. Our Denver deconstruction and demolition company is licensed and highly reputable. Call us
(855) 885-3366
today for all your demolition solutions.
Zip Code Areas We Service in Denver
80264, 80218, 80230, 80231, 80236, 80237, 80235, 80238, 80239, 80123, 80249, 80247, 80246, 80290, 80293, 80294, 80219, 80210, 80211, 80212, 80216, 80221, 80220, 80223, 80222, 80224, 80227, 80209, 80207, 80206, 80205, 80204, 80202, 80014, 80203, 80201, 80208, 80217, 80225, 80243, 80244, 80248, 80250, 80251, 80252, 80256, 80257, 80259, 80261, 80262, 80263, 80265, 80266, 80271, 80273, 80274, 80281, 80291, 80299