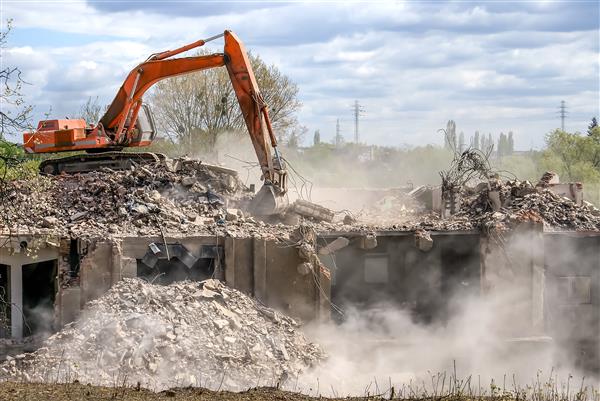 A First-Class Company for all Your Concrete Removal Needs in Grand Junction, CO
There are a number of reasons why you might need to hire our concrete removal services in Grand Junction, CO. Rest assured we will only assign well-trained contractors to your concrete slab removal, house demolition, and concrete hauling projects. Simply contact us about your project—we are ready to help.
Special Equipment Used for Concrete Removal in Grand Junction, CO
Omni Demolition uses advanced equipment to cut or crush concrete. Other equipment used to ensure maximum success in service delivery are mounted breakers, which are popular in concrete slab removal because of their impact energy, speed and versatility. Here at here Omni Demolition, our bobcats, hoists, pallet jacks and all the other tools we use in the trade are all well-maintained to ensure continuous operations. Our professional experts in Grand Junction, CO are able to tackle any task such as removing concrete driveway, concrete slab demolition and concrete wall demolition with the help of our line-up of premium equipment and machinery such as diamond wire saws, demolition hammers, pavement breaks and hydraulic splitters. Compared to other companies, we conduct regular maintenance jobs on the equipment that we use. We also provide concrete hauling to clean up the site after we finish cutting and crushing your walls, driveways or ceilings. We are well equipped in handling all your concrete removal and concrete hauling projects.
When Should You Book a Concrete Demolition Service in Grand Junction, CO?
Concrete demolition in Grand Junction, CO solves the potential issue of unsafe structures. The structure degrades as the years go by. Signing with us means you get professional demo as well as concrete hauling that is beyond the required standards. While a renovation job might be a less expensive option, we still recommend hiring a demolition specialist, as a renovation may be superficially covering up critical signs of an unsafe structure. Do not just settle for a renovation job where they will only apply another layer of material on the affected structure, hiding the weakening structure below.
No Need to Stress Over Concrete Removal Permits and Requirements in Grand Junction, CO
When it comes to conducting a concrete removal or concrete hauling project, existing policies and permit requirements may vary from state to state. While other concrete removal companies may include additional fees for processing the required permits, we at Omni Demolition have got you covered. You will definitely need a permit depending on the nature of your project. Usually, you have to obtain a form of approval from the appropriate regulatory body before you can lawfully proceed with the demolition. You must submit your application together with all the required documents. Some of the required paperwork include clearances from your electric, water and gas companies. You may be required to get in touch with the gas, electric and water company for clearances or reports.
How Much You Should Spend on a Grand Junction, CO Concrete Demolition
Other service providers in Grand Junction, CO make their proposed contract sound complicated to justify unreasonably priced estimates. In addition to the demolition permit costs, you should also factor in the total cost of the service. In urban areas, demolition companies charge a minimum of $4,000 for their fees. The more concrete you need removed, the higher the cost. Removal rates also affect costs. Whether you have a patio demolition or a patio removal project, you can be sure that we are well equipped to handle any demolition project you may have. To know how much you need to prepare for your project, we highly recommend getting in touch with your chosen demolition company in Grand Junction, CO. The actual demolition typically ranges from $4,000 to $14,000. If the structure contains hazardous materials such as asbestos, it may cost you extra to have the hazardous materials removed.
Typical Duration of a Grand Junction, CO Concrete Demolition Service
No concrete demolition project is completely the same as each requires varied materials, manpower, equipment and time frame to finish. Once you find it satisfactory and approve of the proposal, work on your concrete slab removal and concrete hauling project in Grand Junction, CO commences. This is a key aspect in our line of work. We understand the importance of service delivery to our clients in a timely manner. As soon as we assess the situation, we can draft a plan and present it to you for approval. This is because the speed and performance of hand held tools varies greatly with that of automatic or advanced machinery.
How Can I Reuse the Concrete Waste Generated from My Project in Grand Junction, CO?
A crucial aspect we consider in a concrete demolition and removal project is where to put the debris. Ever wonder how this type of material can be used again? Our team recycles crushed and cut concrete slabs. Our concrete demolition contractors are knowledgeable in inspecting rubbish and identifying which ones are valuable. The aggregate is used in the production of new structural concrete. Once concrete waste is salvaged, the uncontaminated concrete free of paper, wood and other materials is crushed.
Call for a Quick Concrete Demolition Service Today
Our concrete slab removal services are unmatched. Moreover, we are well equipped to handle any other concrete removal service you may be in need of. Our expert contractors at Omni Demolition have unparalleled skills and experience in the concrete slab removal business. We will ensure that concrete slab removal and other types of concrete removal service are done according to your specifications. If you are still in doubt whether Omni Demolition is the contractor to sign with, you can browse our website for customer testimonials and proof of our unquestionable workmanship. Our professional contractors know the proper way to handle equipment. Our friendly customer care specialists will be happy to assist you and provide you with a no-commitment estimate.
Zip Code Areas We Service in Grand Junction
81505, 81507, 81506, 81504, 81501, 81502