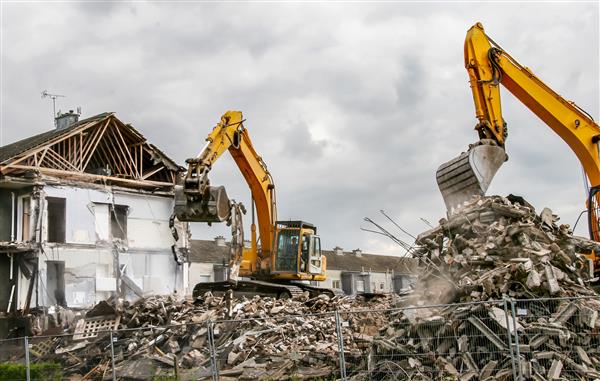 Omni Demolition: A Residential House Demolition Company You Can Count On
When it comes to house demolition, we are the #1 choice in Grand Junction, CO. Compared to other local house demolition companies, we have more high-powered equipment and professional residential demolition contractors. Our team of residential demolition contractors can attend to your request as soon as possible. Without a doubt, we all need change somewhere in our lives. You may need to have a section of your house removed because it can cause huge problems in the future. Whether you call us for a full-scale mansion demolition or an easy mobile home demolition, rest assured you will receive our best services. While the idea of having a new house is exciting and fascinating, some individuals are saddened by the act of demolishing the home that kept a lot of their memories.
Home Demolition Methods in Grand Junction, CO
As a company specializing in house demolition in Grand Junction, CO, we strive to provide each client with exceptional services. The entire process can be complex and calls for creative solutions to avoid costly problems. Depending on what you're demolishing, the techniques employed and the considerations taken by residential demolition contractors to deal with harmful materials can be different. As one of the leading residential demolition companies in the region, we make sure that the contractors we have on our team are adept in performing various tasks. Let our mobile home demolition team assist you with your requests today.
Things to Consider When You Get a Home Demolition Price Estimate in Grand Junction, CO
The cost of a house demolition service in Grand Junction, CO is influenced by factors such as the location of the property, scale of the project and the magnitude of the structure. You may be able to recoup most of the demolition costs by recycling the structural elements and contents of the demolition itself, whether by tax-deductible donations or through sales. To help you choose the right company, we suggest asking for a cost estimate, and then comparing all the rates of the home demolition companies you surveyed. This will allow you to check which team offers the best rates. We at Omni Demolition will assign seasoned residential demolition contractors to work on your project. In addition, we provide the best rates even for small projects such as a mobile home demolition. The fees differ depending on the size and difficulty of the project. We will provide a complete breakdown of the costs and the package inclusive.
Getting a Residential Demolition Permit in Grand Junction, CO
Compile the required documents together with your application form and submit to the Grand Junction, CO local office. Before starting a house demolition job or even a mobile home demolition project, you will be required to submit a few documents. Our residential demolition contractors are licensed to do the work that you need done, and they will also help you obtain the proper permits for the project at hand. This will help you avoid unnecessary fines and delays in your project. Other special inspections and documentation may be asked from you depending on the state you are in. You can ask our experts about the documentations needed.How to Plan for a Residential Demolition in Grand Junction, COOur contractors have all the equipment needed to carry out any kind of home demolition project in Grand Junction, CO. If you have personal items, furniture or any other valuables, remember to take them out in advance. Make sure to take out all your important personal items including house decor and appliances. Before starting the core process, long and tedious planning even for a simple mobile house demolition is required, especially if the chosen method is implosion. When communication does not flow well, you run the risk of serious problems.
Why Do I Need a Grand Junction, CO Residential Demolition Service?
There are a lot of reasons as to why a residence would need to be demolished. This ranges from wanting to renovate the house, a natural disaster that has damaged parts of the house, or the need to remove an existing structure so you can build a new one. Demolishing the house or parts of it is your best option, most especially if the property shows risks of caving in. With a residential demolition service in Grand Junction, CO, you won't need to worry about degraded cement or foundation. You can build new and stronger structures once the demolition project is completed.
Top-Quality Residential Demolition Tools and Equipment for Your Grand Junction, CO Property
Our residential demolition contractors provide safe and reliable home demolition services in Grand Junction, CO. Our contractors use high-end equipment and whether you call us to remove a small section of your house or the entire structure, rest assured we will use industry-grade tools. Even better, we have all the experience and technical know-how needed to carry out the task at hand. So, anybody who wants to hire a demolition contractor needs to make sure that they are trained and qualified.
Give Us a Call If You Have a Home Demolition Job in Grand Junction, Colorado
Never delay your demolition project because you may be at risk of getting hurt or spending a lot of money on repair jobs. We are a company that prides itself in being able to provide reliable and efficient services. Upon your request, we can hand you a cost estimate, and schedule your appointment as soon as possible. We have the best Grand Junction, Colorado residential demolition contractors. Guided by the standards set by the industry and our extensive experience, we guarantee to provide the service you deserve. Give us a call at
(855) 885-3366
so we can get started on your project!
Zip Code Areas We Service in Grand Junction
81505, 81507, 81506, 81504, 81501, 81502