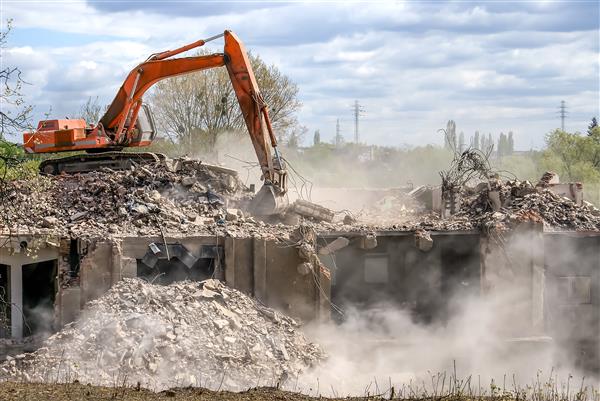 A First-Class Company for all Your Concrete Removal Needs in Westminster, CO
There are a number of reasons why you might need to hire our concrete removal services in Westminster, CO. The importance of concrete demolition cannot be overstated. For example, at Omni Demolition, clients need concrete slab removal and concrete hauling services in order to build or rebuild new structures. When your concrete structure has become old, shaky, unstable and unsightly, it is definitely time to consider getting rid of it for aesthetic reasons and most importantly, for safety purposes. You can rely on us to get the job done.
Special Equipment Used for Concrete Removal in Westminster, CO
Most fly-by-night companies do not invest in good equipment or worse, they utilize faulty machinery which can cause delays and substandard outcomes. At Omni Demolition, specialized heavy machinery and equipment are required for concrete slab removal. We are equipped with all the appropriate expertise, machinery and tools to execute your demolition projects such as removing concrete driveway, concrete slab demolition, or concrete wall demolition. Pavement breakers are used when you need to partially repair a section of a pavement; it is able to demolish a few inches of the concrete pavement without breaking it up completely. They also reduce concrete into recyclable pieces. Despite the power it possesses, it creates little noise and dust making it perfect for demolition work in inhabited areas.
When Do You Need Concrete Demolition Services in Westminster, CO?
Concrete is designed to last a very long time if it is installed properly. However, like every other type of material, its structure will also degrade over time. Whether the project requires breaking asphalt or concrete in residential, commercial or industrial spaces, we have the equipment and service crew ready to do the job. After successfully removing an unwanted driveway, road, sidewalk or any other unwanted concrete surface, we clear the site while carefully observing concrete hauling standards. Safety is a huge part of our operations and we follow all precautions to ensure zero incidents from beginning to end. Safety is a primary concern for any concrete demolition job.
Are Permits necessary for Concrete Removal in Westminster, CO?
You can't proceed with your concrete removal or concrete hauling project without securing a permit in Westminster, CO. There are several concrete removal companies in the city, so make sure you select one that will help you all throughout the process. You will definitely need a permit depending on the nature of your project. Usually, you have to obtain a form of approval from the appropriate regulatory body before you can lawfully proceed with the demolition. You will also need to have a rough estimate of the possible project costs. Your main goal should be to minimize the risks of delaying the project by preparing the necessary documents beforehand.
How Much Cost Will I Incur in a Concrete Demolition Project in Westminster, CO?
The first step is to determine how much the job will cost you. In addition to permit application fees in Westminster, CO, there is no accurate range of expenses that we can give outright as every project requirement is unique. We vow to conduct clean and honest business because we give more value to a lifetime relationship with our clients. The good news is that we have a competent team in Westminster, CO that is able to customize solutions even for small projects such as patio demolition and patio removal for you at an affordable cost. Additional fees may follow for services like inspections for water, electrical and sewer disconnections. As for the service, you might spend around $4,000 to $15,000+, depending on the urgency of the request, size of the project and overall condition of your property in Westminster, CO. The demolition project itself will usually cost you an estimated $1000 to $15,000+, depending on the size and situation.
How Long Does It Take to Complete a Concrete Demolition Project in Westminster, CO?
With the right equipment, tools and skill sets, a concrete demolition team can finish a service within a short time frame. The processes such as concrete slab removal, concrete hauling and recycling may be the same but the situations will always have some variation. In cases where a city inspector has checked whether all sewer, utilities, and water facilities have been taken care of, our own men double checks to ensure the safety of our demolition in Westminster, CO. In instances that an unforeseen situation arises, the client is notified to ensure that they are not kept in the dark and to establish the right expectations. We adhere to all the fundamental and basic principles of effective project management.
What Can I Do With My Concrete Waste in Westminster, CO?
With rising pressure on local landfills, the diversion of rubble from a concrete demolition and removal project is becoming increasingly important. Because we are an environmentally friendly company, preserving our surroundings is at the forefront of our mission. The process of recycling done by our concrete demolition contractors includes salvaging rubble from demolition, crushing it, pre-sizing and sorting. The aggregate can then be used to make new concrete. Recycled concrete is cheaper and more environmental-friendly, so we highly recommend using it.
Why Make Us Your Concrete Demolition Company of Choice in Westminster, Colorado
Our team is only a call away when our clients need urgent concrete demolition services. Whether you require a simple concrete slab removal or a major interstate pavement, our team of experts is the most knowledgeable for the job. We will work diligently and efficiently on your projects no matter the size. We have been in this business for many years. We guarantee to come and fix your concrete-related problems fast. Using state-of-the-art equipment and cutting-edge technology in execution, you can be certain that your project is in great hands. Concrete demolition in Omni Demolition is the best way to safely tear down buildings or structures made from concrete.
Zip Code Areas We Service in Westminster
80030, 80031, 80234, 80005, 80003, 80020, 80021, 80035, 80036