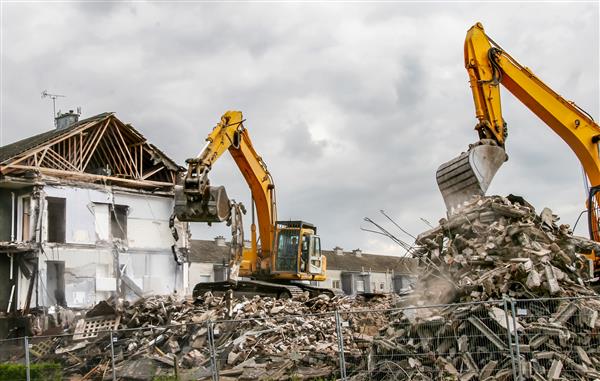 Omni Demolition: The #1 Residential House Demolition Company
When a property in Westminster, CO has sustained enough damage or takes up a desired spot for a new structure, your best option is a house demolition. Consequently, it is always important that you hire only professional house demolition companies backed by many years of experience. Here at Omni Demolition, our residential demolition contractors will be there and will carry out the task at hand only when you are ready. Without a doubt, we all need change somewhere in our lives. You may need to have a section of your house removed because it can cause huge problems in the future. You can always count on our team of professionals to work on your project swiftly especially when it comes to small projects such as a mobile home demolition.
How We Provide Our Westminster, CO Home Demolition Service
Whenever we provide house demolition service in Westminster, CO, we thoroughly survey the area to check all the weak spots. Demolition methods include top-down deconstruction, crane, high reach arm, remote-controlled demolition, and implosion. The scale and method of all demolition strategies are dependent on the budget available, the size of the project, and any external factors that might be in play-for instance, the need to demolish a structure without causing any damage to the nearby structure. Let our residential demolition contractors work on each necessary part of your house. When hiring residential demolition companies in Westminster, CO, you need to be very cautious as amateur operators in this field may make mistakes that can create a costly mess out of something as simple as a mobile home demolition project. Using our lengthy experience in the industry, we can guarantee a smooth delivery of our services.
Things to Consider When You Get a Home Demolition Price Estimate in Westminster, CO
Comparing the rates of house demolition companies in Westminster, CO should be included in your to-do list. The professionals know what they should keep and what they should not. You can compare our rates with other home demolition companies. Here at Omni Demolition, our residential demolition contractors offer the most affordable house and mobile home demolition rates together with incomparable services. The size of the building is also taken into consideration. We will provide a complete breakdown of the costs and the package inclusive.
Getting a Residential Demolition Permit in Westminster, CO
Any house demolition project in Westminster, CO requires licenses and permits before it can start. Documentation and special inspections for your demolition project, even for a humble mobile home demolition, could be necessary depending on the state you are in. If you have the city on your side, the neighbors will fall in line nicely. Without a permit, you may have to pay for heavy fines imposed by the government, and you certainly would not want that to happen. You can ask our experts about the documentations needed.
What Things Should I Prepare Before the Residential Demolition Job in Westminster, CO Starts?
Make sure to keep your kids and pets out of the property once the Westminster, CO home demolition team arrives. This way, you can prevent any unnecessary incidents and ensure that the plan will run smoothly. Whether it is a huge office building or a small house, site preparation is a crucial factor. Make sure that your home is completely vacated. No one, expect for the demolition team you hired, should have access to the area. Health and safety preparations should be undertaken prior to the start of a demolition job, no matter how small it is; even as a mobile home demolition. It may be more efficient to transport a mobile home to a local landfill by truck and have the demolition take place at the landfill to save time and money.
Should I Get a Residential Demolition Service in Westminster, CO?
The strength of various structures fades over time. Sometimes, a building degrades faster when it is exposed to extreme temperature changes, pest infestation, water damage or fire. New structures are hardly demolished, but every so often old buildings that were poorly constructed don't pass the test of time. Also, overcrowded or outdated structures are prone to various infestations or contamination. If you are ready tear down a property that is falling apart, it is a wise decision to ask for the help of a professional residential demolition team. Trust our residential demolition professionals in Westminster, CO.
Common Residential Demolition Tools and Equipment Our Westminster, CO Specialists Use
Omni Demolition's residential demolition contractors have always provided safe and reliable home demolition services in Westminster, CO. Our residential demolition contractor uses equipment like cranes, wrecking balls, bulldozers, jackhammers, sledgehammers or chainsaws. Taking down walls to achieve your desired open floor plan might not be as easy as it seems. While it might be tempting to give it a go using a sledgehammer, it's not a wise thing to do. Our equipment such as track loaders and excavators allow us to deliver stellar services.
Give Us a Ring Today for Home Demolition Services in Westminster, Colorado
For more many years, we have provided residents of Westminster, Colorado with quality demolition services. Contrary to what most people believe, demolishing a house or any type of building is not an easy task. Our crew is always available to help you. Fortunately, with our Westminster, Colorado residential demolition contractors, you will never have to worry about handling your run-down property on your own. We are very rigorous when it comes to professional behavior and hard work on the demolition site. Give us a call at
(855) 885-3366
so we can get started on your project!
Zip Code Areas We Service in Westminster
80030, 80031, 80234, 80005, 80003, 80020, 80021, 80035, 80036