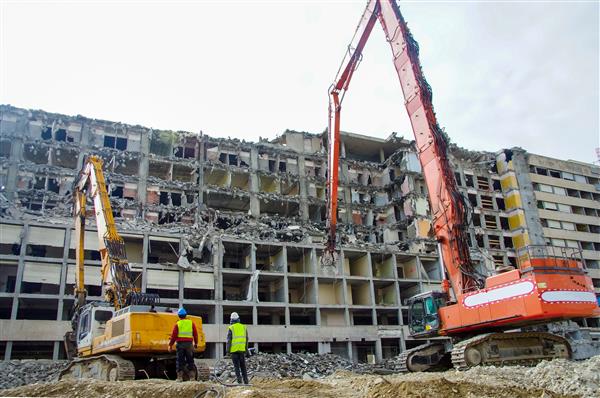 Demolition Contractors Boulder, CO: Your Trusted Demolition Company
Omni Demolition has paved the way for many construction services in the city through the exemplary workmanship and warm customer service of our demolition contractors. We are dedicated to working on your project with no distractions whatsoever. Our contractors ensure that the necessary safety measures and procedures are in place in the work environment. We have a team of seasoned demolition experts ready to act on any project. There are no second guesses when you sign with us.
The Main Variances of Demolition and Deconstruction in Boulder, CO
Knowing the difference between a demolition and a deconstruction will save you from further confusion. Our demolition expert tests and removes hazardous material before knocking down the building. A deconstruction may be implemented on its own or as a pre-demolition procedure. Deconstruction could be a component included in the demolition where our skilled team removes all hazardous and re-usable objects prior to the building being knocked down.
Complete Accountability from Highly Skilled Specialists for Your Demolition Project in Boulder, CO
Our demolition experts will only recommend the most appropriate services you require and provide upfront quotations, without any unexplained or unexpected charges. Our demolition contractors have years of experience in the business providing exceptional and enviable customer service across Boulder, CO. We also take time to really understand your needs and deliver according to your desires with no excuses. You will not find another demolition contractor in all of Boulder, CO who will help you save and spend wisely. Our service delivery is focused on safety and efficiency. Our service delivery is focused on safety and efficiency.
Choose from Our Wide Variety of Demolition Services in Boulder, CO
Industrial Demolition services: We are the authority in collapsing massive structures like bridges, factories, industrial buildings and plants.
Commercial Demolition services: If you are looking for a reliable demo company, our reputation and years in the business is your assurance. Our past contracts include leveling bridges, dilapidated malls, airplane hangars, and even grocery stores.
Concrete demolition and recycling services: Our demolition experts can break down concrete surfaces and slabs into reusable gravel.
Scrap Metal Demolition Services: Allow our demo company to remove useless steel erections onsite and salvage reusable metal for recycling instead of hiring a separate contractor, which means more expenses for you.
We Take the Lead Among Other Demolition Companies in Boulder, CO
Our team of demolition experts and demolition contractors will work tirelessly and dedicatedly to ensure that your project is completed on time. We are on a continuous path to success and we have managed to do this through perfection in our demolition services. An emerging demo company from years back, we are now among the top contractors in the city when it comes to leveling residential, commercial and industrial properties. Each project in our demo company is always given the care and attention that our customers deserve and expect.
Authorized Methods for Demolition and Deconstruction in Boulder, CO
Explosive Demolition: It is also known as the implosion method. Our demolition experts fix a building's or structure's slabs, columns and beams with explosives. Once the explosives detonate, the columns collapse and so does the building or structure.
Non-Explosive Demolition: Our local demolition contractors use a wrecking ball attached to a crane to knock down buildings. It is a cheaper and faster method unlike explosive demolition.
Selective Demolition: This is a type of demolition whereby building materials, part of the structure or building are separated and then sorted for the purpose of reusing or recycling. Our demo contractors have mastered the art of selective demolition that other building demolition companies do not have.
Main Equipment Used in Demolition in Boulder, CO
Hydraulic Breakers – Our demo company uses a percussion hammer attached to an excavator. This powerful equipment is used for bringing down concrete structures.
Wrecking Balls – A wrecking ball is a heavy steel ball that is usually suspended from a crane. It is swung to the targeted structure or building in order to take it down.
Hydraulic Shears and Rock Breakers – They are highly effective in cutting steel, metal, concrete, wood and rocks. Their high power to weight ratio enable hydraulic shears to yield a higher output.
Bulldozers – A favorite among contractors, a bulldozer can be an intimidating piece of equipment on wheels although it is fairly easy to maneuver. It can be used to transport copious amounts of waste, as well as to wreck walls.
Dumpers – In every demolition business, dumpers are necessary to clear the site from rubble and debris.
Cranes – Demolition contractors use a crane to attach a wrecking ball. A demo company can also use a crane for moving materials on the different levels of the structure or building.
Crawler Loaders – This heavy machinery is used to move aside debris material. It can also load the material onto a dump truck.
For All Your Demolition Service Needs in Boulder, Colorado, Contact Us Today
Settling with an amateur demolition company in Boulder, Colorado may seem cost-effective at first but mishaps and faulty work onsite may cost more of your resources, time and energy. Our dedication is in ensuring that we maximize your asset potential. Our demolition company provides all our clients with dynamic solutions for all their Boulder demolition and deconstruction needs. Our Boulder deconstruction and demolition company is licensed and highly reputable. Call us
(855) 885-3366
today for all your demolition solutions.
Zip Code Areas We Service in Boulder
80310, 80304, 80305, 80302, 80303, 80301, 80306, 80307, 80308, 80309, 80314