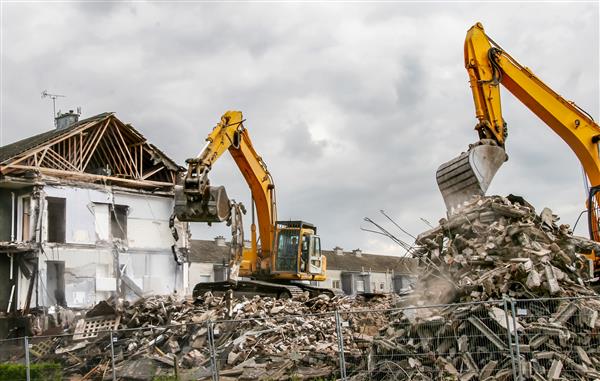 Omni Demolition – The Best Provider of House Demolition Service in Boulder, CO
Sometimes, it is best to book a house demolition in Boulder, CO than to call in a renovation team to restore your property. The only challenge you need to face is learning how to select the best among the many local house demolition companies. Our team of residential demolition contractors can attend to your request as soon as possible. Don't let the damage worsen and affect the rest of your house. We don't offer excuses; we just offer professional and timely demolition services guaranteed to fit your budget. Whether you call us for a full-scale mansion demolition or an easy mobile home demolition, rest assured you will receive our best services. Cracks tend to widen over time, and this allows moisture to seep into the material. The extra moisture weakens the integrity of the structure. By working with experts, you can avoid such issues.
Home Demolition Methods in Boulder, CO
House demolition in Boulder, CO is not as simple as it seems. There's more to taking down a building than just smashing it with a wrecking ball. Our experts use several demolition techniques depending on the situation. It is important that the building collapses inwards in order to avoid damaging adjacent constructions. For this purpose, our crew carefully plans the explosions. Usually, the major pillar or columns that support the building are chosen. Other demolition methods that our experienced residential demolition contractors employ include crane, wrecking ball, and high reach arm. Unlike other residential demolition companies, our contractors are proficient in working on any size of project, whether you need a mobile home demolition project done or you need a large multi-storey building demolished.
Cost Estimation of Home Demolition in Boulder, CO
House demolitions in Boulder, CO need a proper plan of action. With that said, we make sure that home demolition projects are completed on time and within budget. Variables that affect the cost of a demolition project include asbestos-contaminated materials that are not only more labor intensive to remove, but also cost roughly three times as much to safely get rid of in contrast to other materials like timber or concrete. To help you choose the right company, we suggest asking for a cost estimate, and then comparing all the rates of the home demolition companies you surveyed. This will allow you to check which team offers the best rates. Here at Omni Demolition, our residential demolition contractors offer the most affordable house and mobile home demolition rates together with incomparable services. The size of the building is also taken into consideration. Unlike other companies, you can get everything you need from our contractors for a fair price.
Required Residential Demolition Preparations in Boulder, CO
When a structure has been declared dangerous or if a specific area needs to be part of a new redevelopment, house demolition in Boulder, CO is in order. You can't start a house demolition or mobile home demolition job without a permit from the local government. To apply for a permit, you will need to secure a list of documents, which may include asbestos inspection clearance and dust control report. Without a permit, you may have to pay for heavy fines imposed by the government, and you certainly would not want that to happen.Preparing for a Residential Demolition in Boulder, COWhen planning for a home demolition project in Boulder, CO, you should make sure that everything is removed from the site. Preparing for a demolition takes a lot of time and our residential demolition contractors make sure that time is not wasted. They do a thorough check of the structure, ensure the building and site are cleared and make the best decision as to the type of home demolition that should be applied. The project may be put to a halt if the authorities spot any harmful chemicals in the property. Additionally, you will need to double check all the appliances and equipment. Before starting the core process, long and tedious planning even for a simple mobile house demolition is required, especially if the chosen method is implosion.
Reasons for a Residential Demolition in Boulder, CO
Several residential demolition projects arise from improving a newly bought piece of estate or cleaning up a landscape. When the structural integrity of a building is compromised, you should already seek the help of professional demolition contractors. Otherwise, you are increasing the risk of getting caught in an accident and suffering from physical injuries. More often it costs less to rebuild than to repair. Our Boulder, CO residential demolition experts are well-prepared to take on your request on your preferred schedule.
Equipment and Tools Used for Residential Demolition in Boulder, CO
For many years, thousands of homeowners have depended on our team of residential demolition contractors to help them with their property. As such, when we perform a home demolition, we can efficiently pull out every bit of damaged material. The project may call for the use of excavators, cranes, and large hydraulic equipment, etc. For large buildings, it requires the use of wrecking ball. At times, explosives are used to knock down huge structures. Because it is extremely dangerous, it requires the demolition contractors to follow all the safety instructions and rules strictly.
Call Us Now for Reliable Home Demolition Services in Boulder, Colorado
We are not your typical sloppy residential demolition company. Contrary to what most people believe, demolishing a house or any type of building is not an easy task. Call a professional who can assess the situation and identify the areas that need work. It is our mission to provide you our best Boulder, Colorado residential demolition contractors to help you with the home project you have. Guided by the standards set by the industry and our extensive experience, we guarantee to provide the service you deserve. Give us a call at
(855) 885-3366
so we can get started on your project!
Zip Code Areas We Service in Boulder
80310, 80304, 80305, 80302, 80303, 80301, 80306, 80307, 80308, 80309, 80314