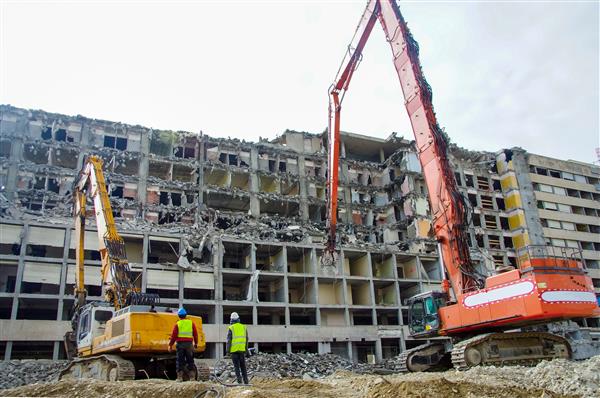 Demolition Contractors in Broomfield, CO: Your Trusted Demolition Company
Omni Demolition has paved the way for many construction services in the city through the exemplary workmanship and warm customer service of our demolition contractors. Our goal is to establish strong customer ties through honest business and outstanding workmanship. No job is ever too big, too small or too demanding for us. The commitment and competence of our demolition experts guarantee that you will be working with the most suitable partners. There are no second guesses when you sign with us.
Distinction Between Demolition and Deconstruction in Broomfield, CO
Demolition is aimed at basically bringing down a structure. Demolition can either be selective or explosive. Explosive demolition uses mostly dynamite to bring down big buildings. Selective demolition involves bringing down a part of a building or tearing a section of a wall by a demolition expert. Some of the items salvaged in deconstruction are: roofing materials, windows, plumbing fixtures, doors, cabinets, flooring among others. On the other hand, whole-house deconstruction entails tearing down an entire structure and salvaging any reusable or recyclable materials. Deconstruction is when a demolition expert carefully dismantles or takes down a structure with the aim of reusing or recycling the materials.
Why Sign Us for Your Demolition Project in Broomfield, CO
We have demolition experts who plan everything meticulously, from the bringing in of our equipment up to the clearance of the property from wastes and debris. Some demolition contractors offer their services at rock bottom prices but this may cost you more in the long run. Being in the business for years, our experience and continued trainings ensure that you work with only the most able specialists in the industry. Our demolition contractor will use special equipment and apply all the necessary skills in ensuring that the demolition process does not cause harm or injury to anyone or anything.
Check Our Broad Range of Demolition Services in Broomfield, CO
Industrial Demolition services: We have the expertise, equipment and manpower to take down, mills, plants, manufacturing buildings among others without compromising the integrity of neighbouring structures.
Commercial Demolition services: You can call our demo company if you need someone to knock down commercial structures such as commercial centres, groceries, airplane hangars and the like.
Concrete Demolition and Recycling Services: Our demolition experts will help you realize your green-building initiative. We turn construction debris such as crushed concrete into gravel or a dry aggregate for making new concrete.
Scrap Metal Demolition Services: Our demo company will also clear out your property of any undesirable steel erections and salvage any existing metal scraps for recycling.
What Sets Us Apart from Others Broomfield, CO
Compared to other service providers, we take pride in having hardworking demolition experts and highly skilled demolition contractors. We provide our clients with value for their money. An emerging demo company from years back, we are now among the top contractors in the city when it comes to leveling residential, commercial and industrial properties. That is why we are recognized as the leading demo company.
Main Methods for Demolition and Deconstruction in Broomfield, CO
Explosive Demolition: Our demolition experts in Broomfield, CO bring down structures or buildings by removing the main structural elements such as the walls and pillars with the help of explosives. This reduces the building's structural stability, causing it to collapse under its own weight. This method is faster, environmentally friendly and safer when compared to other methods.
Non-Explosive Demolition: Our local demolition contractors will use a wrecking ball attached to a crane to knock down a building. The heavy wrecking ball is swung several times on the targeted structure before it can collapse.
Selective Demolition: This is a type of demolition whereby building materials, part of the structure or building are separated and then sorted for the purpose of reusing or recycling. Our demo contractors have mastered the art of selective demolition that other building demolition companies do not have.
Utilizing the Proper Equipment for Demolition in Broomfield, CO
Hydraulic breakers – Our demo company uses hydraulic breakers or hammers in crushing otherwise solid surfaces such as concrete, cement and even rocks.
Wrecking Balls – A wrecking ball is made from steel. It is suspended from a steel chain attached to a crane and is used to demolish large buildings. It is swung several times towards the intended structure until the structure crumbles. The working of a wrecking ball relies on the skills of an experienced operator.
Hydraulic Shears/ Rock breakers – They are fitted to an excavator and have the ability to cut through concrete, metal, rocks and wood.
Bulldozers – This powerful machinery has a number of uses in construction. A bulldozer can be used to knock down an old or derelict structure. It can also be used to push away debris and clean up the area.
Dumpers – Copious amount of time is spent clearing demolition sites and this is where dumpers come in very handy. An experienced demolition business deploys dumpers to haul debris and waste away from the site.
Cranes – Demolition contractors will need to use a crane in long-reach or high-reach demolition projects. A wrecking ball is suspended on a crane, from where it is swung to demolish a structure partly or wholly. A crane is a very important piece of equipment in any demo company.
Crawler Loaders – Flexible heavy equipment, crawler loaders can move on top of uneven surfaces and are also used for excavating and lifting.
We are the Number to Call for Premium Demolition Services in Broomfield, Colorado
Our demolition company is a leading demolition company in Broomfield, Colorado with proven resources, knowledge, professionalism and experience to successfully manage any demolition project you may have. For years now, we have helped all our clients demolish and deconstruct their buildings and structures successfully. We believe in providing professional and affordable services. Contact us today and let our demolition company take the pressure off of you. Our Broomfield deconstruction and demolition company is licensed and highly reputable. For all your demolition needs, call us at
(855) 885-3366
.
Zip Code Areas We Service in Broomfield
80023, 80020, 80021, 80516, 80038