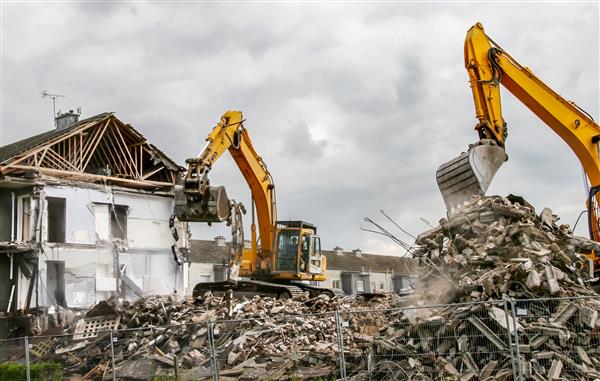 Omni Demolition: The #1 Residential House Demolition Company
Hiring a professional to handle your house demolition in Broomfield, CO may be the best decision you will ever have to make. We pride ourselves in being one of the best house demolition companies countrywide. We are insured and fully licensed residential demolition contractors. Home demolition is not an easy task. In fact, there are many important considerations to bear in mind. One of which is safety because tearing down a structure will require the right equipment, tools, and skilled operators. Unlike a minor renovation, you can ensure that the building's overall condition is improved when you demolish and rebuild your house. Whether you call us for a full-scale mansion demolition or an easy mobile home demolition, rest assured you will receive our best services.
How Our Broomfield, CO Home Demolition Solutions Differ from the Rest
Three things separate us from other companies in the city, and these are timely delivery, quality results, and solid work ethics. We recognize the urgency of every house demolition request. We have been in this line of work for many years, making us your best option when you need help with demolition. We also take into consideration the effect of the demolition job on the environment so we can prevent incurring penalties. Let our residential demolition contractors work on each necessary part of your house. When hiring residential demolition companies in Broomfield, CO, you need to be very cautious as amateur operators in this field may make mistakes that can create a costly mess out of something as simple as a mobile home demolition project.
Making a Decision After You Get a Broomfield, CO Home Demolition Cost Estimate
A house demolition in Broomfield, CO can cost a substantial amount of money to properly execute. Before you completely say yes to an offer, see to it that you check every factor involved. You can compare our rates with other home demolition companies. Omni Demolition guarantees to provide a complete price quotation, free of charge. Once you approve, and the necessary documentations are processed, we can send our residential demolition contractors to start the house or mobile home demolition project. The overall cost of the demolition depends on the location of the property; the existence of established plants and trees and the placement of essential services such as electricity, gas and water; and lastly the proximity to the nearest disposal or recycling facility. Trust us at Omni Demolition to handle your project seriously.
Residential Demolition Permits Needed in Broomfield, CO
House demolition in Broomfield, CO, particularly in densely populated parts, necessitates the filing of permits and other procedures to make sure environmental and physical safety precautions are observed. For more information about the application process and the requirements needed to start a mobile home demolition project or larger, you can readily consult with our specialists. There are several requirements you will need to secure so the local government can process your application. You will be required to submit all the reports together with the application documents to the local authorizing office in Broomfield, CO. Do not hesitate to ask our team about all the necessary documentation before proceeding with the demolition work.How to Plan for a Residential Demolition in Broomfield, COWhen planning for a home demolition project in Broomfield, CO, you should make sure that everything is removed from the site. In addition, we recommend asking our demolition team how long the project will take so you can start planning for the next steps. We suggest preparing your house for the demolition job. Unscrew any wall-mounted decor, throw out unwanted furniture, relocate your appliances and more. When it comes to preparing even a simple mobile home demolition, you want to be sure that everyone is on the same page.
Should I Get a Residential Demolition Service in Broomfield, CO?
If you own a piece of land and have an older property sitting on it, you might want to demolish it and start from scratch. We highly suggest calling in a specialist to check out your property if you suspect weakened or compromised foundation or walls. It won't take long for our team to tear down the weak parts of your home. Our Broomfield, CO residential demolition experts are well-prepared to take on your request on your preferred schedule. Irrespective of the renovation you are about to make to your house, you need to hire the right company for the job if it involves taking down a portion of your home.
Why We Excel in Providing Residential Demolition Service in Broomfield, CO
We provide the best services in the city because of our team of brilliant and well-trained residential demolition contractors. We have been the leading company in the city because we have the best contractors who make sure to use only the finest home demolition tools and equipment. Taking down walls to achieve your desired open floor plan might not be as easy as it seems. While it might be tempting to give it a go using a sledgehammer, it's not a wise thing to do. Thanks to our high-powered tools and equipment, we can swiftly work on your requests.
Contact Us Today for Home Demolition Services in Broomfield, Colorado
Don't waste time, most especially if you think your house is slowly falling apart. Never hire companies that will charge you a cheap rate but provide unsatisfactory services. Our Broomfield, Colorado residential demolition contractors are equipped to handle any size of house. We know that we have to earn your business and that is why we uphold high standards when it comes to the quality of services we offer.
Zip Code Areas We Service in Broomfield
80023, 80020, 80021, 80516, 80038