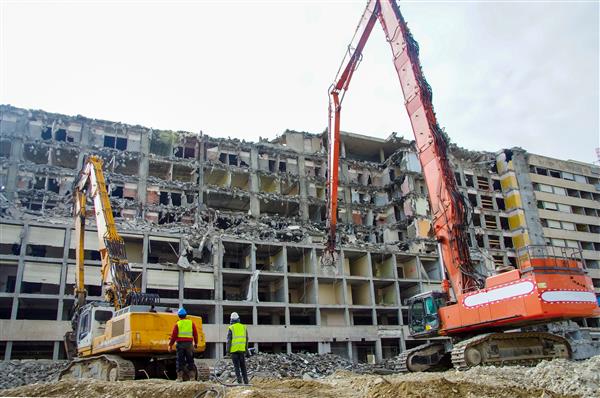 Recognizing an Outstanding Demolition Company from Inexperienced Demolition Contractors Colorado Springs, CO
Omni Demolition has demolition contractors at your service whose specialty is providing superior-quality, safe and cost-effective services for all our clients. We will be able to complete your project in a professional, cost-effective and safe way. No job is ever too big, too small or too demanding for us. Our demolition experts provide top-notch work. For complex demolition jobs, we offer reliable demolition services.
Do You Need Demolition or Deconstruction in Colorado Springs, CO?
Demolition can be described as dismantling of buildings or a specific room by a demolition expert. Deconstruction is when a demolition expert carefully dismantles or takes down a structure with the aim of reusing or recycling the materials. A deconstruction entails careful removal of a structure's segments or hazards such as electrical wires, gas pipes and hydro lines prior to a complete knocking down of the building. It entails tearing down the components of a building for the purpose of recycling, re-using as well as waste management.
We are the Most Competent Specialists for Your Demolition Project in Colorado Springs, CO
We have demolition experts who plan everything meticulously, from the bringing in of our equipment up to the clearance of the property from wastes and debris. If you wish to have a an effortless and hassle-free experience when leveling a property in Colorado Springs, CO, we are the demolition contractor that you can rely on. Property owners usually think first rate services always come with a steep price to pay, but not with us. Our demolition contractor will use special equipment and apply all the necessary skills in ensuring that the demolition process does not cause harm or injury to anyone or anything.
Professional Demolition Services in Colorado Springs, CO
Industrial Demolition Services: We can handle any challenging industrial demolition project you may have. With our world-class equipment and staff, we are able to demolish plants, mills, manufacturing buildings and so on.
Commercial Demolition services: Being a world-class demo company, you can rest easy knowing that your property is in safe and capable hands. We have the capability to bring down commercial structures such as warehouses, airplane hangars, shopping malls, garages, office buildings and sports facilities among others.
Concrete demolition and recycling services: Let our demolition experts know if you wish to maximize the use of the structure's concrete materials and we will break them down into reusable gravel.
Scrap Metal Demolition Services: Unlike other contractors who concentrate only on concrete, our demo company can assist in handling metal frames and recycling scraps.
We Lead, Other Demolition Companies Follow in Colorado Springs, CO
Our demolition experts and highly skilled demolition contractors consistently make innovations with the way demolitions are made. Our demolition experts and demolition contractors are dedicated to meeting all your needs. An emerging demo company from years back, we are now among the top contractors in the city when it comes to leveling residential, commercial and industrial properties. We continue to fulfil our commitment as a demo company when it comes to putting our clients as top priority.
The Types of Methods Used in Demolition and Deconstruction in Colorado Springs, CO
Explosive Demolition: Done by licensed demolition experts in Colorado Springs, CO, this method may sound dangerous and it could be when proper procedures are not followed. After explosives are strategically laid out, a switch is all it takes to completely take down a building.
Non-Explosive Demolition: Our local demolition contractors are flexible and in situations where explosive demolition may be unsafe, we may use a wrecking ball which is attached to a crane at a manageable height to bring down a building.
Selective Demolition: In cases of remodeling or renovation, demo contractors may be required to pull apart specific areas of the structure. We exceed other building demolition companies when it comes to precision in conducting selective demo such as disassembling interiors, floor coverings, ceilings and walls.
Well-maintained Equipment for Demolition in Colorado Springs, CO
Hydraulic Breakers – Our demo company uses a hydraulic breaker to demolish rocks and concrete structures. Its powerful hammer causes destruction on the targeted object in a matter of seconds.
Wrecking balls – Attached to a crane, these heavy balls made of steel are used to weaken structures. They are swayed right into the building causing it to break and collapse.
Hydraulic Shears and Rock Breakers – They are highly effective in cutting steel, metal, concrete, wood and rocks. Their high power to weight ratio enable hydraulic shears to yield a higher output.
Bulldozers – Commonly used where heavy lifting is required, this flexible machine can also be used to topple down weak structures.
Dumpers – Not every demolition business have their own dumpers but we use them for taking waste products and debris off the site.
Cranes – Demolition contractors need a crane for attaching a wrecking ball to it. It can also be used to lift heavy things onto or off the structure. A demo company will almost always have this piece of machinery on a demolition site.
Crawler Loaders – They are very efficient in moving heavy materials and dirt piles. Some models of the crawler loaders are able to push down heavy smaller-sized structures. They are also used to clean the ground.
Contact Us for Any Demolition Services in Colorado Springs, Colorado
We are your dependable and trusted demolition company in Colorado Springs, Colorado. We will meet all your demands and give the same meticulous attention to your projects no matter the size. Find out why we have remained the #1 demolition company for years as you experience top of the line customer service. Get in touch with the leading Colorado Springs deconstruction and demolition company. Get in touch with us today at
(855) 885-3366
and we will be more than glad to help.
Zip Code Areas We Service in Colorado Springs
80951, 80909, 80904, 80905, 80906, 80907, 80903, 80939, 80938, 80910, 80917, 80916, 80915, 80914, 80919, 80918, 80927, 80924, 80925, 80922, 80923, 80920, 80921, 80929, 80901, 80912, 80931, 80932, 80933, 80934, 80935, 80936, 80937, 80941, 80942, 80944, 80946, 80947, 80949, 80950, 80960, 80962, 80970, 80977, 80995, 80997