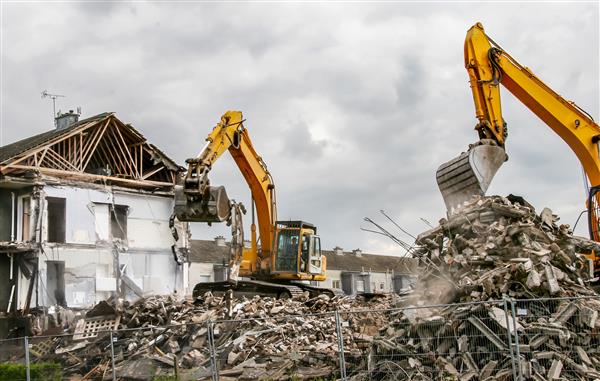 Omni Demolition: A Residential House Demolition Company You Can Trust
Dangerous building cave-ins require quick attention from a seasoned house demolition expert in Colorado Springs, CO. We are always your #1 choice of house demolition companies. We are insured and fully licensed residential demolition contractors. Our team of experts can handle a wide range of projects. We don't offer excuses; we just offer professional and timely demolition services guaranteed to fit your budget. We have a team of specialists who can work on big projects such as multi-level buildings or smaller ones like a mobile home demolition project.
Home Demolition Techniques in Colorado Springs, CO
The safety of the workers and everyone near the area is our number one priority when we perform a house demolition job in Colorado Springs, CO. Our demolition contractors implement strict measures at all times. You can hire our contractors to demolish an entire house or just a portion of it. Our residential demolition contractors make use of various tools and equipment to ensure that we deliver flawless service. Unlike other residential demolition companies, our contractors are proficient in working on any size of project, whether you need a mobile home demolition project done or you need a large multi-storey building demolished.
Making a Decision After You Get a Colorado Springs, CO Home Demolition Cost Estimate
A house demolition in Colorado Springs, CO can cost a substantial amount of money to properly execute. House demolitions may cost a fortune but if it means ensuring the safety and well-being of the entire family, it is worth it. In addition to the cost, you should also consider the complete package as a whole Some home demolition companies offer cheap rates yet sub-par services. Here at Omni Demolition, our residential demolition contractors offer the most affordable house and mobile home demolition rates together with incomparable services. There's really no other way to get good results but to have it done by a professional. In general, the size of the project, the type of demolition, plus the magnitude of the property damage determines the total cost of the service. Other factors considered are the availability of equipment and the size of the team you need.
Get Your Residential Demolition Permits in Colorado Springs, CO
Every house demolition project requires a permit, regardless of its scale. Other special inspections and documentation for your house tear-down or mobile home demolition may be asked from you depending on the state you are in. There are several requirements you will need to secure so the local government can process your application. If you fail to acquire demolition permit, you may be penalized.Getting ready for a Residential Demolition in Colorado Springs, COWhen planning for a home demolition project in Colorado Springs, CO, you should make sure that everything is removed from the site. Assuming you have your demolition permit ready, what's the next move? The project may be put to a halt if the authorities spot any harmful chemicals in the property. Additionally, you will need to double check all the appliances and equipment. You should make sure that no one gets to access your house on the day of the demolition to avoid accidents. Before starting the core process, long and tedious planning even for a simple mobile house demolition is required, especially if the chosen method is implosion.
Should I Get a Residential Demolition Service in Colorado Springs, CO?
There will surely come a time when a house is no longer safe for dwelling, and a simple renovation job is no longer enough to reinforce its structure. Demolishing the house or parts of it is your best option, most especially if the property shows risks of caving in. Another case in which you may need a residential demolition crew is when you are tired of the floor plan of your residence and need a change. When structural safety is a concern, tearing down and starting from scratch is often the best initial step to making enhancements and upgrades to your estate. This calls for residential demolition work to be done in Colorado Springs, CO. Hiring the right company will ensure that you're happy with the end results.
Common Residential Demolition Tools and Equipment Our Colorado Springs, CO Specialists Use
Omni Demolition residential demolition contractors have always provided safe and reliable home demolition services in Colorado Springs, CO. The tear-down process chosen by demolition contractors is quite different when it comes to completely demolishing a building in one location versus another, depending on the situation and surrounding conditions. Aside from our extensive tools and equipment, our experts are equipped with advanced technical skills and industry experience. At times the demolition work might require using explosives-all our residential demolition contractors are also experts when it comes to explosives. We know how to handle our equipment well, so we can readily haul debris, break down walls, excavate building foundation beams and more.
Have a Pending Home Demolition Project in Colorado Springs, Colorado? Call Us Now
We are not your typical sloppy residential demolition company. Contrary to what most people believe, demolishing a house or any type of building is not an easy task. Our superior work ethic is the reason we exceed our customers' expectations. Our Colorado Springs, Colorado residential demolition contractors are equipped to handle any size of house. Rest assured that we follow strict measures when performing our services. We are only a phone call away for all your demolition needs.
Zip Code Areas We Service in Colorado Springs
80951, 80909, 80904, 80905, 80906, 80907, 80903, 80939, 80938, 80910, 80917, 80916, 80915, 80914, 80919, 80918, 80927, 80924, 80925, 80922, 80923, 80920, 80921, 80929, 80901, 80912, 80931, 80932, 80933, 80934, 80935, 80936, 80937, 80941, 80942, 80944, 80946, 80947, 80949, 80950, 80960, 80962, 80970, 80977, 80995, 80997