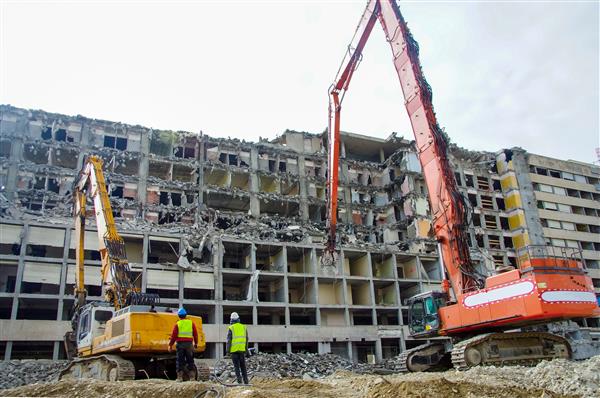 Demolition Contractors Fort Collins, CO: Your Go-To Demolition Company
Omni Demolition has efficient and expertly trained demolition contractors. We will be able to complete your project in a professional, cost-effective and safe way. Our demolition contractor is on standby at all times ready to cater to your needs. Our team of demolition experts provide outstanding demolition services whether complete or selective. This minimizes the chances of accidents or injuries at the demolition site.
Dependable Demolition and Deconstruction in Fort Collins, CO
Demolition is the process of tearing down or pulling down buildings and structures by a demolition expert. Demolition can either be selective or explosive. Explosive demolition uses mostly dynamite to bring down big buildings. Selective demolition involves bringing down a part of a building or tearing a section of a wall by a demolition expert. Deconstruction on the other hand is a type of demolition used in Fort Collins, CO. If you are going to rebuild or remodel an existing building and you wish to maintain some segments, a deconstruction is recommended. Our demolition expert tests and removes hazardous material before knocking down the building.
What We Do in Fort Collins, CO
We know that before you consider hiring us, you will want to understand how the job gets done by our demolition experts. Some demolition contractors may offer you an attractive contract with a very cheap price tag, but are you sure you are getting a steal? Our management style is hands-on, giving us the opportunity to customize solutions to fit your demolition needs. Do not be tricked by demolition contractors who cannot walk the talk.
We Offer Demolition Services in Fort Collins, CO Fit for Your Needs
Industrial Demolition Services: We can handle any challenging industrial demolition project you may have. With our world-class equipment and staff, we are able to demolish plants, mills, manufacturing buildings and so on.
Commercial Demolition services: Our demo company, has proven to be knowledgeable in demolishing commercial buildings despite their confinement in between other structures. Using specialized equipment plus our own unique strategy, we have in the past taken down airplane hangars, grocery stores, bridges, shops, and warehouses.
Concrete demolition and recycling services: Our demolition experts can break down concrete surfaces and slabs into reusable gravel.
Scrap Metal Demolition Services: Our demo company will expertly demolish your scrap metal projects. Our crew will downsize as well as dismantle the steel structures then process, bundle and recycle the materials.
What Distinguishes Us from Other Demolition Companies in Fort Collins, CO
Our demolition experts and highly skilled demolition contractors have worked on the most noteworthy projects in Fort Collins, CO. We are on a continuous path to success and we have managed to do this through perfection in our demolition services. As the number one demolition company in Fort Collins, CO, we will work closely with you to guarantee an optimum outcome. We continue to fulfil our commitment as a demo company when it comes to putting our clients as top priority.
Types of Demolition and Deconstruction in Fort Collins, CO
Explosive Demolition: Conducted by our skilled demolition experts in Fort Collins, CO, this method requires properly laying out detonators and explosives to bring a structure down to a pulp.
Non-Explosive Demolition: Our local demolition contractors will use a wrecking ball to bring down your structure. This method is cheaper than explosive demolition.
Selective Demolition: Buildings are deconstructed with the aid of special equipment. It is a solution that maximizes efficiency while reducing waste. It is mainly used when building owners want to add extensions to the building, update the interior of a building, convert space or improve the health of the building. This is a delicate procedure that demands great precision and tact, which our demo contractors have and other building demolition companies overlook.
We Utilize Well-maintained Equipment for Demolition in Fort Collins, CO
Hydraulic breakers – Massive earthmovers used at our demo company to drill and break concrete areas in no time.
Wrecking balls – Huge metal balls suspended on a metal crane and swung into the building intended to be collapsed either once or as many as needed.
Hydraulic shears and rock breakers – These specialized accessories allow cutting into a variety of materials such as metal, wood, rocks, and cement.
Bulldozers – A favorite among contractors, a bulldozer can be an intimidating piece of equipment on wheels although it is fairly easy to maneuver. It can be used to transport copious amounts of waste, as well as to wreck walls.
Dumpers – If you are in the demolition business, you will definitely need a dumper/ tipper truck for transporting demolition waste.
Cranes – Demolition contractors need a crane for attaching a wrecking ball to it. It can also be used to lift heavy things onto or off the structure. A demo company will almost always have this piece of machinery on a demolition site.
Crawler Loaders – A flexible machine, crawlers are perfect for excavating narrow spaces. Although not very good for excavating, it can be used to haul items easily.
We are the Number to Call for Premium Demolition Services in Fort Collins, Colorado
If you are looking for a reliable demolition company in Fort Collins, Colorado, there is no need to look any further. We will meet all your demands and give the same meticulous attention to your projects no matter the size. Our demolition company's spotless track record in handling minor to major demolitions is your guarantee of our high quality service, expertise and commitment to each and every project. Our Fort Collins deconstruction and demolition company has highly skilled personnel with years of experience in the demolition business. For all your demolition needs, call us at
(855) 885-3366
.
Zip Code Areas We Service in Fort Collins
80521, 80528, 80526, 80524, 80525, 80522, 80523, 80527, 80553