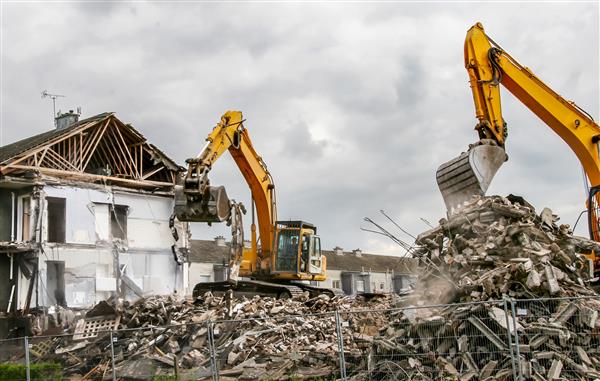 Omni Demolition: A Reliable and Trustworthy Residential House Demolition Company
It takes a lot of effort and time to do a house demolition in Fort Collins, CO. It is also quite a risky job, most especially if you don't have the right equipment or if you lack technical background and experience. We are always your #1 choice of house demolition companies. Omni Demolition has many full-time employees; we own our trucks and equipment; and our residential demolition contractors are well trained and capable of handling any demolition job. Don't let the damage worsen and affect the rest of your house. It could be in terms of cooking a different recipe, adapting a new routine, a change in lifestyle and so on. The same is true when it comes to a house demolition. We also have a great amount of experience with mobile home demolition projects. Omni Demolition is here to assist you with your needs.
Home Demolition Techniques in Fort Collins, CO
The safety of the workers and everyone near the area is our number one priority when we perform a house demolition job in Fort Collins, CO. Your safety is our top priority. We follow strict safety measures to avoid accidents. Our approach differs depending on the size of the building and its overall condition. Some of the tools we use to demolish a building include cranes, bulldozers, and excavators. Other demolition methods that our experienced residential demolition contractors employ include crane, wrecking ball, and high reach arm. Unlike other residential demolition companies, our contractors are proficient in working on any size of project, whether you need a mobile home demolition project done or you need a large multi-storey building demolished.
Getting a Home Demolition Evaluation in Fort Collins, CO
Now that you know how we handle our Fort Collins, CO house demolition service, you might be wondering how much we charge. Before you commit to a home demotion team, you should always ask for a comprehensive cost estimate so you can check which team offers the most competitive pricing. Before you decide on breaking your house down and choosing among qualified home demolition companies, make sure you have the money prepared to prevent running out of resources in the middle of your project. Here at Omni Demolition, our residential demolition contractors offer the most affordable house and mobile home demolition rates coupled with unmatched services. We can confidently say that our services are all-inclusive. Trust us at Omni Demolition to handle your project seriously.
Residential Demolition Permits Needed in Fort Collins, CO
House demolition in Fort Collins, CO, particularly in densely populated parts, necessitates the filing of permits and other procedures to make sure environmental and physical safety precautions are observed. For more information about the application process and the requirements needed to start a mobile home demolition project or larger, you can readily consult with our specialists. A permit needs to be acquired if there is no existing building permit. The cost of this document varies but it is usually around fifty to sixty dollars. Without a permit, you may have to pay for heavy fines imposed by the government, and you certainly would not want that to happen. You can ask our experts about the documentations needed.
Things You Must Prepare Before a Residential Demolition Service in Fort Collins, CO
So you've made up your mind to hire a professional for your Fort Collins, CO home demolition plan. The next logical step is to prepare your house for the demolition job. In addition, we recommend asking our demolition team how long the project will take so you can start planning for the next steps. Once the walls begin to cave in, there will be no way of going back in. Before starting the core process, long and tedious planning even for a simple mobile house demolition is required, especially if the chosen method is implosion. Once a demolition job starts, it would be expensive to stop it.
Why Should I Pick a Fort Collins, CO Residential Demolition Over a Renovation Service?
There are a lot of reasons as to why a residence would need to be demolished. This ranges from wanting to renovate the house, a natural disaster that has damaged parts of the house, or the need to remove an existing structure so you can build a new one. Besides the fact the it's useless to reinforce a building that's beyond repair, you should also consider the unnecessary costs you may need to pay. If you are ready tear down a property that is falling apart, it is a wise decision to ask for the help of a professional residential demolition team. Trust our residential demolition professionals in Fort Collins, CO. You can build new and stronger structures once the demolition project is completed.
Common Residential Demolition Tools and Equipment Our Fort Collins, CO Specialists Use
Our residential demolition contractors provide safe and reliable home demolition services in Fort Collins, CO. A demolition contractor needs several kinds of special tools and equipment to perform their job properly, and a skilled demolition contractor should be able to competently operate all of the necessary equipment. Residential demolition applies to buildings and small houses which are no more than three stories. The dimensions of the structure to be destroyed determine the type of instruments to be used for demolition.
Need a Home Demolition Job Done in Fort Collins, Colorado? Contact Us Today
We are not your typical sloppy residential demolition company. We have offered demolition services to the people of Fort Collins, Colorado for over many years, offering high-end quality services. Upon your request, we can hand you a cost estimate, and schedule your appointment as soon as possible. Count on our residential demolition contractors in Fort Collins, Colorado to provide everything you need for your house demolishing needs. Upon your request we will provide a complete cost estimate. Call us today at
(855) 885-3366
and we will give you a full cost estimate free of charge.
Zip Code Areas We Service in Fort Collins
80521, 80528, 80526, 80524, 80525, 80522, 80523, 80527, 80553