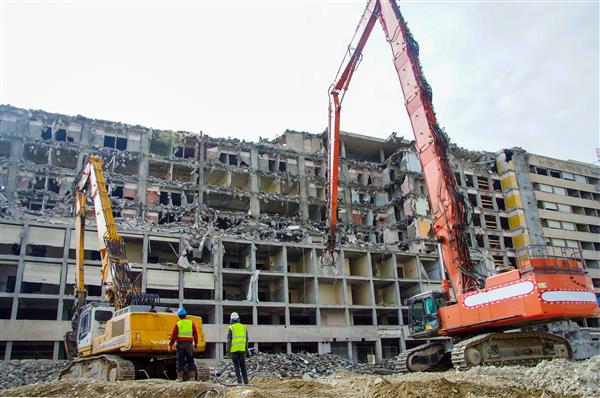 Demolition Contractors in Longmont, CO: Your Trusted Demolition Company
Omni Demolition is composed of reliable and dependable demolition contractors in Longmont, CO. Our main goal is to provide affordable services without compromising the quality of our work. If you need to hire a professional demolition contractor in Longmont, CO without spending a ridiculous amount of money, you have come to the right place. You can trust that our demolition experts are all well-versed when it comes to everything that has to do with eco-friendly demolition, as well as health and safety guidelines. You can rest assured that our affordable services are top-notch. To achieve this, our demolition experts apply strong verbal, communication, analytical, managerial, decision-making and time-management skills.
What are the differences Between Demolition and Deconstruction in Longmont, CO
Demolition is taking down or dismantling a building or structure with a strong and overwhelming force whose end result is rubble or waste. Demolition is the actual tearing down of a structure to be done by a demolition expert. Some of the items salvaged in deconstruction are: roofing materials, windows, plumbing fixtures, doors, cabinets, flooring among others. It entails tearing down the components of a building for the purpose of recycling, re-using as well as waste management.
Why Come to Us for Your Demolition Project in Longmont, CO
Our demolition experts have done thousands of contracts and not a single one has given us negative feedback. Our demolition contractor is at your service to fulfill all your needs. We are knowledgeable in protocols and we prioritize safety at all times. No other demolition contractor in all of Longmont, CO will provide you with top-of-the-line workmanship at cost-effective packages.
Our Demolition Services in Longmont, CO
Industrial Demolition services: We have taken down massive structures such as warehouses, industrial buildings, bridges, power plants, and mills. Our special equipment and expertise allow for the safe demolition of vast properties.
Commercial Demolition services: We are the demo company to call when it comes to commercial spaces that require strategic planning, especially narrow and often crowded areas. Our capability in wrecking restaurants, grocery stores, and office buildings shows our mastery in handling business districts.
Concrete demolition and recycling services: Our demolition experts can break down concrete surfaces and slabs into reusable gravel.
Scrap Metal Demolition Services: Our demo company is also experienced in extracting steel and metal from a building.
We are Unparalleled by Other Demolition Companies in Longmont, CO
Despite being highly preferred over other demolition contractors, we keep our feet grounded. We take pride in employing some of the finest calibre of demolition experts throughout the city. Our commitment to our patrons helped us become the most respectable demolition company in all of Longmont, CO. You will never find a more reliable demolition company in Longmont, CO than us.
Our Approved Methods for Demolition and Deconstruction in Longmont, CO
Explosive Demolition: Explosive materials are strategically placed on the building or structure in Longmont, CO by our demolition experts. The explosives are timed to make a structure go down on itself in seconds in order to minimize damage to the surroundings.
Non-Explosive Demolition: Certain buildings are not recommended for use of explosives, to which local demolition contractors opt for wrecking balls. Made of steel, a wrecking ball is suspended and swung into the building repeatedly causing it to topple or crumble down.
Selective Demolition: This is a type of demolition whereby building materials, part of the structure or building are separated and then sorted for the purpose of reusing or recycling. Our demo contractors have mastered the art of selective demolition that other building demolition companies do not have.
Cutting Edge Equipment Utilized for Demolition in Longmont, CO
Hydraulic breakers – Our demo company uses hydraulic breakers or hammers in crushing otherwise solid surfaces such as concrete, cement and even rocks.
Wrecking Balls – A wrecking ball is a heavy ball made from steel. It is attached to a crane and is used to strike down structures from a manageable height.
Hydraulic shears and rock breakers – These are helpful in cutting all sorts of steel, wood, rocks, concrete and metal. They make a very clean cut within a short period of time.
Bulldozers – A bulldozer is a heavy piece of equipment that has a robust bucket attachment. This attachment enables the bulldozer to clear trash, rubble and debris from a demolition site. Bulldozers are multi-purpose, they can also be used to push down heavy smaller-sized structures.
Dumpers – Copious amount of time is spent clearing demolition sites and this is where dumpers come in very handy. An experienced demolition business deploys dumpers to haul debris and waste away from the site.
Cranes – Demolition contractors use a crane to attach a wrecking ball. A demo company can also use a crane for moving materials on the different levels of the structure or building.
Crawler Loaders – Particularly useful in tight spaces, crawler loaders are versatile vehicles that function as a flexible loading and hauling machine. It can also be used for digging the ground.
For All Your Demolition Service Needs in Longmont, Colorado, Contact Us Today
Settling with an amateur demolition company in Longmont, Colorado may seem cost-effective at first but mishaps and faulty work onsite may cost more of your resources, time and energy. We take any demolition challenge head on. Our demolition company provides all our clients with dynamic solutions for all their Longmont demolition and deconstruction needs. Our Longmont deconstruction and demolition company is licensed and highly reputable. Call us
(855) 885-3366
today for all your demolition solutions.
Zip Code Areas We Service in Longmont
80501, 80503, 80504, 80502