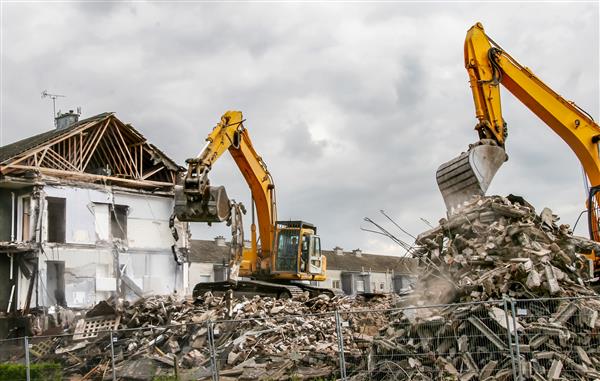 Omni Demolition: Your Expert in House Demolition in Longmont, CO
A house demolition in Longmont, CO is in order when you notice large cracks and other signs of compromised structure. We at Omni Demolition strive to provide the most cost-effective services among all the other local house demolition companies. We have a team of seasoned residential demolition contractors who can readily assess your property. Don't let the damage worsen and affect the rest of your house. Call in a professional to have the area checked. You can always count on our team of professionals to work on your project swiftly especially when it comes to small projects such as a mobile home demolition. Instead of covering cracks with layers of cement, you must address the structural issue so you can avoid accidents and other expenses.
How We Provide Our Longmont, CO Home Demolition Service
At every house demolition job, we make sure that the project is accident-free when we demolish a Longmont, CO property. We do this by conducting an initial inspection and checking every section of the building we need to work on. We deliver house demolition solutions such as implosion, remote-controlled demolition, high reach arm and crane demolition methods. Our approach differs depending on the size of the building and its overall condition. The techniques we use also differ if you only need an interior demolition job. Let our residential demolition contractors work on each necessary part of your house. As one of the leading residential demolition companies in the city, you can count on us to provide reasonably priced home, condo, townhouse or mobile home demolition services. We will give you a fixed timeline for the project and discuss the entire procedure before we proceed.
Obtaining a Home Demolition Quote in Longmont, CO
A house demolition in Longmont, CO can cost a substantial amount of money to properly execute. Variables that affect the cost of a demolition project include asbestos-contaminated materials that are not only more labor intensive to remove, but also cost roughly three times as much to safely get rid of in contrast to other materials like timber or concrete. Some home demolition companies also have high rates because there are instances where they need to do additional tasks other than demolition. Here at Omni Demolition, our residential demolition contractors offer the most affordable house and mobile home demolition rates coupled with unmatched services. Find a reliable company that can work with the budget you have and it will make the job itself go much more smoothly. As much as possible, you have to weigh in your options carefully, because there are a lot of companies that offer affordable packages but fail to deliver quality solutions at the end of the day.
Residential Demolition Permits to Procure in Longmont, CO
If you play by the rules and you have all your ducks in a row with the city you won't have the house demolition inspector in Longmont, CO issuing you stop work notices half way through your job. You can't start a house demolition or mobile home demolition job without a permit from the local government. To apply for a clearance, you will need to complete paperwork for the gas, sewerage, asbestos clearance and electrical wirings. This way, your safety is 100 percent assured. If you choose to work with our team, we will happily assist you in completing the requirements and processing the permit application. We will brief you about everything you need to ensure a smooth demolition project.Preparing for a Residential Demolition Project in Longmont, COOur contractors have all the equipment needed to carry out any kind of home demolition project in Longmont, CO. In addition, we recommend asking our demolition team how long the project will take so you can start planning for the next steps. Make sure that your home is completely vacated. No one, expect for the demolition team you hired, should have access to the area. We make sure that mobile home demolition service is carried out efficiently at a very cost effective rate, and that no error takes place during the duration of the project, making sure to meet your schedule as quickly and efficiently as possible. Limiting house access during the project will also help prevent accidents.
Reasons for a Residential Demolition in Longmont, CO
Trauma resulting from extreme weather or fire can lead to a building being demolished if its structural integrity has been compromised. Depending on the severity of the situation, you can hire a team to renovate the damaged sections of the house or take down the structure so you can build a new one. If you own a home that you want to make major changes to, you need the help of a residential demolition team in Longmont, CO. We will have them tear down your property upon your request.
Equipment Used for Residential Demolition in Longmont, CO
The quality of the services provided by residential demolition contractors depends on two things-the experience of the team and the quality of their equipment. At our company, all our home demolition professionals are equipped to work on any size of residential building. We can work on various materials as well. The dimensions of the structure to be destroyed determine the type of instruments to be used for demolition. You can always count on us when you need demolition services.
Call Us Now for Reliable Home Demolition Services in Longmont, Colorado
For more many years, we have provided residents of Longmont, Colorado with quality demolition services. We are a company that prides itself in being able to provide reliable and efficient services. No matter how big or demanding the job, we have the resource, experience, and skills to take care of it safely, responsibly and professionally. Our Longmont, Colorado residential demolition contractors are equipped to handle any size of house. Guided by the standards set by the industry and our extensive experience, we guarantee to provide the service you deserve. Call
(855) 885-3366
today to get in touch with our staff.
Zip Code Areas We Service in Longmont
80501, 80503, 80504, 80502