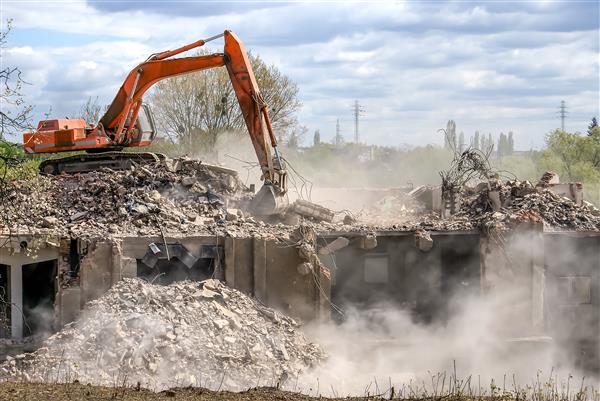 Your Ultimate Concrete Removal Company in New Haven, CT
Concrete removal involves tearing down concrete buildings and structures in New Haven, CT. Our concrete slab removal and concrete hauling professionals will take the lead during your demolition project, going above and beyond to deliver exceptional and satisfactory services. Our high ratings clearly speak for our loyal clients and how much value they get from hiring us as their contractor. At Omni Demolition you can benefit from our affordable fees and quick delivery time.
Concrete Removal Tools and Equipment We Use in New Haven, CT
At Omni Demolition, we use a number of equipment for concrete removal. At Omni Demolition, specialized heavy machinery and equipment are required for concrete slab removal. Common equipment used for this type of demolition are picks, robotic hammers and sledgehammers. Some of the services we offer include removing concrete driveway, concrete slab demolition, and concrete wall demolition. Compared to other companies, we conduct regular maintenance jobs on the equipment that we use. After we cut and crush the concrete, we can also provide concrete hauling services to get rid of or recycle the waste materials.
When Do You Need Concrete Demolition Services in New Haven, CT?
We have handled all kinds of cement deconstruction in New Haven, CT and we can safely say, our team is experienced in anything and everything under the sun. Some of the main reasons include the overall condition of the structure and presence of faulty wirings or leaky water pipes underneath the cement. We have an expert team of laborers, managers and engineers who see to it that demolition and concrete hauling standards are met if not exceeded. Oftentimes, damages to properties require a complete removal and replacement instead of a concrete resurfacing which only hides the damage. Safety is a primary concern for any concrete demolition job.
Permits Needed for Concrete Removal in New Haven, CT
You will need to obtain several permits and approvals from the government if you plan on carrying out a concrete removal or concrete hauling project in New Haven, CT. When choosing among the different local concrete removal companies, make sure to ask if they can assist you with the permit application. Definitely, here at Omni Demolition, our experts can help you get the documentation needed so you can start your project sooner rather than later. Omni Demolition ensures a smooth operation for every single client that puts their faith in our services. You will also need to have a rough estimate of the possible project costs. All you have to do is let us know what you need done and relax—we are here to do all the legwork for you.
How Much Do You Have to Pay for a Concrete Demolition in New Haven, CT
Other service providers in New Haven, CT make their proposed contract sound complicated to justify unreasonably priced estimates. Permits can cost an average of $200 to a few thousand dollars. Other companies reach a higher price range of $15,000+. You should contact our reputable professionals in New Haven, CT for any concrete removal job such as a patio demolition or patio removal. To know how much you need to prepare for your project, we highly recommend getting in touch with your chosen demolition company in New Haven, CT. Permits can cost you a few dollars to thousands of dollars depending on your location and project needs.
How Much Time Should a Concrete Demolition Project Take in New Haven, CT?
We pride ourselves in having a quick an efficient turn around time in our concrete demolition projects. To eliminate demolition delays, we plan all our concrete slab removal and concrete hauling in New Haven, CT effectively with hands-on management principles. At our company, we are able to finish a demolition or hauling job within as little as a few days, depending on the size of the property. We always conduct a comprehensive check on every project we work on in New Haven, CT. With that in mind, it might take days, weeks or even months to have your project completed depending on its nature, type and all the other aforementioned factors.
How Can I Reuse the Concrete Waste Generated from My Project in New Haven, CT?
Do you ever wonder where all the waste from a concrete demolition and removal project go? Ever wonder how this type of material can be used again? Our team recycles crushed and cut concrete slabs. Our seasoned concrete demolition contractors can help you reuse discarded concrete from your project. We recommend recycling concrete because it can be reused as a good quality construction material. This not only lessens the environmental impact but it also minimizes the overall cost on your concrete demolition project.
Make Us Your Concrete Demolition Company of Choice in New Haven, Connecticut
Our commitment is in offering personalized and satisfactory concrete demolition services in New Haven, CT to all our clients-from concrete slab removal to any other concrete removal service you may be in need of. Omni Demolition is home to the most well-trained concrete slab removal and demolition specialists. We understand that each project is unique and therefore, we come up with special solutions for all your concrete demolition projects. Our team works systematically as we strive to provide a smooth service. Using their knowledge and specialized skills, our experts know how to get your projects done right. Call us today at
(855) 885-3366
and tell us about your project.
Zip Code Areas We Service in New Haven
06519, 06511, 06510, 06513, 06512, 06515, 06501, 06502, 06503, 06504, 06505, 06506, 06507, 06508, 06509, 06520, 06521, 06530, 06531, 06532, 06533, 06534, 06535, 06536, 06537, 06538, 06540