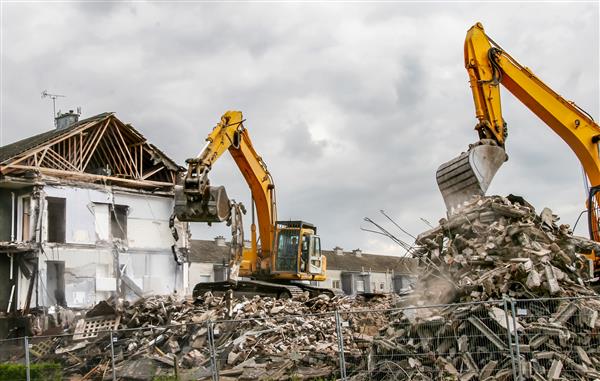 Guaranteed Superior Quality House Demolition in New Haven, CT Only at Omni Demolition
A house demolition in New Haven, CT is in order when you notice large cracks and other signs of compromised structure. We at Omni Demolition strive to provide the most cost-effective services among all the other local house demolition companies. We have a team of seasoned residential demolition contractors who can readily assess your property. Don't let the damage worsen and affect the rest of your house. We only make use of high precision tools and equipment to ensure the quality of our work. Whether you call us for a full-scale mansion demolition or an easy mobile home demolition, rest assured you will receive our best services.
How We Provide Our New Haven, CT Home Demolition Service
The safety of the workers and everyone near the area is our number one priority when we perform a house demolition job in New Haven, CT. Your safety is our top priority. We follow strict safety measures to avoid accidents. If you do not have a solid plan on how to take down each part of the structure, you risk getting injured. The techniques we use also differ if you only need an interior demolition job. With the extensive knowledge and experience of our residential demolition contractors, we can provide a reasonable working schedule. We outperform other residential demolition companies by ensuring that our clients are completely satisfied with the service they receive and the fees they pay at the end of the day. We put our best foot forward whether we're working on a mobile home demolition project or demolishing a three-storey home. We will give you a fixed timeline for the project and discuss the entire procedure before we proceed.
Getting a Home Demolition Evaluation in New Haven, CT
The cost of a house demolition service in New Haven, CT is influenced by factors such as the location of the property, scale of the project and the magnitude of the structure. Before you completely say yes to an offer, see to it that you check every factor involved. The best way to go about any demolition project is to hire home demolition companies that present turnkey solutions. This means the residential demolition team will come in, demolish the building, and haul everything away for you. We pride ourselves in having one of the best teams of residential demolition contractors. We can assign a mobile home demolition specialist to check your property today. The overall cost of the demolition depends on the location of the property; the existence of established plants and trees and the placement of essential services such as electricity, gas and water; and lastly the proximity to the nearest disposal or recycling facility. Before you hire a team of contractors, be sure to consider their level of expertise, the equipment they use and their customer feedback.
Get Your Residential Demolition Permits in New Haven, CT
Apart from safety issues, you will also need to secure all required permits from local authority. Avoid incurring penalties and delaying your project by acquiring all the necessary permits, even for a simple mobile home demolition. You must secure the documents required in New Haven, CT. Without a permit, you may have to pay for heavy fines imposed by the government, and you certainly would not want that to happen. If you ever encounter problems along the permit application process or you have questions about the permit itself, our staff will be willing to help.
What Things Should I Prepare Before the Residential Demolition Job in New Haven, CT Starts?
Trust our New Haven, CT home demolition specialists to guide you step by step throughout the process so you can avoid delays. The area must be cleared out by removing all the furniture and personal items in it. We suggest preparing your house for the demolition job. Although a routine mobile home demolition project can be completed fairly quickly, you may still want to check with our team to provide you a tentative schedule for the entire procedure. It may be more efficient to transport a mobile home to a local landfill by truck and have the demolition take place at the landfill to save time and money.
Instances That Call for Residential Demolition in New Haven, CT
Trauma resulting from extreme weather or fire can lead to a building being demolished if its structural integrity has been compromised. Perhaps you are happy with the basic structure of your home, but want to add a room. To do this you need a residential demolition professional to do the job, to make sure that the rest of the house remains safe and intact. Another case in which you may need a residential demolition crew is when you are tired of the floor plan of your residence and need a change. With the help of our friendly New Haven, CT residential demolition specialists, you can ensure the safety of your loved ones and your personal valuables.
Guaranteed Quality Residential Demolition in New Haven, CT Property
Omni Demolition residential demolition contractors have always provided safe and reliable home demolition services in New Haven, CT. Our contractors use high-end equipment and whether you call us to remove a small section of your house or the entire structure, rest assured we will use industry-grade tools. Without well-maintained and smooth-operating equipment, contractors won't be able to haul materials or pull out pipes and trusses. Rest assured that we can tear down the defective structure and remove every piece of steel and crushed cement within our promised day of completion.
Call Us and Start Your Home Demolition in New Haven, Connecticut Today!
Never worry about paying expensive equipment rental fees or dealing with accidents due to negligence. Whatever your demolition requirements are, we can give the best demolition contractor experience. Call a professional who can assess the situation and identify the areas that need work. No matter how big or demanding the job, our residential demolition contractors in New Haven, Connecticut have the resources, experience and skills to take care of it safely, responsibly and professionally. Rest assured that we follow strict measures when performing our services. Call us today at
(855) 885-3366
and we will give you a full cost estimate free of charge.
Zip Code Areas We Service in New Haven
06519, 06511, 06510, 06513, 06512, 06515, 06501, 06502, 06503, 06504, 06505, 06506, 06507, 06508, 06509, 06520, 06521, 06530, 06531, 06532, 06533, 06534, 06535, 06536, 06537, 06538, 06540