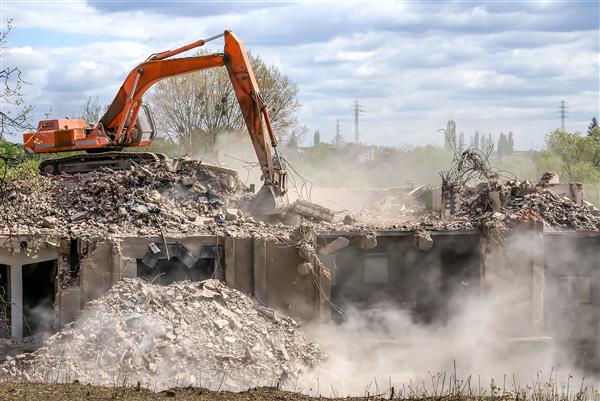 Your Premium Concrete Removal Company in Norwalk, CT
There are a number of reasons why you might need to hire our concrete removal services in Norwalk, CT. The importance of concrete demolition cannot be overstated. For example, at Omni Demolition, clients need concrete slab removal and concrete hauling services in order to build or rebuild new structures. Our reliable craftsmen do not believe in making excuses. You can rely on us to get the job done.
Important Equipment Used for Concrete Removal in Norwalk, CT
Be careful of contractors in Norwalk, CT that use outdated and broken down equipment for this could mean impending delays to your project, or work that is so poorly done you will have to hire another company to redo the job. We can perform services like concrete slab removal that you may need for your Norwalk, CT project as soon as possible. Service providers who have faulty equipment will surely cause delays in your project or worse, add their own repair expenses on top of your original bill. Our tools and equipment can be used on various projects of various sizes. As such, our services such as concrete slab demolition and concrete wall demolition are perfect for any type of situation. Depending on the nature of the project, we select different equipment to deliver maximum results. We also provide concrete hauling to clean up the site after we finish cutting and crushing your walls, driveways or ceilings.
When Do You Need Concrete Demolition Services in Norwalk, CT?
Concrete, when constantly exposed to changing weather and temperature, can weaken and crack. It not only allows you to erect new buildings but it also gets rid of aging, dilapidated and unsafe structures. Our concrete removal services and concrete hauling will not only help you get rid of old unsightly structures but will also ensure that your property has better aesthetic appeal. Great concrete quickly transforms the look of a structure. It also upgrades the quality of a building and comfort of the residents. Apart from wall or ceiling cracks, you will need the help of a professional if you have problems with leaky water pipes or defective house wirings, most especially if they are buried underneath the concrete.
What Documents Should I Prepare for My Concrete Removal Project in Norwalk, CT?
It is essential that before you start your concrete hauling project, you have already secured a concrete removal permit in Norwalk, CT. There are several concrete removal companies in the city, so make sure you select one that will help you all throughout the process. Avoid getting penalized by the local authority. Other contractors hire a third-party permit service provider to file the necessary permit but this could only mean additional expenses for you. Some demolition projects will require a planning permit.
How Much Do You Have to Pay for a Concrete Demolition in Norwalk, CT
Processing a demolition permit can cost around $200 on average. In addition to permit application fees in Norwalk, CT, there is no accurate range of expenses that we can give outright as every project requirement is unique. If you live in an urbanized location, expect the permit application fees to go up to a thousand dollars or more. Patio demolition and patio removal are some of the demolition projects we specialize in. Our professionals can use concrete saws, pry bars, sledgehammers or electric jackhammers to remove this type of concrete. Its demolition cost will be lower. Another cost to factor in is demolition permits. Depending on where you are situated and size of the project, permits and associated costs can cost you around $200 or as high as $10,000 in some cases. If the structure contains hazardous materials such as asbestos, it may cost you extra to have the hazardous materials removed.
Estimated Time Required for a Concrete Demolition Project in Norwalk, CT
Frankly speaking, there is no general timeframe that can be given as each concrete demolition job is different from the other. To eliminate demolition delays, we plan all our concrete slab removal and concrete hauling in Norwalk, CT effectively with hands-on management principles. This all depends on a number of things such as the size of the concrete structure. In instances that an unforeseen situation arises, the client is notified to ensure that they are not kept in the dark and to establish the right expectations. Rest assured we will take good care of your demolition needs in Norwalk, CT and provide a clearly defined timeline for the entire project.
Can Concrete Be Recycled in Norwalk, CT?
Concrete demolition and removal projects make the most amount of wastes and debris which is why, instead of throwing them away, it is best to make an effort to avoid harming the environment when disposing of these materials. Concrete recycling is an integral part of concrete demolition. Our concrete demolition contractors can use recycled concrete as a cheaper alternative of aggregate as opposed to newly mined aggregate. It is a much more environmentally friendly process as opposed to disposal. Recycled concrete is typically available at a much lower price so you get to save money while also helping save the environment.
Reasons for Hiring Our Concrete Demolition Company in Norwalk, Connecticut
Our concrete demolition services in Norwalk, CT consist of concrete slab removal and concrete removal service. There are many reasons why Omni Demolition should be your number one pick for all your concrete slab removal projects. We understand that each project is unique and therefore, we come up with special solutions for all your concrete demolition projects. Our experts are the best at what they do. This is not a job for amateurs and if done wrongly, it could be costly on your end. Concrete demolition in Omni Demolition is the best way to safely tear down buildings or structures made from concrete.
Zip Code Areas We Service in Norwalk
06854, 06855, 06856, 06850, 06851, 06853, 06852, 06857, 06858, 06860