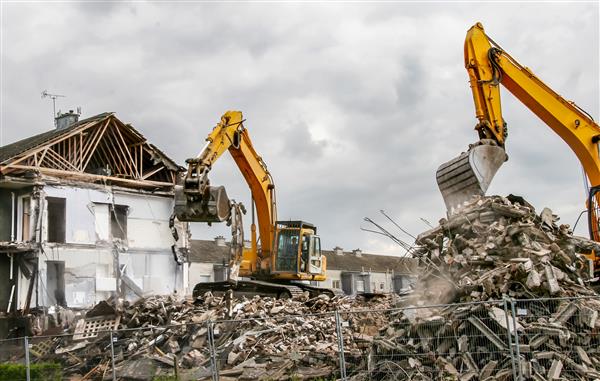 Guaranteed Superior Quality House Demolition in Norwalk, CT Only at Omni Demolition
Sometimes, it is best to book a house demolition in Norwalk, CT than to call in a renovation team to restore your property. Compared to other local house demolition companies, we have more high-powered equipment and professional residential demolition contractors. Omni Demolition has many full-time employees; we own our trucks and equipment; and our residential demolition contractors are well trained and capable of handling any demolition job. Omni Demolition is a local favorite for house demolition. You may need to have a section of your house removed because it can cause huge problems in the future. Whether you call us for a full-scale mansion demolition or an easy mobile home demolition, rest assured you will receive our best services. Omni Demolition is here to assist you with your needs.
How Our Home Demolition Service in Norwalk, CT Works
Whenever we provide house demolition service in Norwalk, CT, we thoroughly survey the area to check all the weak spots. The entire process can be complex and calls for creative solutions to avoid costly problems. Some of the tools we use to demolish a building include cranes, bulldozers, and excavators. As knowledgeable residential demolition contractors, we offer unrivaled expertise to all aspects of the modern demolition process. We outperform other residential demolition companies by ensuring that our clients are completely satisfied with the service they receive and the fees they pay at the end of the day. It is recommended that you hire a professional even for a simple mobile home demolition project. Using our lengthy experience in the industry, we can guarantee a smooth delivery of our services.
Obtaining a Home Demolition Quote in Norwalk, CT
Now that you know how we handle our Norwalk, CT house demolition service, you might be wondering how much we charge. Before you commit to a home demotion team, you should always ask for a comprehensive cost estimate so you can check which team offers the most competitive pricing. By examining the rates, you can check which among the different home demolition companies in the area offers the most competitive services. We at Omni Demolition will assign seasoned residential demolition contractors to work on your project. In addition, we provide the best rates even for small projects such as a mobile home demolition. The fees differ depending on the size and difficulty of the project. Unlike other companies, you can get everything you need from our contractors for a fair price.
What Paperwork Should I Secure For My Residential Demolition Project in Norwalk, CT?
If you play by the rules and you have all your ducks in a row with the city you won't have the house demolition inspector in Norwalk, CT issuing you stop work notices half way through your job. Some of the usual paperwork required for a house demolition or mobile home demolition job include asbestos inspection repair and dust control clearance. Our residential demolition contractors are licensed to do the work that you need done, and they will also help you obtain the proper permits for the project at hand. This will help you avoid unnecessary fines and delays in your project. If you have questions about the documentation requirements in your area, contact our team. If you do not like project delays or building code penalties, we highly suggest applying for a permit beforehand.
Things To Prepare Before a Norwalk, CT Residential Demolition Project Starts
Just as you don't just undertake a home demolition project in Norwalk, CT without the proper permits, you don't do it without getting the site ready, either. If you have personal items, furniture or any other valuables, remember to take them out in advance. When it comes to preparing even a simple mobile home demolition, you want to be sure that everyone is on the same page. These types of projects mostly require permits and you can count on us to take care of this for you.
Do I Really Need a Residential Demolition Service in Norwalk, CT?
Several residential demolition projects arise from improving a newly bought piece of estate or cleaning up a landscape. If you spot cracks, cave-ins or other signs of wear and tear, especially in the home's foundation, contact an expert right away. It is better to call a demolition specialist to lend you a hand instead. We can schedule your residential demolition service in Norwalk, CT as soon as you call us. You can rebuild your home or parts of it to ensure that it is safe for you and your loved ones.
Equipment Used for Residential Demolition in Norwalk, CT
For many years, thousands of homeowners have depended on our team of residential demolition contractors to help them with their property. As such, when we perform a home demolition, we can efficiently pull out every bit of damaged material. Taking down walls to achieve your desired open floor plan might not be as easy as it seems. While it might be tempting to give it a go using a sledgehammer, it's not a wise thing to do. Because it is extremely dangerous, it requires the demolition contractors to follow all the safety instructions and rules strictly. You can always count on us when you need demolition services.
Contact Us Today for Home Demolition Services in Norwalk, Connecticut
Don't risk your safety just to save money! We promise to complete your request within a short span of time. Count on our residential demolition contractors in Norwalk, Connecticut to provide everything you need for your house demolishing needs. We know that we have to earn your business and that is why we uphold high standards when it comes to the quality of services we offer. Give us a call at
(855) 885-3366
so we can get started on your project!
Zip Code Areas We Service in Norwalk
06854, 06855, 06856, 06850, 06851, 06853, 06852, 06857, 06858, 06860