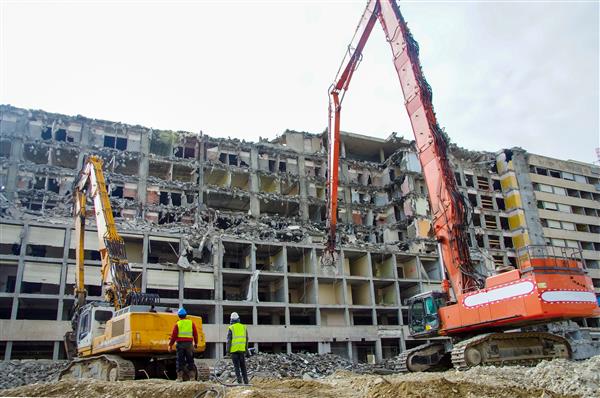 The Best Option For Demolition Contractors Daytona Beach, FL: Our First-Class Demolition Company
Our mission here at Omni Demolition is to ensure that we offer premium and high-caliber services through our expert demolition contractors. You are guaranteed to get the best value for your money with our expertise partnered with updated equipment and strict adherence to state safety regulations and policies. No job is ever too big, too small or too demanding for us. Our demolition experts always provide reliable and efficient services in a proactive manner. Whether it may be a residential, commercial or industrial structure that needs to be taken care of, our crew has got it covered.
What is the Difference between Demolition and Deconstruction in Daytona Beach, FL
Demolition is the process of tearing down or pulling down buildings and structures by a demolition expert. Deconstruction is when a demolition expert carefully dismantles or takes down a structure with the aim of reusing or recycling the materials. A deconstruction may be implemented on its own or as a pre-demolition procedure. We have the know-how in identifying the value of extracted materials and their potential for reuse.
Why Hire Us for Your Demolition Project in Daytona Beach, FL
We have demolition experts who plan everything meticulously, from the bringing in of our equipment up to the clearance of the property from wastes and debris. Some demolition contractors offer their services at rock bottom prices but this may cost you more in the long run. Most sales agents will promise everything just to close a deal but are no longer accountable when their team fails to deliver. Our demolition contractors are not only committed to providing first rate work but also ensure that all steps are taken to cause little to zero disturbance to the environment and to the properties adjacent to the site.
Check Our Broad Range of Demolition Services in Daytona Beach, FL
Industrial Demolition services: Our countless contracts include leveling massive structures such as worn-down factories, mills, and chemical warehouses.
Commercial Demolition Services: Despite commercial buildings being located in compact spaces, our demo company is able to bring down your building or structure in a safe way with minimal damage to the surrounding area. Using modernized equipment, our team of professionals have pulled down warehouses, grocery stores, shops, airplane hangars among others.
Concrete demolition and recycling services: If you want to save time and money, our demolition experts can also extract concrete materials and slabs onsite to be broken down into reusable gravel.
Scrap Metal Demolition Services: Unlike other contractors who concentrate only on concrete, our demo company can assist in handling metal frames and recycling scraps.
We are Unparalleled by Other Demolition Companies in Daytona Beach, FL
Our highly trained demolition contractors are able to offer flexible services to suit your specific needs. Our demolition experts and demolition contractors have an established performance record of completing demolition jobs in the right way, on budget and on time. As an established demolition company in all of Daytona Beach, FL, we see to it that our services, equipment and workmanship are always above customer satisfaction. As an established demo company, we continue to make innovations in the field of construction while also maintaining the highest standards of our services.
Authorized Methods for Demolition and Deconstruction in Daytona Beach, FL
Explosive Demolition: Our well-trained demolition experts in Daytona Beach, FL strictly follow all protocols to ensure safety onsite and in nearby areas. Aside from safety precautions, all procedures in using explosives are guaranteed to be eco-friendly and not invasive.
Non-Explosive Demolition: In instances where the height of the building makes it unsafe to use explosives, a wrecking ball is used by local demolition contractors to weaken the structure before tearing it down.
Selective Demolition: Our demo contractors use this method when their goal is to recover or salvage demolition materials. Building demolition companies reuse or recycle the salvaged materials thus reducing waste.
Important Demolition Equipment in Daytona Beach, FL
Hydraulic Breakers – Our demo company uses a hydraulic breaker to demolish rocks and concrete structures. Its powerful hammer causes destruction on the targeted object in a matter of seconds.
Wrecking balls – Huge metal balls suspended on a metal crane and swung into the building intended to be collapsed either once or as many as needed.
Hydraulic shears and rock breakers – Designed to cut through the toughest materials with very minimal effort, these tools are attached to excavators to do the job. They can slice through rocks, concrete, metal, wood and steel. Bulldozers – They are used to push demolition debris. They are also used to tear down smaller structures, clear the property of rubble or pile the debris.
Dumpers – A dumper is a very useful piece of machinery in every demolition business. It is used to carry away demolition waste from demolition sites.
Cranes – A necessity for demolition contractors, cranes serve multiple purposes including being used for wrecking balls and for transferring heavy tools within the site. Every demo company should have a well-maintained and stable crane to avoid any unforeseen accidents.
Crawler Loaders – Also meant to be used in excavating, crawler loaders have declined in popularity compared to hydraulics that can be used in heavy drilling. This equipment, however, can run on its own power as opposed to hydraulic excavators that more often require towing.
Contact Us for Cost-effective Demolition Services in Daytona Beach, Florida
We are ranked as the leading demolition company in Daytona Beach, Florida. Ensure a spotless pre-construction site when you sign with us. Contact us today and let our demolition company take the pressure off of you. Our Daytona Beach deconstruction and demolition company has highly skilled personnel with years of experience in the demolition business. Go ahead and give us a call today at
(855) 885-3366
. We are always at your service.
Zip Code Areas We Service in Daytona Beach
32124, 32117, 32114, 32118, 32119, 32115, 32116, 32120, 32121, 32122, 32123, 32125, 32126, 32198