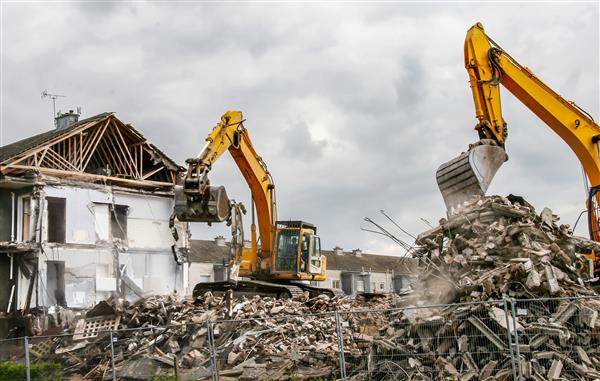 Omni Demolition: A Residential House Demolition Company You Can Trust
Hiring a Daytona Beach, FL house demolition team to help you knock down your home is the most ideal option if you want to minimize the risk of damaging other parts of your property and getting injured from equipment misuse. There are different types of demolition processes. Each process calls for skill and precision, which is why there are reliable house demolition companies that specialize in these construction phases. Our team of residential demolition contractors can attend to your request as soon as possible. We coordinate the entire project from start to finish, including but not limited to all the necessary documentation, inspections, and city permitting. Hiring a demolition team is the best option if you want to spare yourself from all the trouble. All of our work is conducted by experienced machine operators who can work even on your mobile home demolition project to ensure a safe demolition project. Instead of covering cracks with layers of cement, you must address the structural issue so you can avoid accidents and other expenses.
Home Demolition Techniques in Daytona Beach, FL
House demolition methods are used for demolishing massive residential structures. When a client dials our number to book our Daytona Beach, FL demolition package, we immediately schedule an onsite inspection. This way we can assess the situation, provide a project timeline and come up with a sound plan. We make sure to check every possible defect to help us identify where we need to start. Contrary to popular belief, there is an art to effectively destroying a building. With the help of our residential demolition contractors, you can tear down any type or size of building. When choosing among the residential demolition companies in the area, you need to be very cautious with hiring the right company, as a team with little experience can turn a simple routine job into a large costly mess. It is recommended that you hire a professional even for a simple mobile home demolition project.
Things to Consider When You Get a Home Demolition Price Estimate in Daytona Beach, FL
A house demolition in Daytona Beach, FL can cost a substantial amount of money to properly execute. Variables that affect the cost of a demolition project include asbestos-contaminated materials that are not only more labor intensive to remove, but also cost roughly three times as much to safely get rid of in contrast to other materials like timber or concrete. By examining the rates, you can check which among the different home demolition companies in the area offers the most competitive services. You can easily request a free cost estimate from our team of residential demolition contractors. Omni Demolition provides the most reasonably priced rates and unmatched services for a major demolition such as tearing down a multi-level building or a minor one such as a mobile home demolition. Don't put your fate in an inexperienced company. You can count on our staff at Omni Demolition to answer your questions or concerns about our services.
What Paperwork Should I Secure For My Residential Demolition Project in Daytona Beach, FL?
When a structure has been declared dangerous or if a specific area needs to be part of a new redevelopment, house demolition in Daytona Beach, FL is in order. Other special inspections and documentation for your house tear-down or mobile home demolition may be asked from you depending on the state you are in. If you have the city on your side, the neighbors will fall in line nicely. Avoid incurring penalties and delaying your project by applying for the necessary permit. We will brief you about everything you need to ensure a smooth demolition project.How to Organize for a Residential Demolition in Daytona Beach, FLUnlike construction, a home demolition in Daytona Beach takes less time, but one of the most time consuming and tiresome parts of the process would be the preparation stage. The area must be cleared out by removing all the furniture and personal items in it. A demolition contractor then starts the process with the removal of valuables from the building, such as the copper wiring; then follows the removal of materials like glass, asbestos sheets and other materials, which are considered to cause serious safety hazards during and after demolition. Unscrew any wall-mounted decor, throw out unwanted furniture, relocate your appliances and more. Getting a timeline is vital because all demolition projects, even mobile home demolitions, leave a huge mess, and a timeline will give you an idea when the demolition will actually take place and how long the entire process will be.
Why Should I Pick a Daytona Beach, FL Residential Demolition Over a Renovation Service?
There are a lot of reasons as to why a residence would need to be demolished. This ranges from wanting to renovate the house, a natural disaster that has damaged parts of the house, or the need to remove an existing structure so you can build a new one. We highly suggest calling in a specialist to check out your property if you suspect weakened or compromised foundation or walls. Depending on the overall condition of your house, professionals may recommend breaking down and rebuilding the affected structure or doing a small renovation job to boost the strength of the material. Whatever reasons you have, you can get a quote on residential demolition costs in Daytona Beach, FL from us. A house demolition crew would then be needed in these situations.
Exceptional Quality Residential Demolition Equipment for Your Daytona Beach, FL House
Residential demolition contractors use a wide range of home demolition equipment. There are several types of equipment used in the industry today-loaders, material handlers, trucks, grapples, excavators, and pulverisers to name a few-and we have access to all of them. Without well-maintained and smooth-operating equipment, contractors won't be able to haul materials or pull out pipes and trusses. The dimensions of the structure to be destroyed determine the type of instruments to be used for demolition. We know how to handle our equipment well, so we can readily haul debris, break down walls, excavate building foundation beams and more.
Get in Touch with Us for a Hassle-Free Daytona Beach, Florida Home Demolition Service
Have our experts take care of demolishing your home. Choose to work with a seasoned home demolition expert who can carry out your demolition requests. Our years of experience being residential demolition contractors in Daytona Beach, Florida enable us to understand and anticipate our customers' needs. We know that we have to earn your business and that is why we uphold high standards when it comes to the quality of services we offer. Contact us today at
(855) 885-3366
so we can get started on your demolition project!
Zip Code Areas We Service in Daytona Beach
32124, 32117, 32114, 32118, 32119, 32115, 32116, 32120, 32121, 32122, 32123, 32125, 32126, 32198