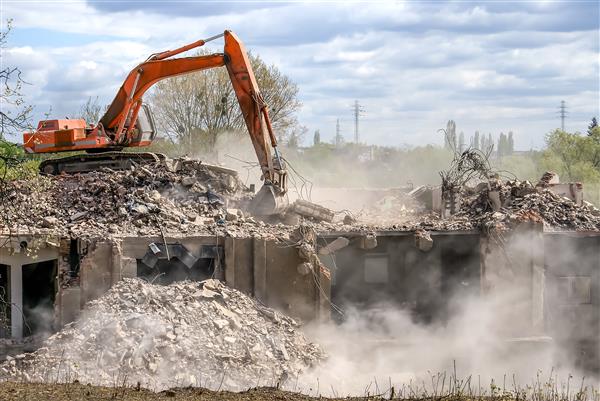 Your Ultimate Concrete Removal Company in Atlanta, GA
Concrete removal in Atlanta, GA is definitely not a job for the faint at heart and that is why many recommend hiring only seasoned expert contractors like those at Omni Demolition to handle your projects. The importance of concrete demolition cannot be overstated. For example, at Omni Demolition, clients need concrete slab removal and concrete hauling services in order to build or rebuild new structures. Ultimately, when you need concrete demolition services to ensure that your building structure is exactly as you envision it to be, you will definitely need Omni Demolition to make it happen. No amount of training can bring the average amateur provider up to speed with the kind of workmanship and commitment that we can only perfect through years of experience.
Equipment and Tools We Use to Provide Quality Concrete Removal in Atlanta, GA
You no longer need to worry about paying high equipment rental fees when you hire our team in Atlanta, GA. Our contractors at Omni Demolition use a wide range of equipment when we perform our services such as concrete slab removal. Hydraulic slitters are very efficient in breaking thick and dense concrete. Whether we are hired for removing concrete driveway, concrete slab demolition, or concrete wall demolition, you can guarantee no equipment failure onsite. Trust us to start removing concrete driveway and other concrete structures at your project location as soon as you give us the green light to commence work. Other equipment used in demolishing concrete are pallet jacks, hoists and bobcats.
Conditions that Require a Concrete Demolition in Atlanta, GA
One of the most important questions when it comes to concrete demolition services in Atlanta, GA is if the circumstances call for demolition at all. The structure degrades as the years go by. Our concrete removal services and concrete hauling will not only help you get rid of old unsightly structures but will also ensure that your property has better aesthetic appeal. If you see frost heave or concrete that is pushed upward, cobweb-like cracks on cement, sunken slabs and even fragmented foundations, it is best to call us for a concrete demo and plan on rebuilding your property. We are an environmentally friendly company.
When are Concrete Removal Permits Required in Atlanta, GA?
The government usually requires permits for a concrete removal and concrete hauling project in Atlanta, GA. Make sure that when you select among the concrete removal companies in the city, you check how well the staff can help you in preparing the requirement. Omni Demolition ensures a smooth operation for every single client that puts their faith in our services. Some property owners and even contractors hire permit services or companies who manage the building permit application process. Your local council may require that you get planning permits, demolition permits and a concrete demolition consent.
How Much Cost Will I Incur in a Concrete Demolition Project in Atlanta, GA?
There are a number of factors that contribute to the cost of concrete removal with the biggest contributor being the total area of concrete to be removed. The bigger the size of the concrete, the more the job will cost. Hauling and disposal costs depend on the amount of debris and the distance from the demolition site to the disposal facility. Whether you need estimates for small jobs such as a patio demolition or patio removal, or you need a proposal for breaking up concrete at an industrial property, we will provide you with a detailed breakdown of expenses. There are special circumstances that can affect the cost of your demo project. This cost is inclusive of disposal. The cost of concrete removal, however, varies in different cities. We provide all types of demolition services at affordable rates.
Typical Timeline for a Concrete Demolition Operation in Atlanta, GA
Every concrete demolition project is unique even if identical procedures may be done and the same equipment will be used which is why no specific time frame can be given without the details of the area involved. Our team of experts, however, is the most knowledgeable in the industry when it comes to concrete slab removal, or concrete hauling so we can guarantee the quickest operations without compromising quality and safety. In cases where a city inspector has checked whether all sewer, utilities, and water facilities have been taken care of, our own men double checks to ensure the safety of our demolition in Atlanta, GA. In instances that an unforeseen situation arises, the client is notified to ensure that they are not kept in the dark and to establish the right expectations. Your budget also determines the time it will take to complete your project.
Is it Possible to Recycle Concrete Demolition Waste in Atlanta, GA?
It is not only an environmentally friendly process of utilizing concrete rubble but it is also a cost cutting measure for your concrete demolition and removal project. You can crush them up and use them as a base layer for your asphalt pavement. By recycling used up concrete, you can minimize waste and save money on your side projects. Our concrete demolition contractors highly encourage recycling in accordance with our adherence to providing eco-friendly solutions. The aggregate is used in the production of new structural concrete. This reduces disposal and hauling costs.
Work with Concrete Demolition Experts in Atlanta, Georgia Our concrete demolition services in Atlanta, GA include concrete slab removal and any other concrete removal service you may need. Our expert contractors at Omni Demolition have unparalleled skills and experience in the concrete slab removal business. We will ensure that concrete slab removal and other types of concrete removal service are done according to your specifications. We have been in this business for many years. We guarantee to come and fix your concrete-related problems fast. Don't risk your safety; work with demolition professionals in Atlanta, GA.
Zip Code Areas We Service in Atlanta
30334, 30331, 30332, 30309, 30308, 30307, 30303, 30354, 30327, 30326, 30324, 30319, 30316, 30342, 30305, 30306, 30317, 30314, 30315, 30312, 30313, 30310, 30311, 30363, 30318, 30301, 30302, 30304, 30321, 30325, 30343, 30348, 30353, 30355, 30357, 30358, 30361, 30362, 30368, 30369, 30370, 30371, 30375, 30377, 30378, 30380, 30385, 30388, 30392, 30394, 30396, 30398, 31106, 31107, 31119, 31126, 31131, 31139, 31141, 31145, 31146, 31150, 31156, 31192, 31193, 31195, 31196, 39901