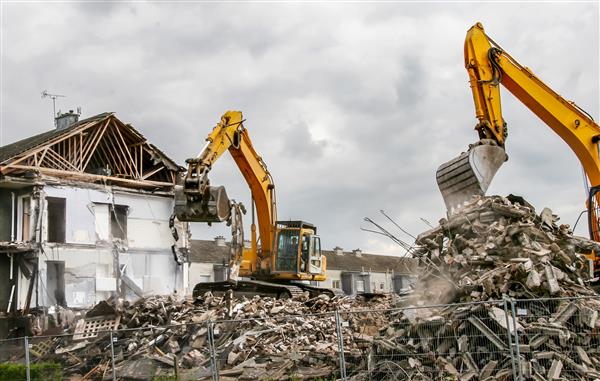 Omni Demolition: The Most Trusted House Demolition Expert in Atlanta, GA
Sometimes, it is best to book a house demolition in Atlanta, GA than to call in a renovation team to restore your property. Compared to other local house demolition companies, we have more high-powered equipment and professional residential demolition contractors. We have a team of seasoned residential demolition contractors who can readily assess your property. Omni Demolition is a local favorite for house demolition. Hiring a demolition team is the best option if you want to spare yourself from all the trouble. Although we are able to handle large demolitions, our contractors are more than happy to take on smaller jobs such as a mobile home demolition project. While the idea of having a new house is exciting and fascinating, some individuals are saddened by the act of demolishing the home that kept a lot of their memories.
How Our Atlanta, GA Home Demolition Solutions Differ from the Rest
House demolition methods are used for demolishing massive residential structures. The entire process can be complex and calls for creative solutions to avoid costly problems. Regardless if you need help knocking down your home to create a new structure, add new features or strengthen the entire building, we suggest hiring a specialist right away, so you can plan your project smoothly. We can identify which parts are more prone to cave-ins. Our residential demolition contractors make use of various tools and equipment to ensure that we deliver flawless service. Unlike other residential demolition companies, our contractors are proficient in working on any size of project, whether you need a mobile home demolition project done or you need a large multi-storey building demolished.
What to Consider After Receiving a Atlanta, GA Home Demolition Cost Estimate
Asking for a house demolition price quotation in Atlanta, GA can help you choose which company to hire. Rest assured, our staff will provide you with a free cost estimate that briefly describes the services included in the package. A teardown can be a worthwhile option for you, but be aware of some home demolition companies' potential snares, traps, and costs up front. Here at Omni Demolition, our residential demolition contractors offer the most affordable house and mobile home demolition rates coupled with unmatched services. Also, see to it that you check the services included for the price you have to pay. Is the package all-inclusive? Are there additional services you need? At Omni Demolition, you are welcome to ask for a free cost estimate.
Residential Demolition Permits to Procure in Atlanta, GA
If you play by the rules and you have all your ducks in a row with the city you won't have the house demolition inspector in Atlanta, GA issuing you stop work notices half way through your job. Some of the usual paperwork required for a house demolition or mobile home demolition job include asbestos inspection repair and dust control clearance. You must secure the documents required in Atlanta, GA. If you choose to work with our team, we will happily assist you in completing the requirements and processing the permit application. Allow our team of specialists to assist you the best way possible.Preparing for a Residential Demolition in Atlanta, GAOur contractors have all the equipment needed to carry out any kind of home demolition project in Atlanta, GA. If water, electricity, or gas lines are not cleared during the demolition of a structure, a collapse could result in a dangerous explosion or exposure to chemicals. These dangerous situations can put every person at a demolition site at risk for serious injury. Make sure that your home is completely vacated. We make sure that mobile home demolition service is carried out efficiently at a very cost effective rate, and that no error takes place during the duration of the project, making sure to meet your schedule as quickly and efficiently as possible. Once a demolition job starts, it would be expensive to stop it.
Reasons for a Residential Demolition in Atlanta, GA
There are a lot of reasons as to why a residence would need to be demolished. This ranges from wanting to renovate the house, a natural disaster that has damaged parts of the house, or the need to remove an existing structure so you can build a new one. New structures are hardly demolished, but every so often old buildings that were poorly constructed don't pass the test of time. Also, overcrowded or outdated structures are prone to various infestations or contamination. Weigh in your options. Focus on the safety of your loved ones, most especially if you are dealing with weak foundation or walls. Renovation is mostly recommended for aesthetic purposes, while Atlanta, GA residential demolition is done to create better and more durable structures. Obviously, you need the assistance of a residential demolition company if you want a safe, satisfactory result.
Equipment and Tools Used for Residential Demolition in Atlanta, GA
Our residential demolition contractors provide safe and reliable home demolition services in Atlanta, GA. Our residential demolition contractor uses equipment like cranes, wrecking balls, bulldozers, jackhammers, sledgehammers or chainsaws. Even better, we have all the experience and technical know-how needed to carry out the task at hand. Because it is extremely dangerous, it requires the demolition contractors to follow all the safety instructions and rules strictly. We guarantee to work fast so you can start rebuilding your property right away.
Call Us Now for Reliable Home Demolition Services in Atlanta, Georgia
We take pride in offering professional residential demolition services. We have offered demolition services to the people of Atlanta, Georgia for over many years, offering high-end quality services. If you're in need of an expert residential demolition contractor in Atlanta, GA to assist you with your next project, don't hesitate to give us a call at
(855) 885-3366
. We know that we have to earn your business and that is why we uphold high standards when it comes to the quality of services we offer. Contact us today at
(855) 885-3366
so we can get started on your demolition project!
Zip Code Areas We Service in Atlanta
30334, 30331, 30332, 30309, 30308, 30307, 30303, 30354, 30327, 30326, 30324, 30319, 30316, 30342, 30305, 30306, 30317, 30314, 30315, 30312, 30313, 30310, 30311, 30363, 30318, 30301, 30302, 30304, 30321, 30325, 30343, 30348, 30353, 30355, 30357, 30358, 30361, 30362, 30368, 30369, 30370, 30371, 30375, 30377, 30378, 30380, 30385, 30388, 30392, 30394, 30396, 30398, 31106, 31107, 31119, 31126, 31131, 31139, 31141, 31145, 31146, 31150, 31156, 31192, 31193, 31195, 31196, 39901