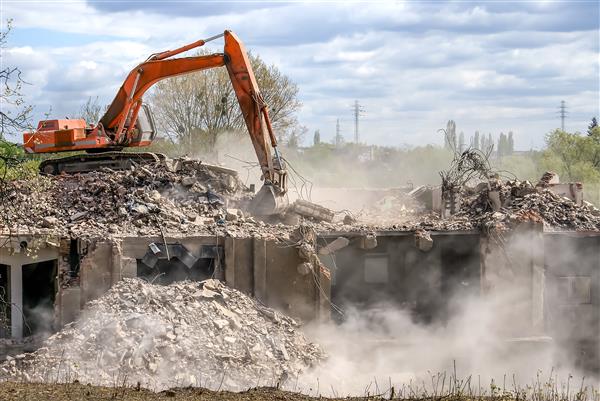 Reliable and Budget-Friendly Columbus, GA Concrete Removal Service
We are experts in providing concrete removal in Columbus, GA. Our concrete slab removal and concrete hauling professionals will take the lead during your demolition project, going above and beyond to deliver exceptional and satisfactory services. As such our contractors know how to carry out the necessary service you need to rebuild or remodel your home. At Omni Demolition, we give you value for your money.
Equipment Used for Concrete Removal in Columbus, GA
Our contractors at Omni Demolition can perform a wide range of services because they are well-equipped. Within a reasonable timeframe, we can cut, crush and remove any size of concrete structure. Some of the equipment we have includes bobcats, trackers, pallet jacks and track loaders. Our contractors at Omni Demolition use a wide range of equipment when we perform our services such as concrete slab removal. We give importance to our client's time which is why we ensure equipment and material readiness to avoid any delays to your projects. Mechanical concrete demolition is used on bigger sized structures such as a concrete silo. Types of equipment used for getting this kind of job done are bulldozers, excavators, loaders and cranes. We also use jackhammers, pallet jacks, bobcats and hoists for demolition work such as removing concrete driveway, concrete slab demolition and concrete wall demolition. Our team periodically conducts machine inspection and maintenance to guarantee that everything we need for the job is in tip-top condition. When everything about your structure screams it is time for demolition, safety should be your priority.
When Should You Book a Concrete Demolition Service in Columbus, GA?
Concrete demolition in Columbus, GA solves the potential issue of unsafe structures. One of the most important questions is whether your concrete structure or building needs to be demolished in the first place. We have an expert team of laborers, managers and engineers who see to it that demolition and concrete hauling standards are met if not exceeded. Concrete demolition is necessary when your structure becomes old and dilapidated; when your structure has widespread cracking; when moisture penetrates into the ground, freezes and then pushes up the concrete; or when you plan to improve or put up a new structure. Do not just settle for a renovation job where they will only apply another layer of material on the affected structure, hiding the weakening structure below.
Permit requirements for a Concrete Removal in Columbus, GA
You can't proceed with your concrete removal or concrete hauling project without securing a permit in Columbus, GA. When choosing among the different local concrete removal companies, make sure to ask if they can assist you with the permit application. Definitely, here at Omni Demolition, our experts can help you get the documentation needed so you can start your project sooner rather than later. For one, you will need a permit. The purpose of a permit is to ensure that the governing body is able to monitor the work being done in its jurisdiction for the safety of all involved. Other contractors hire a third-party permit service provider to file the necessary permit but this could only mean additional expenses for you. Height and size of your demolition project are factors considered in determining whether or not you will need to get a permit for the job.
How Much You Should Spend on a Columbus, GA Concrete Demolition
Other service providers in Columbus, GA make their proposed contract sound complicated to justify unreasonably priced estimates. The bigger the size of the concrete, the more the job will cost. Quite a number of concrete removal companies in Columbus, GA reduce the cost per square foot once the project is a given size. You should contact our reputable professionals in Columbus, GA for any concrete removal job such as a patio demolition or patio removal. Additional fees may follow for services like inspections for water, electrical and sewer disconnections. The actual demolition cost alone can cost you from between $1000 – $15000+ The demolition project itself will usually cost you an estimated $1000 to $15,000+, depending on the size and situation.
How Long Can I expect a Concrete Demolition Project to Take in Columbus, GA?
We pride ourselves in having a quick an efficient turn around time in our concrete demolition projects. We understand the importance of honoring our commitments and we deliver our concrete slab removal and concrete hauling services in Columbus, GA with no excuses. We will only give you and agree on realistic time frames when all things have been factored in such as the size of the project. As soon as we assess the situation, we can draft a plan and present it to you for approval. Thorough preparation and planning need to be done in order to execute the project safely and with precision. The type can either be reinforced or unreinforced. For example, reinforced concrete structures with rebar are heavier in nature and will require heavier and more equipment or more time than unreinforced concrete structures.
Can Concrete Be Recycled in Columbus, GA?
With rising pressure on local landfills, the diversion of rubble from a concrete demolition and removal project is becoming increasingly important. We can help you do the responsible thing by recycling wastes such as pulverized concrete and even metal scraps, which can also help recoup some of the demolition project costs. Feel free to ask our concrete demolition contractors about recycled concrete. It reduces the need for transportation and disposal fees at the landfill. Concrete recycling also reduces waste in landfills.
Make Us Your Concrete Demolition Company of Choice in Columbus, Georgia
Our concrete demolition services in Columbus, GA include concrete slab removal and any other concrete removal service you may need. While the end result of our services is a torn down building or structure, we use a number of concrete slab removal techniques to achieve our purpose. They know how to execute their assigned tasks with accuracy and they know how to tactfully minimize the risks associated with concrete slab removal projects. We are a budget friendly company and we will get the job done right the first time. Our fulfillment is in achieving excellence. Concrete demolition in Omni Demolition is the best way to safely tear down buildings or structures made from concrete.
Zip Code Areas We Service in Columbus
31820, 31829, 31909, 31904, 31905, 31906, 31907, 31901, 31903, 31808, 31902, 31908, 31914, 31917, 31993, 31997, 31998, 31999