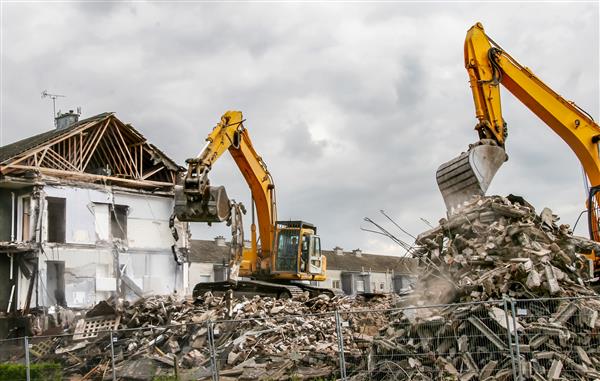 Experience the Best House Demolition in Columbus, GA with Omni Demolition
When it comes to house demolition, we are the #1 choice in Columbus, GA. Consequently, it is always important that you hire only professional house demolition companies backed by many years of experience. We will send our residential demolition contractors immediately to check the condition of your home. While we recognize the sentimental and even historical value of any building, when signs of danger are spotted, we recommend having it demolished. You may need to have a section of your house removed because it can cause huge problems in the future. All of our work is conducted by experienced machine operators who can work even on your mobile home demolition project to ensure a safe demolition project. Instead of covering cracks with layers of cement, you must address the structural issue so you can avoid accidents and other expenses.
How We Provide Outstanding Columbus, GA Home Demolition Services
As a company specializing in house demolition in Columbus, GA, we strive to provide each client with exceptional services. Our demolition contractors implement strict measures at all times. Regardless if you need help knocking down your home to create a new structure, add new features or strengthen the entire building, we suggest hiring a specialist right away, so you can plan your project smoothly. Let our residential demolition contractors work on each necessary part of your house. Unlike other residential demolition companies, our contractors are proficient in working on any size of project, whether you need a mobile home demolition project done or you need a large multi-storey building demolished. Using our lengthy experience in the industry, we can guarantee a smooth delivery of our services.
What to Consider After Receiving a Columbus, GA Home Demolition Cost Estimate
House demolition costs in Columbus, GA are bound by some variables that determine the total expenses during a demolition project. It is very important that homeowners hire a professional demolition contractor to move ahead with their demolition project. Make sure that when you check the various home demolition companies in the city, you also look at the whole package completely. Here at Omni Demolition, our residential demolition contractors offer the most affordable house and mobile home demolition rates together with incomparable services. Don't put your fate in an inexperienced company. Other factors are also considered, such as the equipment needed, and the urgency of the request.
What are the Residential Demolition Clearances I Need in Columbus, GA
Reliable house demolition companies in Columbus, GA such as ours will never let you run from pillar to post to obtain a demolition permit. However, you're required to pay the amount when there's no existing building permit. Avoid incurring penalties and delaying your project by acquiring all the necessary permits, even for a simple mobile home demolition. The amount of demolition permits needed varies from state to state and involve nominal fees. If you have questions about the documentation requirements in your area, contact our team. Allow our team of specialists to assist you the best way possible.How to Organize for a Residential Demolition in Columbus, GATrust our Columbus, GA home demolition specialists to guide you step by step throughout the process so you can avoid delays. Start by clearing the area and removing all your furniture and valuables. Flooding and electrical fires are a dangerous threat at every demolition. Health and safety preparations should be undertaken prior to the start of a demolition job, no matter how small it is; even as a mobile home demolition. These types of projects mostly require permits and you can count on us to take care of this for you.
Why Should I Pick a Columbus, GA Residential Demolition Over a Renovation Service?
Materials degrade over time, most especially when they are constantly exposed to environmental stressors such as weather changes, intense heat, cold, and pest infestation and may become unsafe or not financially viable to fix the issues. Depending on the severity of the situation, you can hire a team to renovate the damaged sections of the house or take down the structure so you can build a new one. Weigh in your options. Focus on the safety of your loved ones, most especially if you are dealing with weak foundation or walls. Whatever reasons you have, you can get a quote on residential demolition costs in Columbus, GA from us. We will conduct an inspection to pinpoint all the areas that need immediate attention and plan the best course of action.
Tools and Equipment Used for Residential Demolition in Columbus, GA
As a leading corporation with the finest residential demolition contractors in Columbus, GA, we strive to deliver top-notch home demolition services to all our customers. The tear-down process chosen by demolition contractors is quite different when it comes to completely demolishing a building in one location versus another, depending on the situation and surrounding conditions. Taking down walls to achieve your desired open floor plan might not be as easy as it seems. While it might be tempting to give it a go using a sledgehammer, it's not a wise thing to do. With demolition equipment such as trucks, loaders, tractors, wheeled tippers, concrete crushers and excavators, demolition can be done in just a matter of hours. The most popular among these is the wrecking ball, though safety explosives are also commonly used. We know how to handle our equipment well, so we can readily haul debris, break down walls, excavate building foundation beams and more.
Call Us and Start Your Home Demolition in Columbus, Georgia Today!
Don't waste time, most especially if you think your house is slowly falling apart. Whatever your demolition requirements are, we can give the best demolition contractor experience. We promise to complete your request within a short span of time. After the call, we guarantee to send our residential demolition contractors to work on your Columbus, Georgia properties fast. When you choose us for your removal and demolition needs, you can expect to receive a definite timeline and a full-detailed price quotation. Contact us today at
(855) 885-3366
so we can get started on your demolition project!
Zip Code Areas We Service in Columbus
31820, 31829, 31909, 31904, 31905, 31906, 31907, 31901, 31903, 31808, 31902, 31908, 31914, 31917, 31993, 31997, 31998, 31999