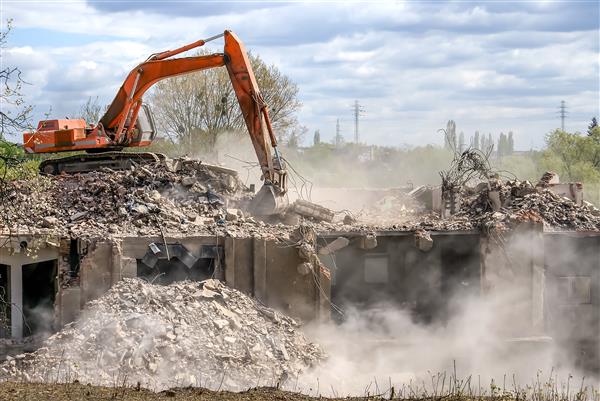 Your Premium Concrete Removal Company in Roswell, GA
We are experts in providing concrete removal in Roswell, GA. For your concrete slab removal and concrete hauling services, you can rest easy knowing that we have got you covered. We achieve 100% success in all our projects by examining the task at hand from all conceivable angles and then deciding on the course of action that is best suited for your project.
Equipment and Tools We Use to Provide Quality Concrete Removal in Roswell, GA
When looking for a contractor to hire, do not get drawn in by bargain prices. Instead, double check the company's performance and the condition of their equipment. We can perform services like concrete slab removal that you may need for your Roswell, GA project as soon as possible. Mechanical concrete demolition is used on bigger sized structures such as a concrete silo. Types of equipment used for getting this kind of job done are bulldozers, excavators, loaders and cranes. We also use jackhammers, pallet jacks, bobcats and hoists for demolition work such as removing concrete driveway, concrete slab demolition and concrete wall demolition. Consulting with a trained expert is important, as there are a number of things that need to be considered before embarking on concrete removal, such as your legal obligations and safety requirements. When everything about your structure screams it is time for demolition, safety should be your priority. We are well equipped in handling all your concrete removal and concrete hauling projects.
When to Consider Booking a Roswell, GA Concrete Demolition Service
There are several reasons why a house needs to be demolished. Whether the project requires breaking asphalt or concrete in residential, commercial or industrial spaces, we have the equipment and service crew ready to do the job. We have all the equipment needed to perform quality concrete hauling or demolition. While a renovation job might be a less expensive option, we still recommend hiring a demolition specialist, as a renovation may be superficially covering up critical signs of an unsafe structure. Safety is a primary concern for any concrete demolition job.
What Documents Should I Prepare for My Concrete Removal Project in Roswell, GA?
The government usually requires permits for a concrete removal and concrete hauling project in Roswell, GA. Make sure that when you select among the concrete removal companies in the city, you check how well the staff can help you in preparing the requirement. The kind of concrete demolition permit you will require will basically depend on what you are demolishing, where the demolition project is and how much you are demolishing. Permit requirements also vary depending on the geographical location of your demolition project. Therefore, it is important to familiarize yourself with the legal requirements of where you live. If you work with our experts at Omni Demolition, you can be sure that you'll have a great experience.
How Much Should I Pay for a Concrete Demolition Project in Roswell, GA?
Expect to pay an average of around $200 to secure a demolition permit alone. Sometimes, the charge can go up, depending on the rates of your local government. The bigger the size of the concrete, the more the job will cost. Other companies reach a higher price range of $15,000+. It doesn't matter if you need a patio demolition, concrete hauling, patio removal or other services. Our ever-helpful staff will be happy to give you a competitive estimate for your project. Permits can cost you a few dollars to thousands of dollars depending on your location and project needs.
How Long Does It Take to Complete a Concrete Demolition Project in Roswell, GA?
Frankly speaking, there is no general timeframe that can be given as each concrete demolition job is different from the other. With that in mind, your concrete slab removal and concrete hauling projects in Roswell, GA might take a couple of days, weeks or even months to complete. At our company, we are able to finish a demolition or hauling job within as little as a few days, depending on the size of the property. We devise a plan to safely accomplish your project in a cost-effective way with projected timelines and then submit our proposal to you. That said, depending on the size of your project, your budget and legal requirements, your project in Roswell, GA can take days, weeks or even months.
Is It Possible to Recycle concrete in Roswell, GA?
It comes right after a concrete demolition and removal project. A demolition project can generate tons of waste materials. Fortunately, we can recycle the removed concrete so you can use them as base materials for your asphalt pavement, patios and other parts of the project. Our concrete demolition contractors highly encourage recycling in accordance with our adherence to providing eco-friendly solutions. The crushed materials are often referred to as dry aggregates, and they can last a long time if applied the right way. Additionally, crushed concrete is also cheaper and greener compared to the regular type. Concrete recycling also reduces waste in landfills.
Make Us Your Concrete Demolition Company of Choice in Roswell, Georgia
Our concrete slab removal services are unmatched. Moreover, we are well equipped to handle any other concrete removal service you may be in need of. There are many reasons why Omni Demolition should be your number one pick for all your concrete slab removal projects. We understand that each project is unique and therefore, we come up with special solutions for all your concrete demolition projects. At Omni Demolition you are guaranteed not only commitment and proven expertise from our team of veteran specialists but also 100% site safety and transparency when it comes to billing and procedures being done on your property. Using state-of-the-art equipment and cutting-edge technology in execution, you can be certain that your project is in great hands. Book a concrete removal service today!
Zip Code Areas We Service in Roswell
30076, 30075, 30077