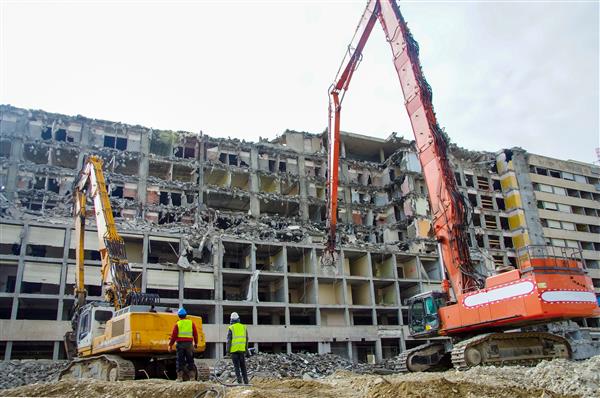 Recognizing an Outstanding Demolition Company from Inexperienced Demolition Contractors Roswell, GA
Having been in the demolition business for years, Omni Demolition has built an unshakable reputation as the leading demolition company in Roswell, GA. Our main goal is to provide affordable services without compromising the quality of our work. We do not sugar-coat our services and we often deliver more than promised. Here at Omni Demolition, you can expect nothing less than high-quality customer service and spotless workmanship courtesy of our seasoned demolition experts. Whether it may be a residential, commercial or industrial structure that needs to be taken care of, our crew has got it covered.
The Objectives of Demolition and Deconstruction in Roswell, GA
Demolition is aimed at basically bringing down a structure. A demolition expert typically recommends a deconstruction before the actual demolition to be rid of any potentially dangerous materials in the building or to salvage items that can still be re-used in the future. Deconstruction in Roswell, GA involves taking a structure apart. We have the know-how in identifying the value of extracted materials and their potential for reuse.
You can Trust Us with Your Demolition Project in Roswell, GA
We have demolition experts who plan everything meticulously, from the bringing in of our equipment up to the clearance of the property from wastes and debris. Some demolition contractors offer their services at rock bottom prices but this may cost you more in the long run. It is our core mission to exceed all your expectations. Taking down a structure sounds chaotic but unlike other demolition contractors, our services are done with utmost care and with as little disturbance to the community as possible. From the start to the finish of your project, we are focused on your absolute satisfaction. From the start to the finish of your project, we are focused on your absolute satisfaction.
Check Our Broad Range of Demolition Services in Roswell, GA
Industrial Demolition services: We focus on enhancing safety and maximizing productivity. We are responsive and flexible enough to be able to deal with any complications that such a challenging demolition project may bring. With our knowledgeable technicians and superior equipment, we can handle demolishing refineries, highways, powerplants, bridges, mines and airports among others.
Commercial Demolition services: Our demo company, has proven to be knowledgeable in demolishing commercial buildings despite their confinement in between other structures. Using specialized equipment plus our own unique strategy, we have in the past taken down airplane hangars, grocery stores, bridges, shops, and warehouses.
Concrete demolition and recycling services: Our demolition experts can break down concrete surfaces and slabs into reusable gravel.
Scrap Metal Demolition Services: As an all-around demo company, we can also take care of any unwanted steel erections and metal scraps onsite. We follow a certain procedure in salvaging items that are still good for future use so you can be sure nothing goes to waste.
We Set the Pace for Other Demolition Companies in Roswell, GA
Our demolition experts and highly skilled demolition contractors consistently make innovations with the way demolitions are made. We are on a continuous path to success and we have managed to do this through perfection in our demolition services. Our demolition company is committed in service delivery. Our demo company appreciates all our clients and we demonstrate this by endeavoring to give you nothing but the very best.
Our Approved Methods for Demolition and Deconstruction in Roswell, GA
Explosive Demolition: Our demolition experts in Roswell, GA bring down structures or buildings by removing the main structural elements such as the walls and pillars with the help of explosives. This reduces the building's structural stability, causing it to collapse under its own weight. This method is faster, environmentally friendly and safer when compared to other methods.
Non-Explosive Demolition: Our local demolition contractors will use a wrecking ball to bring down your structure. This method is cheaper than explosive demolition.
Selective Demolition: This type of demolition is done when you want to remodel or renovate a building. It can either be exterior or interior by nature. Exterior demolition involves tearing down a part of the building with a purpose of increasing it in size or making it smaller. Interior demolition focuses mostly on taking apart spaces for remodeling or renovation.
Cutting Edge Equipment Utilized for Demolition in Roswell, GA
Hydraulic breakers – Powerful excavators necessary in every demo company, hydraulic breakers or crushers are used to excavate structures quickly. These are commonly used to grind up concrete or rocks.
Wrecking balls – Used mainly for non-explosive demos, these heavy impacting balls are helpful in progressively weakening a building until all that's left are frameworks that are then easier to tear down.
Hydraulic Shears and Rock Breakers – They are able to demolish steel structures. Hydraulic shears are also used for recycling or secondary breaking. Rock Breakers are robust pounding hammers that are usually fitted to excavators. They are used to demolish rocks, as the name suggests or concrete.
Bulldozers – Commonly used where heavy lifting is required, this flexible machine can also be used to topple down weak structures.
Dumpers – If you are in the demolition business, you will definitely need a dumper/ tipper truck for transporting demolition waste.
Cranes – Demolition companies use cranes to move materials from different levels of a structure. A demo company will also use this machinery together with a steel ball. For a wrecking ball to work, it has to be attached to the crane.
Crawler Loaders – They are efficient in moving heavy rubble and waste from the demolition site. They can also be used to demolish heavy structures as well as clear the ground.
For all your Demolition Needs contact us in Roswell, Georgia
We are ranked as the leading demolition company in Roswell, Georgia. With us you are guaranteed to have a safe and worry-free operation to be completed by field experts. Find out why we have remained the #1 demolition company for years as you experience top of the line customer service. Our work integrity and reasonable packages are only some of the reasons why we are a well renowned Roswell deconstruction and demolition company. Give us a call today at
(855) 885-3366
and we will get back to you as soon as we can.
Zip Code Areas We Service in Roswell
30076, 30075, 30077