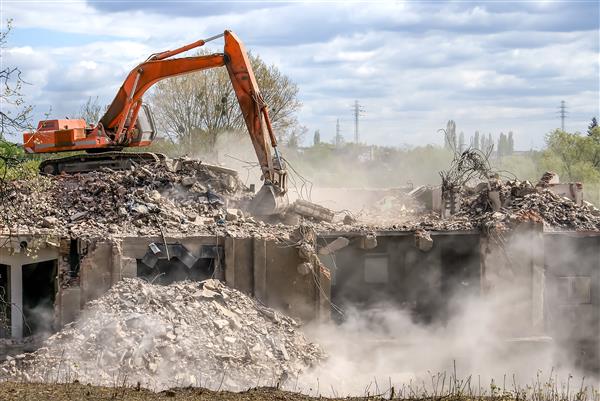 Cost-effective Solutions to Your Concrete Removal Needs in Savannah, GA
Hiring professionals for concrete removal services in Savannah, GA is not a minor expense and imagine how frustrating it would be if you ended up employing amateurs. If you want to repair or remodel your home because you want to change the wires or the pipes below the slab, you ought to call in a concrete slab removal expert to help you. We have well-trained experts who can help you with tasks such as concrete hauling, partial house demolition and site cleanup. As such our contractors know how to carry out the necessary service you need to rebuild or remodel your home. We achieve 100% success in all our projects by examining the task at hand from all conceivable angles and then deciding on the course of action that is best suited for your project.
Tools and Equipment We Use to Perform Our Concrete Removal Service in Savannah, GA
Be careful of contractors in Savannah, GA that use outdated and broken down equipment for this could mean impending delays to your project, or work that is so poorly done you will have to hire another company to redo the job. At Omni Demolition, specialized heavy machinery and equipment are required for concrete slab removal. Mounted breakers are used in heavy demolition work in Savannah, GA. Whether we are hired for removing concrete driveway, concrete slab demolition, or concrete wall demolition, you can guarantee no equipment failure onsite. It is important to get professional contractors for your demolition and concrete hauling job. Other equipment used in demolishing concrete are pallet jacks, hoists and bobcats.
When Should I Book a Concrete Demolition Service in Savannah, GA?
One of the most important questions when it comes to concrete demolition services in Savannah, GA is if the circumstances call for demolition at all. The structure degrades as the years go by. We have an expert team of laborers, managers and engineers who see to it that demolition and concrete hauling standards are met if not exceeded. When buildings become old, their concrete slabs become unstable posing a threat to anyone living in or around such establishments. With just one phone call, you can contact our team in Savannah, GA and we will handle your requests within the set schedule.
What Documents Do I Need to Secure Before a Concrete Removal Service in Savannah, GA?
Before undertaking a concrete removal or a concrete hauling project in Savannah, GA, you need to understand and adhere to the policies and requirements of the city council. Other concrete removal companies may charge you extra to process the necessary permits. For one, you will need a permit. The purpose of a permit is to ensure that the governing body is able to monitor the work being done in its jurisdiction for the safety of all involved. You must submit your application together with all the required documents. Some of the required paperwork include clearances from your electric, water and gas companies. You may be required to get in touch with the gas, electric and water company for clearances or reports.
Concrete Demolition Expenses in Savannah, GA
The national average concrete removal cost is between $1500 to $2000. The cost of demolition is impacted by several things like the amount of concrete that needs to removed. Quite a number of concrete removal companies in Savannah, GA reduce the cost per square foot once the project is a given size. Our concrete demolition projects in Savannah, GA include patio demolition, patio removal, tearing down walkways and walls, demolishing decks, entire buildings, among others. No need to get worked up in guessing project costs when all you have to give us a call and we will be happy to give you a free estimate. This cost is inclusive of disposal. The cost of concrete removal, however, varies in different cities. Manpower, permits and type of equipment used also determine the cost of the project.
Typical Timeline for a Concrete Demolition Operation in Savannah, GA
Concrete is usually reinforced with tough steel making it virtually indestructible. A concrete demolition project needs the services of professionals to have it done right and safely. Our team of experts, however, is the most knowledgeable in the industry when it comes to concrete slab removal, or concrete hauling so we can guarantee the quickest operations without compromising quality and safety. We will only give you and agree on realistic time frames when all things have been factored in such as the size of the project. Count on us to ensure that your project is executed perfectly. Advanced machinery is able to work at a faster speed thus, completing your job faster. However, using advanced equipment can be costly.
You Get More Value by Recycling Concrete in Savannah, GA
The recycled material from a concrete demolition and removal project can be used as aggregate in making new concrete and in construction work. Concrete recycling is an environmentally friendly process and prevents unnecessary waste transportation and disposal costs. Feel free to ask our concrete demolition contractors about recycled concrete. We can help you recover some funds by forwarding not just concrete but also metal scraps to their respective recycling centers. Concrete recycling also reduces waste in landfills.
Reasons for Hiring Our Concrete Demolition Company in Savannah, Georgia
Our concrete demolition contractors know the best possible way to provide concrete demolition services in Savannah, GA in a safe way because they have been comprehensively trained on all safety techniques. While the end result of our services is a torn down building or structure, we use a number of concrete slab removal techniques to achieve our purpose. We guarantee to provide superior quality concrete slab removal, site cleanup and other services no matter where you live in the city. First rate customer service need not make a dent in your savings. Dial our phone number today and let us know what concrete removal service you require. Contact us today!
Zip Code Areas We Service in Savannah
31322, 31409, 31408, 31401, 31405, 31404, 31407, 31406, 31419, 31415, 31402, 31403, 31412, 31414, 31416, 31418, 31420, 31421