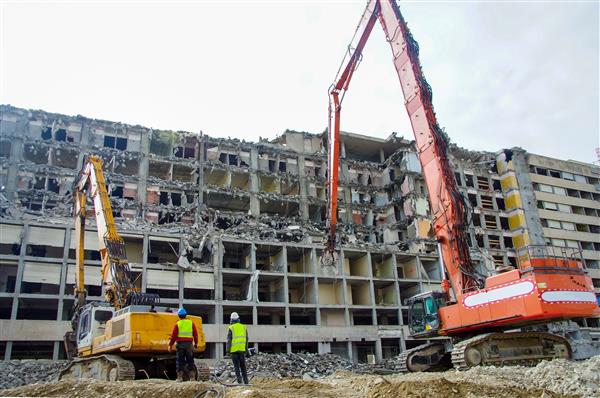 Demolition Contractors in Savannah, GA: The Number 1 Demolition Company
Here at Omni Demolition, we believe that pricing is not the only factor that you must consider when getting the services of demolition contractors in Savannah, GA. As widely renowned experts in Savannah, GA, we see to it that the high standards we have established are met in every transaction. We have an enduring assurance to safety. Our demolition experts always provide reliable and efficient services in a proactive manner. We have the right equipment for any kind of demolition work.
Demolition vs. Deconstruction in Savannah, GA
Demolition is a faster process in comparison to deconstruction. Some projects require complete levelling while others simply need specific parts removed to be replaced. For every client call, we have a demolition expert equipped to do the job. A deconstruction may be a prerequisite to the actual demolition process where hazardous materials are taken out prior to the tear down of the structure. Deconstruction could be a component included in the demolition where our skilled team removes all hazardous and re-usable objects prior to the building being knocked down. Selective deconstruction involves going into a property before demolition and removing high value and easily removable materials.
What We Do in Savannah, GA
Our demolition experts will meticulously execute your demolition project in a timely and safe manner. First and foremost, our selection of advanced and reliable equipment enables our demolition contractors to be highly efficient as well as cost-effective. Our word is our bond. We have an impeccable record of giving our clients value for their money while never compromising on the quality of our work. Our demolition contractors are not only committed to providing first rate work but also ensure that all steps are taken to cause little to zero disturbance to the environment and to the properties adjacent to the site.
Professional Demolition Services in Savannah, GA
Industrial Demolition Services: This type of demolition service requires a surgical approach. We have a systemic, controlled and detailed solution in place for demolishing facilities such as chemical plants, manufacturing plants, port facilities, oil refineries, factories, and lumber mills among others.
Commercial Demolition services: We isolate the targeted building before performing the actual demolition so as not to cause any damage to its neighboring structures. Our demo company, has handled tearing down malls, airplane hangars, markets, and even bridges.
Concrete demolition and Recycling Services: Our demolition experts are able to recycle your concrete slabs and structures by crushing them and turning them into reusable gravel.
Scrap Metal Demolition Services: Our demo company will save you time and money by demolishing your metal structure, putting a recovery plan in place and selling the salvaged scrap metal for you.
We are on Top of Other Demolition Companies in Savannah, GA
We are professional demolition contractors who offer superior quality services. Our demolition experts and demolition contractors have an established performance record of completing demolition jobs in the right way, on budget and on time. As the number one demolition company in Savannah, GA, we will work closely with you to guarantee an optimum outcome. We continue to fulfil our commitment as a demo company when it comes to putting our clients as top priority.
The Types of Methods Used in Demolition and Deconstruction in Savannah, GA
Explosive Demolition: Our demolition experts in Savannah, GA bring down structures or buildings by removing the main structural elements such as the walls and pillars with the help of explosives. This reduces the building's structural stability, causing it to collapse under its own weight. This method is faster, environmentally friendly and safer when compared to other methods.
Non-Explosive Demolition: Certain buildings are not recommended for use of explosives, to which local demolition contractors opt for wrecking balls. Made of steel, a wrecking ball is suspended and swung into the building repeatedly causing it to topple or crumble down.
Selective Demolition: A more complex method compared to using explosives or wrecking balls, selective demolition requires demo contractors to remove certain parts of a structure while keeping the rest of it in place. We have mastered this technique and take pride in being skilled in doing what other building demolition companies cannot.
The Main Equipment Used in Demolition in Savannah, GA
Hydraulic Breakers – Our demo company uses a percussion hammer attached to an excavator. This powerful equipment is used for bringing down concrete structures.
Wrecking Balls – A wrecking ball is a heavy ball made from steel. It is attached to a crane and is used to strike down structures from a manageable height.
Hydraulic Shears and Rock Breakers – They can be able to quickly and effectively cut through rocks, concrete, steel, wood and metal.
Bulldozers – A favorite among contractors, a bulldozer can be an intimidating piece of equipment on wheels although it is fairly easy to maneuver. It can be used to transport copious amounts of waste, as well as to wreck walls.
Dumpers – In the demolition business, they are used for moving rubble and debris away from the demolition site.
Cranes – Demolition contractors use cranes to attach a wrecking ball to it. The wrecking ball suspended on a crane is then swung to the targeted structure. A demo company can use cranes to remove debris from high areas of a demolished structure. Cranes can also be used to load debris onto a dumper.
Crawler Loaders – They can be used to bring down heavy smaller-sized structures. They can also be used to move debris.
Give Us a Call for Top of the Line Demolition Services in Savannah, Georgia
If you are looking for a reliable demolition company in Savannah, Georgia, there is no need to look any further. We believe in providing professional and affordable services. We are your one-stop-shop demolition company and we offer free consultation plus an accurate estimation of the costs. We are the Savannah deconstruction and demolition company to go to for premium and safe demo services. Dial
(855) 885-3366
for a professional Savannah demolition that will not break your bank.
Zip Code Areas We Service in Savannah
31322, 31409, 31408, 31401, 31405, 31404, 31407, 31406, 31419, 31415, 31402, 31403, 31412, 31414, 31416, 31418, 31420, 31421