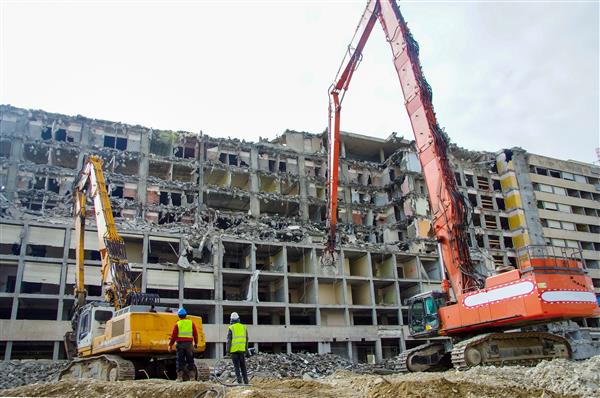 Demolition Contractors Sandy Springs, GA The Demolition Company That You Can Count On
For years, Omni Demolition has continuously served and established its reputation as the most trusted demolition contractor in Sandy Springs, GA. We set the standards in world-class demolition services. We have an enduring assurance to safety. Unlike other service providers, our demolition experts are all highly skilled and experienced in this business. Whether it may be a residential, commercial or industrial structure that needs to be taken care of, our crew has got it covered.
Dependable Demolition and Deconstruction in Sandy Springs, GA
Demolition is the process of tearing down or pulling down buildings and structures by a demolition expert. Deconstruction is when a demolition expert carefully dismantles or takes down a structure with the aim of reusing or recycling the materials. There are two categories of deconstruction, namely soft strip or selective deconstruction and whole-house deconstruction. It is usually done when one wants to remodel or improve a part of the building.
Complete Accountability from Highly Skilled Specialists for Your Demolition Project in Sandy Springs, GA
Our demolition experts as well as our demolition contractors in Sandy Springs, GA have highly specialized equipment and all the resources needed to complete any project you may have for us, however big or small it may be. If you wish to have a an effortless and hassle-free experience when leveling a property in Sandy Springs, GA, we are the demolition contractor that you can rely on. Property owners usually think first rate services always come with a steep price to pay, but not with us. But this is not just a one-time initiative, it is ingrained in the workmanship of each and every demolition contractor in our company. From the start to the finish of your project, we are focused on your absolute satisfaction. From the start to the finish of your project, we are focused on your absolute satisfaction.
Our Demolition Services in Sandy Springs, GA
Industrial Demolition services: Our countless contracts include leveling massive structures such as worn-down factories, mills, and chemical warehouses.
Commercial Demolition services: You can call our demo company if you need someone to knock down commercial structures such as commercial centres, groceries, airplane hangars and the like.
Concrete demolition and recycling services: Our demolition experts are knowledgeable in pulverizing slabs and concrete to be turned into eco-friendly gravel.
Scrap Metal Demolition Services: You do not have to worry about disposing of scrap metal once your metal structure is demolished, our demo company will help you sort out the scrap metal which can be recycled and reused for building.
What Distinguishes Us from Other Demolition Companies in Sandy Springs, GA
We are professional demolition contractors who offer superior quality services. We are a class above the rest. What sets us apart is our unshaken resolve to achieve 100% in customer satisfaction. We are a top-rated demolition company in Sandy Springs, GA. You will never find a more reliable demolition company in Sandy Springs, GA than us.
Our Approved Methods for Demolition and Deconstruction in Sandy Springs, GA
Explosive Demolition: This method should be done only by experienced demolition experts in Sandy Springs, GA as it involves safety parameters that should be strictly observed. It involves turning a switch to initiate an explosion, which will then collapse the building into a mound of rubble.
Non-Explosive Demolition: Our local demolition contractors will use a wrecking ball to demolish a building in situations that do not allow the use of explosives.
Selective Demolition: Our demo contractors use this method when their goal is to recover or salvage demolition materials. Building demolition companies reuse or recycle the salvaged materials thus reducing waste.
Well-maintained Equipment for Demolition in Sandy Springs, GA
Hydraulic Breakers – This strong hammer is built to withstand heavy and rigorous use. As one of the high-quality demolition tools used by our demo company, it offers greater productivity in regards to speed, efficiency and its overall performance.
Wrecking balls – A massive ball made of steel, it is suspended on a crane and maneuvered into a swinging motion to tear down a building. It sounds less dangerous than using explosives but the use of wrecking balls gives little control to the depth of damage done, hence it requires careful and professional handling.
Hydraulic shears and rock breakers – When attached to excavators, these tools are helpful in cutting through any type of surface. Using electrical force, it can slice through metal, steel, concrete, rock and wood.
Bulldozers – Commonly used where heavy lifting is required, this flexible machine can also be used to topple down weak structures.
Dumpers – A necessity in every demolition business, dumpers are used to haul waste materials off the demolition site. It ensures the pre-construction area is free from any trash or debris brought about by the demolition.
Cranes – Demolition contractors utilize a crane to ease the burden of moving heavy materials or equipment back and forth on a construction site. Our demo company also uses cranes to suspend wrecking balls for non-explosive demos.
Crawler Loaders – A flexible machine, crawlers are perfect for excavating narrow spaces. Although not very good for excavating, it can be used to haul items easily.
For all Your Demolition Services in Sandy Springs, Georgia, Call on Us
Your number one demolition company in Sandy Springs, Georgia is always at your service. You can rest easy knowing that we have a solution for all your demolition projects. Our demolition company provides all our clients with dynamic solutions for all their Sandy Springs demolition and deconstruction needs. As the top Sandy Springs deconstruction and demolition company, no job is ever too big or too small for us. Contact us at
(855) 885-3366
.
Zip Code Areas We Service in Sandy Springs
30339, 30350, 30328, 30327, 30342