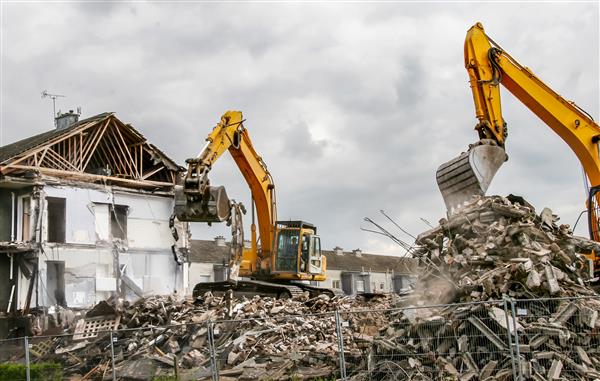 Omni Demolition: The #1 Residential House Demolition Company
Sometimes, it is best to book a house demolition in Sandy Springs, GA than to call in a renovation team to restore your property. Unlike other house demolition companies, we are upfront and reliable, and we will never sell you services you do not need. We will send our residential demolition contractors immediately to check the condition of your home. We have been in business for many years providing exceptional customer service. We also have a great amount of experience with mobile home demolition projects. Omni Demolition is here to assist you with your needs.
Home Demolition Techniques in Sandy Springs, GA
As a company specializing in house demolition in Sandy Springs, GA, we strive to provide each client with exceptional services. When a client dials our number to book our Sandy Springs, GA demolition package, we immediately schedule an onsite inspection. This way we can assess the situation, provide a project timeline and come up with a sound plan. We carefully create a plan to effectively target which parts we need to work on first. We can identify which parts are more prone to cave-ins. Let our residential demolition contractors work on each necessary part of your house. Unlike other residential demolition companies, our contractors are proficient in working on any size of project, whether you need a mobile home demolition project done or you need a large multi-storey building demolished.
What You Should Prepare Once You Receive a Sandy Springs, GA Home Demolition Cost Estimate
Asking for a house demolition price quotation in Sandy Springs, GA can help you choose which company to hire. It is very important that homeowners hire a professional demolition contractor to move ahead with their demolition project. By examining the rates, you can check which among the different home demolition companies in the area offers the most competitive services. At Omni Demolition, our residential demolition contractors promise the most cost effective charges together with unparalleled services whether it's for something small like a mobile home demolition or as big as a multi-level condominium. Find a reliable company that can work with the budget you have and it will make the job itself go much more smoothly. Unlike other companies, you can get everything you need from our contractors for a fair price.
What Paperwork Should I Secure For My Residential Demolition Project in Sandy Springs, GA?
Every house demolition project requires a permit, regardless of its scale. Avoid incurring penalties and delaying your project by acquiring all the necessary permits, even for a simple mobile home demolition. There are several requirements you will need to secure so the local government can process your application. Some of the reports you will need to secure include dust control clearance and asbestos inspection. Make sure you push through with the application to avoid delays as well as penalties.
Preparations Before a Residential Demolition in Sandy Springs, GA Begins
Our contractors have all the equipment needed to carry out any kind of home demolition project in Sandy Springs, GA. Initially, you should clean out your house. Remove all your valuables and furniture. The project may be put to a halt if the authorities spot any harmful chemicals in the property. Additionally, you will need to double check all the appliances and equipment. The area will be completely cleared out and no one but authorized personnel will be permitted near it. We make sure that mobile home demolition service is carried out efficiently at a very cost effective rate, and that no error takes place during the duration of the project, making sure to meet your schedule as quickly and efficiently as possible. It may be more efficient to transport a mobile home to a local landfill by truck and have the demolition take place at the landfill to save time and money.
Reasons for a Residential Demolition in Sandy Springs, GA
Materials degrade over time, most especially when they are constantly exposed to environmental stressors such as weather changes, intense heat, cold, and pest infestation and may become unsafe or not financially viable to fix the issues. Perhaps you bought the land with a property already on it, or it could just be an old structure that needs to go. Another case in which you may need a residential demolition crew is when you are tired of the floor plan of your residence and need a change. If you own a home that you want to make major changes to, you need the help of our residential demolition team in Sandy Springs, GA. You can build new and stronger structures once the demolition project is completed.
Exceptional Quality Residential Demolition Equipment for Your Sandy Springs, GA House
We provide the best services in the city because of our team of brilliant and well-trained residential demolition contractors. With the extensive industry background of our contractors, you can definitely enjoy outstanding home demolition deals, regardless of how small or big your property is. Some of the heavy machinery that demolition contractors need to use consist of wrecking balls, cranes, bulldozers, jackhammers, chainsaws and sledgehammers. Occasionally, they even need to use explosives. Through our high-powered tools and equipment, we can assure the timely completion of our services. Be it a one or three storey house, we can definitely provide exceptional services.
Need a Home Demolition Job Done in Sandy Springs, Georgia? Contact Us Today
For more many years, we have provided residents of Sandy Springs, Georgia with quality demolition services. Our demolition company has been conducting partial and full demolitions for over a many years. You will need to have the right equipment, plus years of knowledge and experience so you can correctly work on the damaged sections of your house. Our residential demolition contractors have been rated #1 in Sandy Springs, Georgia. You can have a look at the reviews on our site and social media profiles to see testimonials from many satisfied customers. Contact us today at
(855) 885-3366
so we can get started on your demolition project!
Zip Code Areas We Service in Sandy Springs
30339, 30350, 30328, 30327, 30342