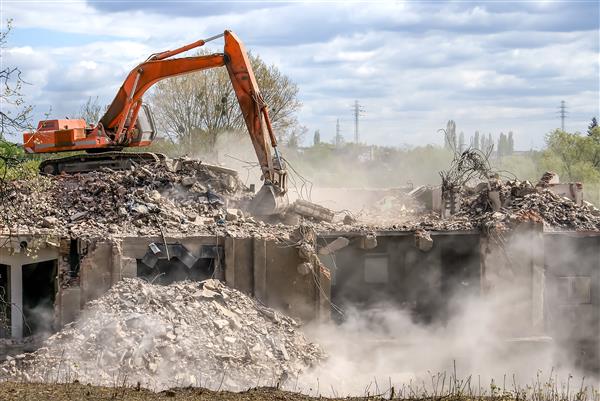 Your Company of Choice for Your Concrete Removal Projects in Cedar Rapids, IA
Concrete removal involves tearing down concrete buildings and structures in Cedar Rapids, IA. If you have a desire to transform your old home into a new one, then we will no doubt make it happen here at Omni Demolition with our concrete slab removal and concrete hauling services. When your concrete structure has become old, shaky, unstable and unsightly, it is definitely time to consider getting rid of it for aesthetic reasons and most importantly, for safety purposes.
Equipment Used for Concrete Removal in Cedar Rapids, IA
You no longer need to worry about paying high equipment rental fees when you hire our team in Cedar Rapids, IA. Here at Omni Demolition, in order for a concrete slab removal job to be successfully completed, using the right equipment is very crucial. Some examples of other equipment we use are pallet jacks, bobcats, hoists and hammers. We strategically plan out tasks and delegate enough manpower especially in removing concrete driveway, conducting concrete slab demolition, or doing a concrete wall demolition. Our team ensures finishing within the projected time frame and keeping our clients updated on the current status of our operations. Book with us for stress-free services and operations that finish on time.
When Do You Need Concrete Demolition Services in Cedar Rapids, IA?
Some property owners in Cedar Rapids, IA may delay hiring a demolition contractor for the sake of avoiding expenses. Structures and buildings crafted from concrete are made to withstand enormous pressures. Hence, removing them can be quite challenging. We have all the equipment needed to perform quality concrete hauling or demolition. If you see frost heave or concrete that is pushed upward, cobweb-like cracks on cement, sunken slabs and even fragmented foundations, it is best to call us for a concrete demo and plan on rebuilding your property. Having them torn down can be quite a challenge as opposed to erecting them.
What Documents Do I Need to Secure Before a Concrete Removal Service in Cedar Rapids, IA?
Planning to undertake a concrete removal and concrete hauling project in Cedar Rapids, IA? Great. There are several concrete removal companies in the city, so make sure you select one that will help you all throughout the process. Avoid getting penalized by the local authority. We will make sure that you have all the permits you need to ensure an uninterrupted execution of your demolition project. You may be required to get in touch with the gas, electric and water company for clearances or reports.
How Much Can a Concrete Demolition Project Cost in Cedar Rapids, IA?
The two biggest factors that determine the cost of your concrete demolition project in Cedar Rapids, IA are location and size. This estimate is for the removal of unreinforced concrete of a two-car driveway with zero disposal fees. For a budget of $400, you will be able to complete the removal of unreinforced concrete from a patio that is two hundred square foot in size with zero disposable fees. Before you book services even as small as a patio demolition, make sure you ask for the rates first. You can ask our contractors to provide a free quote for a patio removal or other services. We provide detailed and accurate estimates that are easy to understand. This cost is inclusive of disposal. The cost of concrete removal, however, varies in different cities. Our quote covers the entire concrete demolition process.
How Long is a Concrete Demolition Service in Cedar Rapids, IA?
No concrete demolition project is completely the same as each requires varied materials, manpower, equipment and time frame to finish. With that in mind, your concrete slab removal and concrete hauling projects in Cedar Rapids, IA might take a couple of days, weeks or even months to complete. What we can say is that for all contractual projects, we do what we can in terms of equipment and manpower readiness to ensure nonstop operations and an early finish. We devise a plan to safely accomplish your project in a cost-effective way with projected timelines and then submit our proposal to you. Advanced machinery is able to work at a faster speed thus, completing your job faster. However, using advanced equipment can be costly.
Is it Possible to Recycle Concrete Demolition Waste in Cedar Rapids, IA?
After the completion of a concrete demolition and removal project, you tend to end up with lots of concrete aggregate. It is a cost-saving measure on your end. Our concrete demolition contractors can also use recycled concrete for landscaping projects. The aggregate can then be used to make new concrete. Concrete recycling also reduces waste in landfills.
Your Company of Choice for All Your Concrete Demolition Needs in Cedar Rapids, Iowa
Our commitment is in offering personalized and satisfactory concrete demolition services in Cedar Rapids, IA to all our clients-from concrete slab removal to any other concrete removal service you may be in need of. Whether you require complete or partial concrete slab removal Cedar Rapids, IA, you can expect prime services at a reasonable price. Our concrete removal service is compliant with all safety policies and requirements of the state. We act fast and charge fair rates for whatever service we deliver. With our help, you won't have to risk your family's safety. We can guarantee incident-free operations with very minimal to zero disruption to adjacent properties. Don't risk your safety; work with demolition professionals in Cedar Rapids, IA.
Zip Code Areas We Service in Cedar Rapids
52404, 52405, 52402, 52401, 52411, 52403, 52406, 52407, 52408, 52409, 52410, 52497, 52498, 52499