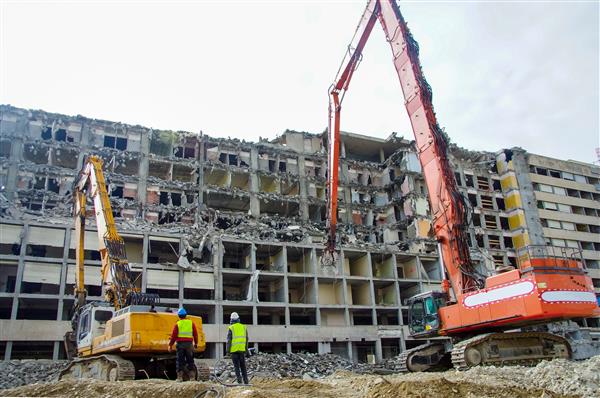 Demolition Contractors Cedar Rapids, IA: Your Trusted Demolition Company
The strength of Omni Demolition lies not only in its state of the art equipment and the expertise of its demolition contractors but the commitment that we have in providing unsurpassable services. Our main goal is to provide affordable services without compromising the quality of our work. If you need to hire a professional demolition contractor in Cedar Rapids, IA without spending a ridiculous amount of money, you have come to the right place. Always making sure that our clients are not kept in the dark, our demolition experts will guide you accordingly when it comes to recommended methods, pricing and procedures to be enacted. We have the right equipment for any kind of demolition work.
What is the Difference between Demolition and Deconstruction in Cedar Rapids, IA
Demolition is taking down or dismantling a building or structure with a strong and overwhelming force whose end result is rubble or waste. A demolition expert may order a careful deconstruction prior to a demolition to carefully remove chemically hazardous materials as a safety precaution. Deconstruction differs from demolition in that, it involves tearing apart a building or a home in a manner that salvages materials. It entails tearing down the components of a building for the purpose of recycling, re-using as well as waste management.
Why Sign Us for Your Demolition Project in Cedar Rapids, IA
Our demolition experts and demolition contractors in Cedar Rapids, IA offer superior services in demolition for all your projects. If you wish to have a an effortless and hassle-free experience when leveling a property in Cedar Rapids, IA, we are the demolition contractor that you can rely on. Property owners usually think first rate services always come with a steep price to pay, but not with us. Our demolition contractor will handle your needs on a one-on-one level and ensure that your project is given the undivided attention it deserves.
Our Demolition Services in Cedar Rapids, IA
Industrial Demolition services: We have taken down massive structures such as warehouses, industrial buildings, bridges, power plants, and mills. Our special equipment and expertise allow for the safe demolition of vast properties.
Commercial Demolition services: You can call our demo company if you need someone to knock down commercial structures such as commercial centres, groceries, airplane hangars and the like.
Concrete Demolition and Recycling Services: Once we have demolished your concrete structure, our demolition experts will crush and re-use the salvaged concrete as a base course for gravel.
Scrap Metal Demolition Services: Allow our demo company to take down your metal structure. Our experts will downsize and process scrap metal for the purpose of recycling or reusing.
We Take the Lead Among Other Demolition Companies in Cedar Rapids, IA
Our demolition company in Cedar Rapids, IA offers a broad spectrum of solutions which enables us to deliver prompt and successful results. Our resources are as varied as they are effective: dependable and advanced equipment as well as expert personnel. An emerging demo company from years back, we are now among the top contractors in the city when it comes to leveling residential, commercial and industrial properties. Each project in our demo company is always given the care and attention that our customers deserve and expect.
High Standard Methods for Demolition and Deconstruction in Cedar Rapids, IA
Explosive Demolition: Our demolition experts in Cedar Rapids, IA implode your building making it collapse safely with minimal damage to the immediate surroundings.
Non-Explosive Demolition: Our local demolition contractors use a wrecking ball attached to a crane to knock down buildings. It is a cheaper and faster method unlike explosive demolition.
Selective Demolition: In cases of remodeling or renovation, demo contractors may be required to pull apart specific areas of the structure. We exceed other building demolition companies when it comes to precision in conducting selective demo such as disassembling interiors, floor coverings, ceilings and walls.
Well-maintained Equipment Utilized for Demolition in Cedar Rapids, IA
Hydraulic breakers – Massive earthmovers used at our demo company to drill and break concrete areas in no time.
Wrecking Balls – Buildings or structures that are more than 6 storeys high are demolished with the help of a wrecking ball suspended on a crane by a steel rope. The wrecking ball is pulled then released towards the structure. With force, the steel ball strikes the structure and demolishes it in bits.
Hydraulic shears and rock breakers – These are helpful in cutting all sorts of steel, wood, rocks, concrete and metal. They make a very clean cut within a short period of time.
Bulldozers – These powerful machines are used to bring down smaller sized buildings or structures. They are also used to transfer debris and rubble to trucks.
Dumpers – Not every demolition business have their own dumpers but we use them for taking waste products and debris off the site.
Cranes – Our demolition contractors utilize cranes not only for suspending wrecking balls but in heavy lifting and moving materials within the site. Our demo company uses different types of cranes depending on the task to be fulfilled.
Crawler Loaders – They are effective in bringing down structures. They can also be used to clean up a demolition site. Crawler loaders can help move debris. Its tracks enable the unit to move easily and freely on the property.
Contact Us for Any Demolition Services in Cedar Rapids, Iowa
Our demolition company in Cedar Rapids, Iowa is the best one in town. Signing with us means you deal with our highly diligent specialists who will never present mediocre work to our clients. Consult with a reliable demolition company and save yourself from all the worries. As the top Cedar Rapids deconstruction and demolition company, no job is ever too big or too small for us. Dial
(855) 885-3366
for a professional Cedar Rapids demolition that will not break your bank.
Zip Code Areas We Service in Cedar Rapids
52404, 52405, 52402, 52401, 52411, 52403, 52406, 52407, 52408, 52409, 52410, 52497, 52498, 52499