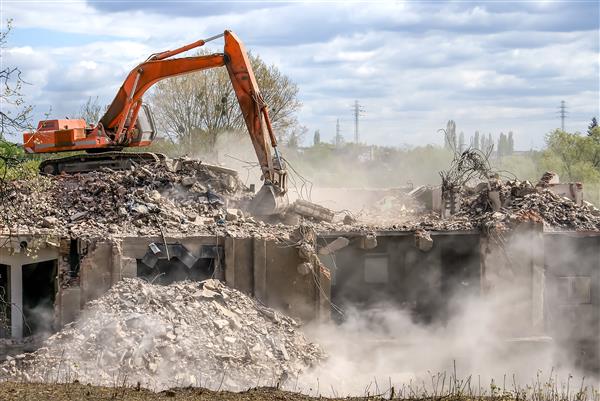 Your Company of Choice for All Your Concrete Removal Needs in Council Bluffs, IA
Concrete removal is a complicated procedure that requires tact and the services of professionals in Council Bluffs, IA. Indeed, time ages all things. If you have a desire to transform your old home into a new one, then we will no doubt make it happen here at Omni Demolition with our concrete slab removal and concrete hauling services. Our undeniable success in the business is proof that the team here at Omni Demolition is highly capable and dependable. We have spent years perfecting our services.
Concrete Removal Tools and Equipment We Use in Council Bluffs, IA
At Omni Demolition, we use a number of equipment for concrete removal. We can perform services like concrete slab removal that you may need for your Council Bluffs, IA project as soon as possible. We give importance to our client's time which is why we ensure equipment and material readiness to avoid any delays to your projects. Mechanical concrete demolition is used on bigger sized structures such as a concrete silo. Types of equipment used for getting this kind of job done are bulldozers, excavators, loaders and cranes. We also use jackhammers, pallet jacks, bobcats and hoists for demolition work such as removing concrete driveway, concrete slab demolition and concrete wall demolition. Trust us to start removing concrete driveway and other concrete structures at your project location as soon as you give us the green light to commence work. This will ensure that the job is done thoroughly to your satisfaction.
When Do You Need Concrete Demolition Services in Council Bluffs, IA?
When is it necessary for you to get demolition services in Council Bluffs, IA? Temporary resurfacing cracked surfaces or patching up crumbling foundations will only cause repeated spending, more hassles and even threaten the safety of the building occupants. At Omni Demolition, we will see to it that you receive superior quality concrete hauling and demolition service in Council Bluffs, IA. The most common reasons why concrete wears out easily include extreme temperature fluctuations, corrosion and overload. With just one phone call, you can contact our team in Council Bluffs, IA and we will handle your requests within the set schedule.
No Need to Stress Over Concrete Removal Permits and Requirements in Council Bluffs, IA
It is essential that before you start your concrete hauling project, you have already secured a concrete removal permit in Council Bluffs, IA. While other concrete removal companies may include additional fees for processing the required permits, we at Omni Demolition have got you covered. The city imposes a strict policy in permit application. Some property owners and even contractors hire permit services or companies who manage the building permit application process. Some demolition projects will require a planning permit.
How Much Does a Council Bluffs, IA Concrete Demolition Cost?
The most common question in every contractual project is how much will it cost. The rate is provided by your local government, and it would be best to check beforehand. Other companies reach a higher price range of $15,000+. There will be tricky companies who will make a simple patio demolition or patio removal as complicated as possible to deceive you into agreeing to unreasonably expensive estimates. Unreinforced concrete on the other hand is easier to remove. As for the service, you might spend around $4,000 to $15,000+, depending on the urgency of the request, size of the project and overall condition of your property in Council Bluffs, IA. The cost of disposing waste that contains rebar is also higher.
Estimated Time Required for a Concrete Demolition Project in Council Bluffs, IA
We are confident in our service delivery timelines. One of our primary focuses is on the time taken to complete your concrete demolition project. With that in mind, your concrete slab removal and concrete hauling projects in Council Bluffs, IA might take a couple of days, weeks or even months to complete. What we can say is that for all contractual projects, we do what we can in terms of equipment and manpower readiness to ensure nonstop operations and an early finish. Count on us to ensure that your project is executed perfectly. Once we assess the situation, we can come up with a plan and provide a tentative time frame.
What To Do With Crushed or Used Concrete in Council Bluffs, IA?
After a concrete demolition and removal project is completed, tons of concrete wastes are collected. Concrete recycling is an integral part of concrete demolition. Our concrete demolition contractors can use recycled concrete as a cheaper alternative of aggregate as opposed to newly mined aggregate. It is a much more environmentally friendly process as opposed to disposal. Recycled concrete has been gaining popularity among the community of demolition and construction experts in the city.
Recognize the Most Preferred Concrete Demolition Company in Council Bluffs, Iowa
Our company, Omni Demolition has established a huge number of loyal patrons who prefer our concrete demolition services over other services providers in Council Bluffs, IA. Omni Demolition is home to the most well-trained concrete slab removal and demolition specialists. We guarantee to provide superior quality concrete slab removal, site cleanup and other services no matter where you live in the city. We are a budget friendly company and we will get the job done right the first time. Using their knowledge and specialized skills, our experts know how to get your projects done right. We are also an environmentally friendly company with a focus on recycling reusable materials after a concrete demolition undertaking.
Zip Code Areas We Service in Council Bluffs
51503, 51501, 51502