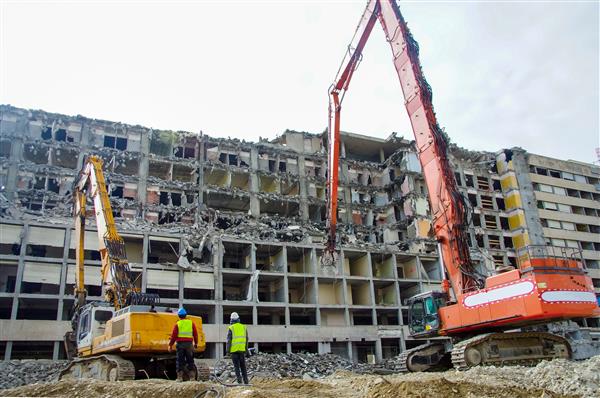 The Demolition Company with Demolition Contractors in Council Bluffs, IA You Can Count On
Omni Demolition has demolition contractors at your service whose specialty is providing superior-quality, safe and cost-effective services for all our clients. You are guaranteed to get the best value for your money with our expertise partnered with updated equipment and strict adherence to state safety regulations and policies. At any given time, our demolition contractor will be at your service to help you with your demolition, excavation and wrecking projects in Council Bluffs, IA. We have a team of seasoned demolition experts ready to act on any project. We are always on schedule. For all your projects, we ensure that we provide you with environmentally friendly services.
Demolition vs. Deconstruction in Council Bluffs, IA
Demolition is a faster process in comparison to deconstruction. Some projects require complete levelling while others simply need specific parts removed to be replaced. For every client call, we have a demolition expert equipped to do the job. Deconstruction is when a demolition expert takes a structure apart carefully, one piece at a time. It is usually done when one wants to remodel or improve a part of the building.
We are the Most Competent Specialists for Your Demolition Project in Council Bluffs, IA
We have demolition experts who plan everything meticulously, from the bringing in of our equipment up to the clearance of the property from wastes and debris. First and foremost, our selection of advanced and reliable equipment enables our demolition contractors to be highly efficient as well as cost-effective. Property owners usually think first rate services always come with a steep price to pay, but not with us. You will not find another demolition contractor in all of Council Bluffs, IA who will help you save and spend wisely.
Choose from Our Wide Variety of Demolition Services in Council Bluffs, IA
Industrial Demolition services: We focus on enhancing safety and maximizing productivity. We are responsive and flexible enough to be able to deal with any complications that such a challenging demolition project may bring. With our knowledgeable technicians and superior equipment, we can handle demolishing refineries, highways, powerplants, bridges, mines and airports among others.
Commercial Demolition services: Our demo company, has proven to be knowledgeable in demolishing commercial buildings despite their confinement in between other structures. Using specialized equipment plus our own unique strategy, we have in the past taken down airplane hangars, grocery stores, bridges, shops, and warehouses.
Concrete Demolition and Recycling Services: This type of demolition is environmentally friendly and saves on cost. Rubble from concrete demolition is reused by our demolition experts to make gravel or as one of the materials for making new concrete.
Scrap Metal Demolition Services: Our demo company will also clear out your property of any undesirable steel erections and salvage any existing metal scraps for recycling.
We Lead, Other Demolition Companies Follow in Council Bluffs, IA
We take pride in having some of the most seasoned demolition experts among numerous demolition contractors in Council Bluffs, IA. Our demolition experts and demolition contractors have an established performance record of completing demolition jobs in the right way, on budget and on time. Using cutting edge technology added to our team's expertise, our demolition company is guaranteed to deliver more than promised. That is why we are recognized as the leading demo company.
Types of Demolition and Deconstruction in Council Bluffs, IA
Explosive Demolition: Conducted by our skilled demolition experts in Council Bluffs, IA, this method requires properly laying out detonators and explosives to bring a structure down to a pulp.
Non-Explosive Demolition: Instead of explosives, local demolition contractors may also use a wrecking ball to tear down a building. This method also requires safety precaution as swinging wrecking balls are harder to control than it seems.
Selective Demolition: Recommended for buildings that are being rebuilt, selective demolition involves carefully removing some parts of the building to make way for a modified construction. Unlike new and upcoming building demolition companies, our demo contractors are experienced in extracting parts of the building while still maintaining its structural integrity.
Main Equipment Used in Demolition in Council Bluffs, IA
Hydraulic breakers – Commonly known as hydraulic hammers, these are often used by our demo company to grind up slabs and concrete structures.
Wrecking balls – A wrecking ball is used together with a crane. This heavy steel ball is suspended from a crane and is used to bring down an entire structure or part of it. Although not widely used, this method is as fast as it is cost effective.
Hydraulic shears and rock breakers – Used by specialists to cut through various materials such as concrete, metal, wood, and steel.
Bulldozers – These can be utilized to apply pressure on a structure and weaken it as well as to haul waste and other materials onsite.
Dumpers – A dumper is a very useful piece of machinery in every demolition business. It is used to carry away demolition waste from demolition sites.
Cranes – Aside from being used to secure a wrecking ball, demolition contractors in our demo company also use cranes to lower and lift materials within the site.
Crawler Loaders – Mostly used for excavating, this equipment is also utilized for its lifting and loading capabilities.
For All Your Demolition Service Needs in Council Bluffs, Iowa, Contact Us Today
We are ranked as the leading demolition company in Council Bluffs, Iowa. We have a brilliant track record of achieving 100% success despite hostile or challenging work environments. Our demolition company's spotless track record in handling minor to major demolitions is your guarantee of our high quality service, expertise and commitment to each and every project. Our work integrity and reasonable packages are only some of the reasons why we are a well renowned Council Bluffs deconstruction and demolition company. Call us at
(855) 885-3366
for a free consultation today.
Zip Code Areas We Service in Council Bluffs
51503, 51501, 51502